This archived news story is available only for your personal, non-commercial use. Information in the story may be outdated or superseded by additional information. Reading or replaying the story in its archived form does not constitute a republication of the story.
GRANTSVILLE — High winds created delays and closures for drivers traveling on I-80 throughout Tooele County and power outages for customers across Salt Lake County Monday.
Multiple crashes briefly closed both east and westbound lanes of the freeway. North Tooele Fire District officials said it had crews working on four separate semitruck rollovers Monday morning.
Utah Department of Transportation officials initially stated I-80 westbound lanes were closed after a crash in the Skull Valley area just before 10 a.m. Another crash was reported about 5 miles west of the state Route 196 exit.
UDOT officials said that I-80 was closed from the Utah-Nevada border to just north of Grantsville. Authorities then reopened one lane in both directions from northwest of Tooele to the border shortly after 11 a.m.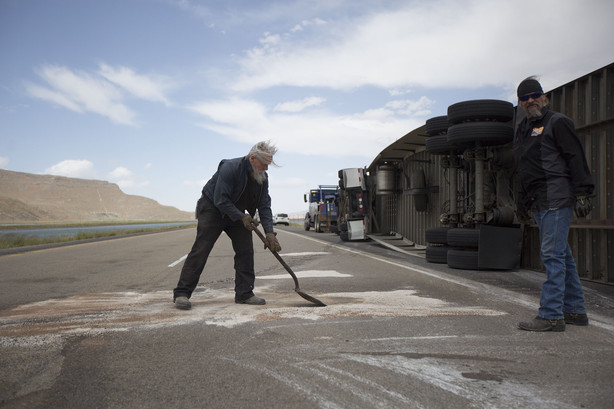 UDOT lifted a restriction on semitrucks and other high-profile vehicles just before 1:30 p.m.
Power outages across the Salt Lake Valley were also reported just before noon Monday. Rocky Mountain Power officials said as many as 8,500 customers in the valley were without power at one point. The majority of outages were reported in Rose Park, Glendale and South Salt Lake.
Another thousand were without power in Davis County. Hundreds of additional outages were reported in Weber and Uintah counties.
Power was restored to most of those affected within a few hours. All power was expected to be restored by Monday night.
The closures and outages happened as high winds blew across parts of the state.
National Weather Service reported wind gusts as high as 77 mph where I-80 meets state Route 201 at about 10 a.m. Many of the gusts reported across northern Utah ranged from 50 to 70 mph.
Winds along the Wasatch Front will be strongest over next 1-2 hours with the front, but gusty winds will continue into the evening. #utwx — NWS Salt Lake City (@NWSSaltLakeCity) June 12, 2017
Snow was also spotted in the mountains.
June 12th #nuking#seriously#reallifepic.twitter.com/XNypvIwTWL — Alta Ski Area (@AltaSkiArea) June 12, 2017
The article will be updated as soon as more information is made available.
×
Photos