Estimated read time: 8-9 minutes
This archived news story is available only for your personal, non-commercial use. Information in the story may be outdated or superseded by additional information. Reading or replaying the story in its archived form does not constitute a republication of the story.
SANDY — Sebastian Velasquez looked giddy.
Spying an opening in the Sacramento Republic FC defense, the Real Monarchs midfielder sprinted onto a long through-ball from teammate Chandler Hoffman. He outraced Republic defender Jeremy Hall, then slotted the ball inside the far post past Republic goalkeeper Evan Newton for the second goal in a 2-0 win over their Western Conference rival.
He celebrated by racing to the sideline nearest the Monarchs' supporters and grinning ear-to-ear while his teammates joined him before a big home win.
Velasquez's efforts earned him a nod on the league's team of the week, and the Real Monarchs took its seventh win in eight matches to start the 2017 United Soccer League season.
Velasquez was home, thriving and winning with his new club.
"As long as I am playing professional soccer, I'm living the dream," he said later just outside the Monarchs locker room at Rio Tinto Stadium, a hallway away from his former dressing stall with Real Salt Lake.
It was a dream that was nearly taken away from him just three years ago. Caught in a battle of drugs, alcohol and the rise and fall that comes with many careers in Major League Soccer, the native of Medellin, Colombia, found himself at one of his lowest moments of life.
What pulled him back up? How did he return to sobriety? And how did his return to the Wasatch Front coincide with the Monarchs' 7-1 start, its best in the third-year franchise's history?
"It starts from the coaching staff," Velasquez said. "These guys are putting a lot of work into giving us the best preparation to come into these games at our top. There are little details they do for us, and they're starting to show; we're getting breakfast before practice and lunch after practice, sometimes."
But Velasquez's story of redemption is more than a coach taking a chance on him. It's more than an athlete building himself back up to the top level of his sport.
To understand Velasquez's road back to Salt Lake City, we have to rewind a few years.
***
Just when Velasquez was beginning to find his stride with Real Salt Lake, he found himself standing in a Salt Lake City courtroom facing charges of driving under the influence and excessive speeding.
The then third-year RSL midfielder was allegedly driving 84 miles per hour in a 65-mph zone in June 2014, and when an officer with the Utah Highway Patrol stopped him, he smelled an odor of alcohol on his breath, according to police reports at the time.
About six months later, he was traded to New York City FC to join former head coach Jason Kreis and a handful of former RSL players. His troubles continued in the Bronx, when he failed to make an impact in just 12 official matches with the then-MLS expansion club.
NYCFC released him, and he signed with Rayo OKC in the second-division North American Soccer League. When the Oklahoma City side folded after just one season, Velasquez needed a fresh start.
During his time with Rayo OKC, Velasquez chronicled his battle with drugs and alcohol to Vice Sports. He said he entered Major League Soccer's drugs and alcohol rehabilitation program twice, and after the second stint following his time with New York, he began his long road toward sobriety. He made a promise to his infant son, and he opened up about his struggles via social media on Nov. 9, 2015. He revealed that he had been sexually abused by a family member when he was 5 years old, which led to a young life of substance abuse.
Velasquez also said he had been sober for two months at the time. Nearly two years later, he still is.
"It was like I took a chain off my legs or a weight off my shoulders," Velasquez told Vice Sports. "I started to see the light. I started to feel like I was becoming free. I saw the world from a different perspective."
After Rayo OKC folded following its inaugural season, Velasquez went to find a fresh start with the reserve team of the club that drafted him No. 36 overall in the 2012 MLS SuperDraft. It was a club that knew him well.
"They've seen me mature so much. With 'little Sebastian,' it wasn't about what he could do on the field but what was going on off the field," Velasquez said of Real Salt Lake.
His return to RSL wasn't just about playing soccer, either. More importantly, it came because of his son Armani, born Oct. 13, 2014. The toddler still lived in the Salt Lake Valley, and his father wanted — no, needed — to be involved in his life.
"I have a son here that is 2 years old, and he's a big part of my life; I live for him," Velasquez said. "I needed to be back with him, and thankfully I got the opportunity."
Velasquez and his representation reached out to his old contacts at Real Salt Lake, who were happy to bring him back — under one condition. He had to earn his way into the RSL first team through the USL reserve team Real Monarchs.
Not a problem, he said.
"I'm playing soccer every day, and after that I get to have time with my son," Velasquez said. "It can't get any better than that."
***
Real Monarchs' hot start to its 2017 campaign has come in large part to Velasquez, who has a team-high four goals and two assists. But he's not the only reason for the club's turnaround, and he admits it.
Professionals like Chandler Hoffman and Charlie Adams have helped the team from the basement of its inaugural campaign in 2015, past the just-outside-the-playoffs stretch of 2016 and into its current position in second place in the West (and just two points back, with a game in hand, of USL-leading San Antonio FC).
No longer "the minor league team of Real Salt Lake," the Monarchs have found a new identity under head coach Mark Briggs, the former Wilmington Hammerheads head coach who took over full time for Mike Petke after the New Yorker ascended to the head job with RSL.
"Having those players with that experience, being at the highest level and performing at the highest level, is huge to some of our younger players," Briggs said. "They can learn from Sebastian or Chandler or guys who have been in that position. It's huge for development."
As USL expands to incorporate reserve-level teams of MLS clubs as well as independent teams from coast to coast, it does so while striving to strike a balance of a results-oriented profession with that of a developmental league.
But Briggs, a native of Wolverhampton, England, who has coached in the United States since 2009, is keen that development and winning don't have to be mutually exclusive.
"I think winning is a huge part of development," he said. "Sometimes that gets lost; people want to develop, which I want to do and we want to push players into the first team. But they also need to learn how to win games, how to manage games when they are 1-0 up, and there are different scenarios they have to learn that will help them once they get into the first team."
Striking the balance can be difficult for young players, those fresh out of college or MLS developmental academies, for example.
But experienced players like the 26-year-old Velasquez understand club pride and what it means to an organization to simply win.
"Those experienced players are also hungry themselves, and they want to get to the next level," Briggs said. "It's hugely important in driving the attitude below them. If the attitude of those players is right, it reflects with the younger players and creates a culture and an atmosphere where everybody wants to be better and succeed and reach the goals that we've set for them."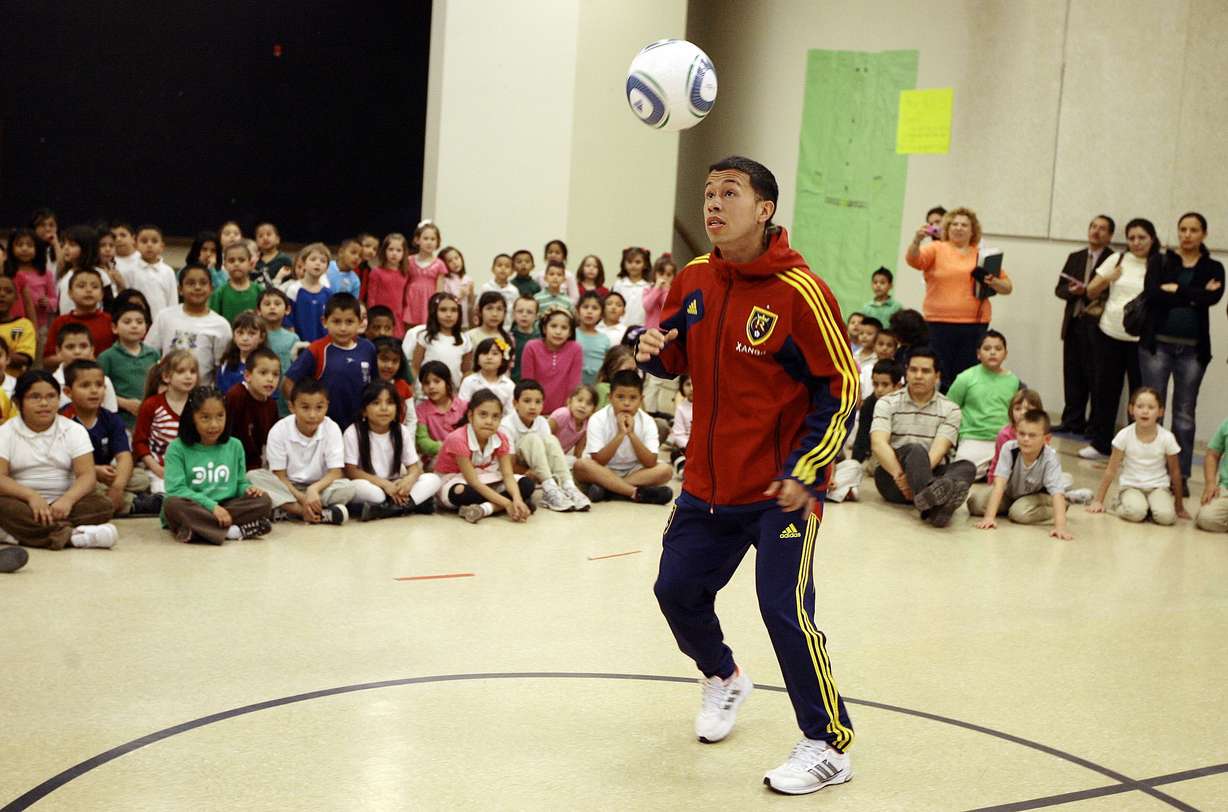 ***
Velasquez, Hoffman and many of the rest of the Monarchs view themselves as soccer professionals — and it's hard to argue with their results. When RSL hit a four-game losing streak prior to Wednesday night's 2-1 win over New York City FC, and with an injury report that grew nearly as long as the list of healthy players on the roster, many of the Monarchs could find themselves seeing time with Real Salt Lake's first team.
"If you get a couple of these guys and watch them play, you can see they can play at the MLS level," Velasquez said. "It's incredible how we've honestly meshed so much on the field."
If future opportunities come, the Monarchs will take them in stride. For now, the club has goals — including the franchise's first-ever playoff berth — in its sights.
With 24 matches left in the USL regular season, even those goals could be considered distant.
"When we first walked into the locker room, we had one goal: to make it to playoffs," Velasquez said. "Once we get there, we want to win a championship. But it's step-by-step, and we're taking it game-by-game.
"We're doing the right things, and we have to keep our heads on the ground and keep working."
×
Related links
Related stories
Most recent Sports stories