Estimated read time: 5-6 minutes
This archived news story is available only for your personal, non-commercial use. Information in the story may be outdated or superseded by additional information. Reading or replaying the story in its archived form does not constitute a republication of the story.
SALT LAKE CITY — Besieged by boos and jeers after he explained his position on public lands, Rep. Chris Stewart tried to defuse the tension in the auditorium of West High School on Friday by cracking a joke about the agree/disagree signs his constituents had brought with them.
At the moment, a vast majority of the signs in the room were flashing "disagree" at the Utah Republican.
"I'm glad you guys have the signs, because otherwise I would have no idea that you disagreed with me," he said.
The crowd conceded a murmuring chuckle. The several hundred people who filled the auditorium, however, were dead serious in their angry opposition to Stewart's stances on everything from Bears Ears to President Donald Trump's proposed border wall.
Discontented constituents also demanded answers about holding Trump accountable for various controversies that have plagued his administration in its infancy. There were chants of "do your job" both during and after the meeting.
Receiving what seemed to be the most thunderous applause of the night, one man said he believed Trump's ties to the Russian government were "criminal and possibly treasonous."
The man also criticized the U.S. House Permanent Select Committee on Intelligence, saying that its chairman, California Rep. Devin Nunes, was acting as an extension of the Trump administration "rather than like a member of Congress whose job it is to hold Trump accountable."
Stewart serves on the same committee.
"Can you name one thing you have done in the last 60-80 days to hold this administration accountable?" the man asked.
Stewart responded by defending the committee's inquiries, saying that any information received by the committee would be treated thoroughly — but that nothing necessitating urgent action against Trump had come to light.
"If there is information that someone has done something ... we will (always) turn that over," Stewart said, earning a response of more boos.
Though atmosphere of the room was combative, it was noticeably less hostile than a town hall held in February by Rep. Jason Chaffetz that drew national headlines for the anger being directed at that congressman.
Chaffetz was booed when he entered the stage for that meeting. The majority of the crowd that saw Stewart, who was holding the first in-person town hall by Utah's congressional delegation since Chaffetz's event, cheered him when he was formally introduced and saved the jeers for later.
Stewart also found spots where the crowd agreed with him. Though most voiced displeasure with his support of a border wall with Mexico, he received perhaps his loudest applause of the night for saying he supported helping some undocumented workers gain "legal status ... so they can stay here without fear."
Tooele County Commissioner Shawn Milne spoke in support of Stewart, telling him that most of his constituents thought he was doing a good job.
"My question is more of a thank you," Milne said before sitting down.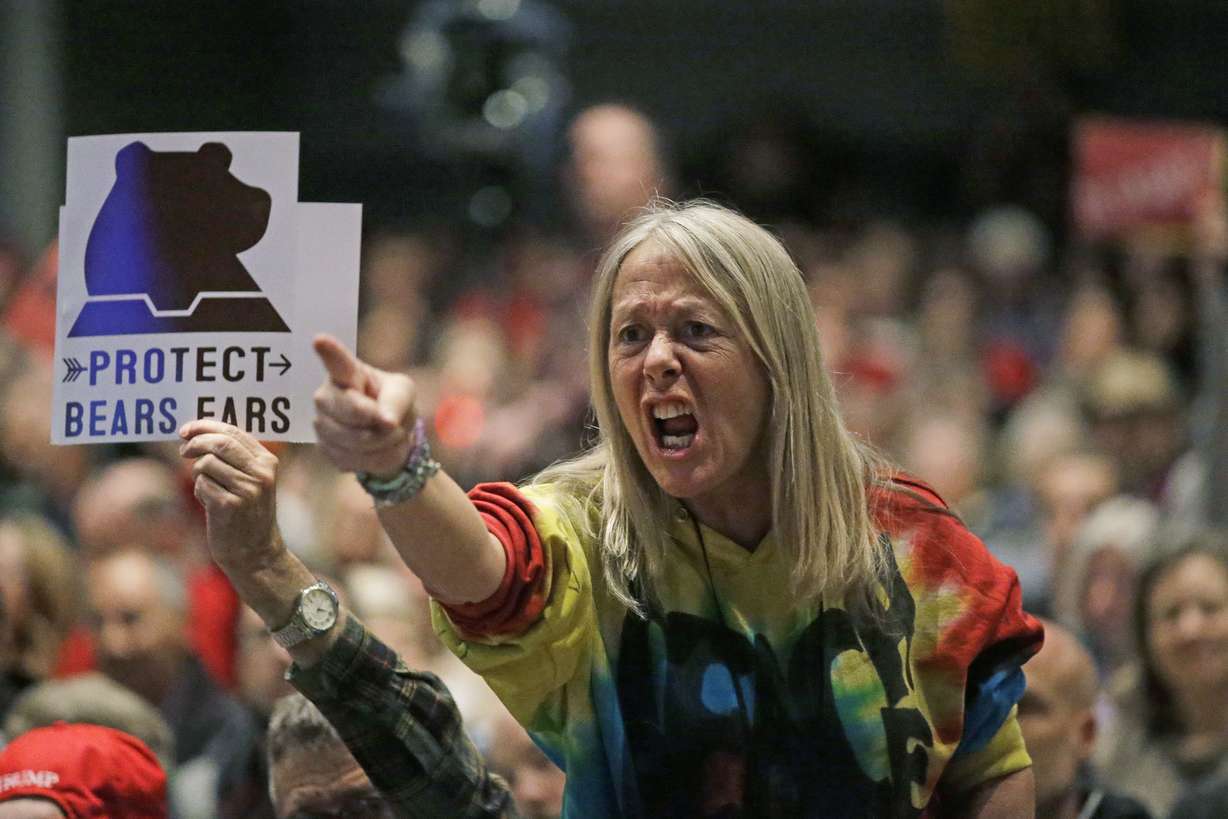 The most contentious reactions centered around questions and answers about Trump.
One woman asked Stewart if he was serious about potential conflicts of interests concerning Russia within the Trump administration. She suggested Stewart has been more concerned with federal officials who have anonymously leaked information about probes into the Russian government's potential role in the presidential election.
"All I've heard you talk about is leaks," she said.
"I'm equally concerned about both," he said.
Stewart again defended congressional oversight of the Trump administration.
"There is no evidence Donald Trump had collusion with Russia. ... If this (alleged collusion) was out there and it happened, it will eventually come out," Stewart said.
The representative also touted his own credentials in being open about potential election meddling by Russia, saying he may have been the very first person in Congress to acknowledge it was a possibility.
"I said in dozens of interview, Russia is going to mess with our elections," he said. "As far as I knew, I was the first person to say that."
Constituents with questions were selected after submitting their names and addresses to some of Stewart's staff on hand. A few took Stewart to task about his opposition to the Bears Ears National Monument.
"I believe that there are a lot of things that I can trust my elected officials to do well, but managing our public lands and keeping wild places intact for future generations is not one of them," said Chris Johnson.
"How do you feel that Utah financially is in a better position to manage these public lands?" Johnson asked.
Stewart responded by saying state authorities are just as well-positioned to conserve public lands and are more responsive to Utahns.
Stewart also pushed back at some of the jeering and interruptions at the meeting, suggesting that "this maybe isn't resonating with the people of Utah."
"Do you think this makes people want to support you more or support you less?" he asked the crowd, referring to the heated atmosphere.
Several environmental groups that are supportive of the Bears Ears National Monument, which was signed into law by then-President Barack Obama in December, handed out fliers and engaged in sporadic chants prior to the town hall meeting. Attendees were met by a small handful of counterprotesters outside the school.
State Sen. Jim Dabakis, D-Salt Lake, also got involved inside the school by handing out Russian currency to attendees, telling them, "you are a paid operative now."
Some who showed up to attend were not allowed in by fire authorities because the auditorium had reached capacity.
×
Photos
Related stories
Most recent Utah stories