This archived news story is available only for your personal, non-commercial use. Information in the story may be outdated or superseded by additional information. Reading or replaying the story in its archived form does not constitute a republication of the story.
PROVO — The BYU men's volleyball team entered Friday night's match against fourth-ranked Hawaii on a seven-match win streak.
And the confidence of the No. 3 Cougars was on full display in the second set.
Jake Langlois put down 13 kills, and Brenden Sander had a team-high 14 as BYU swept the island visitors 28-26, 25-18, 25-20 in a crucial league match to improve to 12-1 in Mountain Pacific Sports Federation play.
"I took some Advil; I think that helped," joked Langlois, who had a match-high seven kills in the second set. "I came out really flat in the first, and I think I dragged down my team. The fact that we won the first by coming back and fought is pretty good."
Leo Durkin dished out 36 assists and laid down the match-winning block on the first match-point attempt for the Cougars (18-2, 12-1 MPSF), who played without starters Ben Patch and Price Jarman.
In the absence of the regulars, Tim Dobbert (seven kills) and freshman Miki Jauhiainen (four kills, two blocks) stepped up after a closely contested first set.
"He actually feels good. He's comfortable, but we're protecting it," BYU coach Shawn Olmstead said of Jarman. "It's an ankle sprain, so he'll be back ASAP. But let's be smart about it, especially with the goals we have."
But the set unlocked with a next-level emergence of Langlois.
"Jake can do that," Olmstead said. "A 6-10 outside hitter that can jump out of the gym? He can take over a rally or a play or a moment. It's exciting to be able to have guys like that, and then role players who can cover for him, too."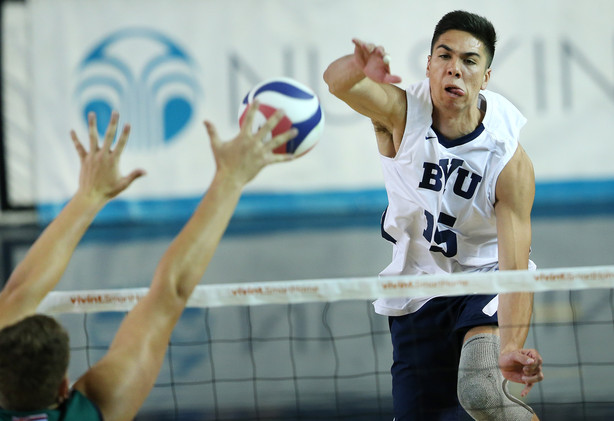 No team led by more than two points through the entire first set, but Josh Grosh rallied the Cougars to a 24-23 set-point opportunity. The Warriors (20-3 10-3 MPSF) fought back, tying the match three times before Sander hit a kill from the back row to stop the bleeding. Langlois smashed the set-winner to take the opener, 28-26, giving the Warriors their first set loss since Feb. 4 amid a 15-match win streak.
BYU led wire-to-wire in the second set, and Langlois delivered back-to-back aces for a 9-4 lead before the Cougars rolled to the second-set victory — aided by the 4,544 fans in the packed Smith Fieldhouse that kept Hawaii at 3-24 all-time in Provo, including a five-match losing streak.
"This place is awesome," Langlois said. "When you get this many fans in here, it's so hard to play."
It was more of the same in the third set, before the Warriors used a 5-1 run to tie the match at 13-13 on Hendrik Mol's smash from the net, and took a 16-14 lead after a pair of Cougar attack errors.
But BYU recovered, putting down back-to-back blocks to take a two-point advantage in the third set, and going up 20-17 on Hawaii's mis-hit.
Sander's kill got lost in the lights, falling on Hawaii's back row and giving the Cougars a 23-19 lead en route to a 25-20 sweep on Durkin's stop at the net.
BYU hit 44 percent on the night, tallying 41 assists on 43 kills with only 10 attack errors. The Warriors doubled the attack-error mark, hitting .188 despite a match-high 16 kills by Stijn van Tilburg and 10 kills by Kupono Fey.
"Our guys did a lot of good things," Olmstead said. "We had a really good game plan in terms of what they were going to do offensively.
"I thought they passed really well, and they are one of the best passing teams in our conference. But our guys did good things, put their hands in good spots, and we took good swings offensively."
×