Estimated read time: 4-5 minutes
This archived news story is available only for your personal, non-commercial use. Information in the story may be outdated or superseded by additional information. Reading or replaying the story in its archived form does not constitute a republication of the story.
SALT LAKE CITY — South Dakota State star Mike Daum tore through The Summit League, averaging 25.3 points per game in leading the Jackrabbits to the NCAA Tournament.
Gonzaga's Johnathan Williams wasn't going to let that happen in the first round Thursday afternoon.
Williams had six points, 14 rebounds and two key blocks, and also held Daum to his lowest scoring output since Jan. 18 to help the top-seeded Bulldogs pull away from The Summit League upstarts 66-46 in the first round of the NCAA Tournament at Vivint Arena.
"He was pretty tough to guard," Williams said. "We got a good scout report on Daum. And it's pretty hard to guard him, but I was able to move my feet and make it tough for him. But he's a great player."
Williams proved himself to be a pretty tough player to guard as well. He shot 3 of 8 from the field, including a pair of rim-rattling dunks that helped the Zags (33-1) pull away for good in the second half.
"Sometimes, you're a favorite in these games and you forget the game is meant to be fun," Gonzaga coach Mark Few said. "And J3 is one of those guys that gets the rest of the guys excited and gets us going.
"We're at our best when we play with emotion. You look back at all our really good games this year, it's been when we've been high-emotion and high-energy, and obviously, plays like that help."
Jordan Mathews led the Zags with 16 points and five rebounds, and Przemek Karnowski, Josh Perkins and Zach Collins each added 10 for a team that took a four-point edge into halftime before pulling away down the stretch.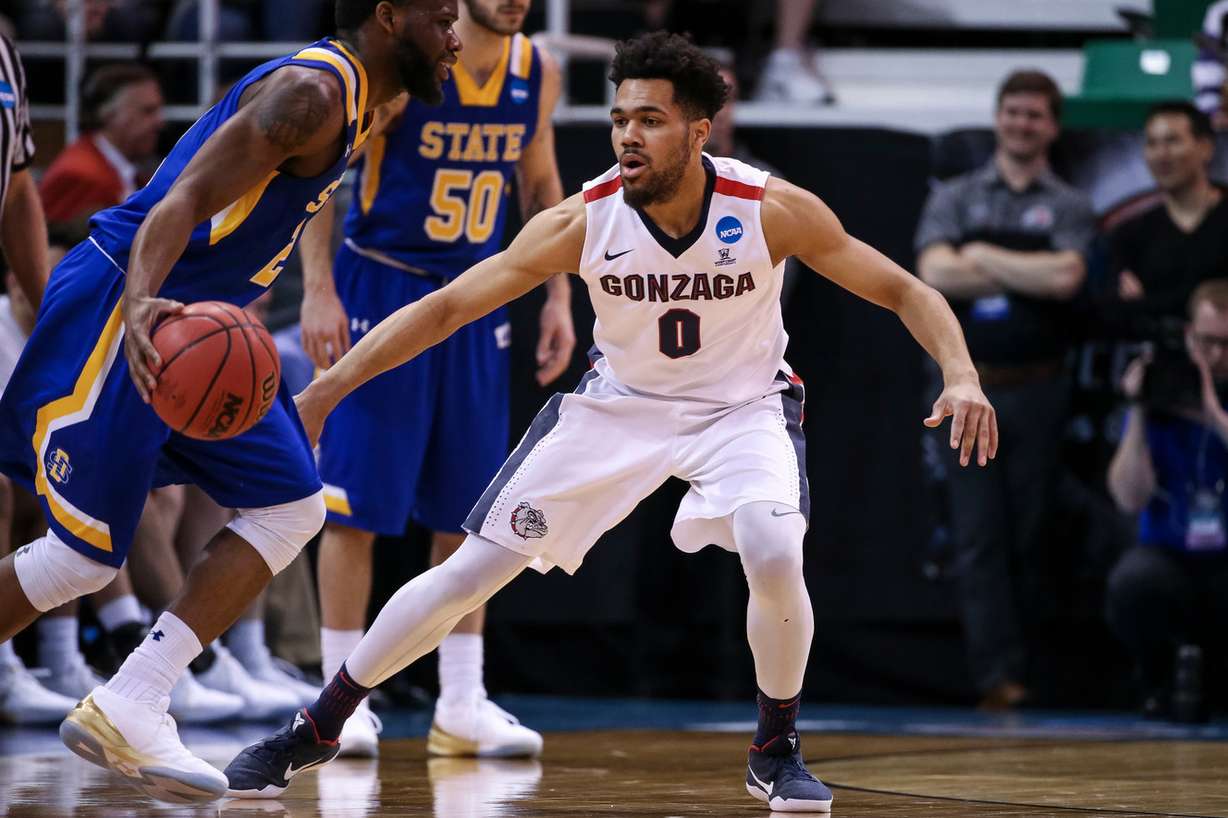 "That 1-16 game, someone can have that from here on out," Few said. "I've served my time. I'll go ahead and land somewhere else. I'll explain that to the committee next year."
Part of that was the fast start put in by the Jackrabbits (18-17), who put up an 8-2 run less than four minutes into the first half for the early advantage.
Besides Daum's 17, no other South Dakota State player scored in double digits. Daum scored 10 of his 17 points in the second half, and Chris Howell had eight points, five rebounds, three assists and two blocks for the Jackrabbits.
The Bulldogs shot just 31 percent from the field in the first half, including just 2 of 14 from 3-point range. South Dakota State held Gonzaga without a field goal for 5:12, taking a 22-19 lead on Daum's 3-pointer with 3:33 left in the first half.
"It took us a couple of minutes to figure out, but once we did, it was just basketball again," Mathews said.
The Zags didn't lead in the first half until Collins' layup with 1:40 to go until the break, but they ended the half on a 7-0 run. Collins had a game-high nine points in the opening 20 minutes, and Gonzaga took a 26-22 edge at halftime.
From there, the West Coast Conference's top team took control.
"When we come into halftime, we're really confident no matter what happens in the first half," Collins said. "The shots we took in the first half were shots we've taken all year, and the shots just didn't go in. We were just really confident."
---
That 1-16 game, someone can have that from here on out. I've served my time. I'll go ahead and land somewhere else. I'll explain that to the committee next year.
–Gonzaga coach Mark Few
---
Perkins drained a 3-pointer, and Williams had a monster dunk out of the locker-room break as Gonzaga used an 11-2 run to push its lead to 40-28 in the opening four minutes of the second half.
The Zags' offense made four of their first seven shots of the half and gobbled up a 4-2 rebound advantage to wrestle control back from the upstart Jackrabbits, who were making their fourth NCAA Tournament appearance since 2012 as champions of The Summit League.
But South Dakota State went scoreless in the final 3:33 and had a pair of turnovers to trail by four at the break.
"You think we can rewind and get a do-over on that period?" South Dakota State coach T.J. Otzelberger joked. "We knew they were a very good team. We knew they were going to get going in transition, and we didn't want our shot selection or turnovers to help ignite that for them."
Williams threw down another vicious slam with 12:43 left as Gonzaga ran its lead to double-digits at 48-33 while holding the Jackrabbits scoreless for just over four minutes midway through the half.
Gonzaga posted seven blocks, including Collins' fast swat off the baseline with 8:24 left and then held South Dakota State to 5-of-23 shooting while grabbing a 56-36 lead on Williams-Goss' jumper with five minutes remaining.
"Everybody is always focused on Gonzaga's offense, and we've been an elite program offensively for years," Few said. "But this team has been great defensively all year."
Gonzaga will face tournament debutant Northwestern (25-11) in Saturday's second round at Vivint Arena.
×
Photos
Related stories
Most recent Sports stories