This archived news story is available only for your personal, non-commercial use. Information in the story may be outdated or superseded by additional information. Reading or replaying the story in its archived form does not constitute a republication of the story.
SALT LAKE CITY — In the month of March that thrives on underdogs in college basketball, you'd be hard-pressed to find a greater underdog than North Dakota.
The Fighting Hawks made their first trip to the NCAA Tournament since moving to Division I in 2008, and their inaugural tip is at 7:50 p.m. MT against No. 2 Arizona at Vivint Arena, where they'll be one of the tournament's ultimate underdogs.
But that's exactly how North Dakota wants it.
"I think we're still kind of sneaking up on people because they just didn't really believe it," said UND forward Drick Bernstine, one of a dozen NCAA players with a triple-double in 2017. "North Dakota basketball has never been this great. It's something you've got to embrace. It's a really good thing. We all kind of take that under our wing and just walk with a chip on our shoulder, knowing that people don't really believe sometimes."
But a 15-seed beating a No. 2-seed? Unlike in the 16-1 matchup, it's actually happened before in the NCAA Tournament — seven times, even.
So there's a chance.
"I think for us there's a history of 15 beating 2," said Quinton Hooker, the Big Sky tournament MVP who averaged 19.1 points during the regular season. "So it gives us a little bit added boost to prepare and get ready for the game. And that kind of goes with how our team is. We're driven, regarded, and we're ready to play some ball."
The Fighting Hawks (21-9) were still celebrating when they got on the plane at 4 a.m. PT after holding off Weber State at the Big Sky tournament title game in Reno.
Even that win was a mild upset for the regular-season conference champs, according to the program's detractors.
"After we had won the regular-season title, people were still doubting if we were going to finish it in the tournament," said Hooker, who averaged 19.3 points and 5.7 assists in tourney play. "Being the underdog is something we've been the entire time here in North Dakota. God has put us all here for a reason, and we think we're a special group. It's fun to play with my guys and this team. We're excited to be here."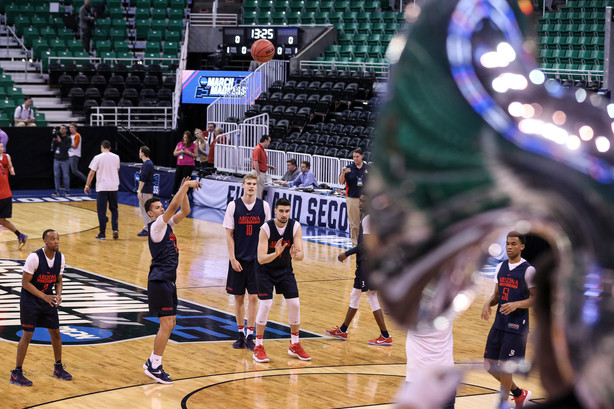 The Hawks' 14-4 Big Sky record wasn't enough to convince some people that North Dakota basketball had taken a huge leap forward ("Isn't that a hockey school?" were some of the whispers in Big Sky country). Neither was a 77-68 win at Weber State or an 84-81 overtime win at Northern Colorado on the final day of the regular season.
North Dakota still had a lot to prove.
"Weber and Montana are still the premier two teams in our league," said Big Sky Coach of the Year Brian Jones, calling his team "the hunted, not the hunter." "We had a great year this year, but every year you're walking into that season knowing: How can we beat Weber, how can we beat Montana, because they've done that consistently.
"The older guys that have been through it understood that those are the programs that we always strive to beat … even when we beat Weber at their place. I knew we were going to have to face them to get to the championship or win the championship. That's the respect I have for coach (Randy) Rahe, with what he's done for that program."
Indeed, they did. And though the Wildcats held a 72-61 advantage with just seven minutes left, the Fighting Hawks … well, they fought back.
Hooker scored 28 points in the overtime win over Weber State and set a Big Sky tournament record with 81 points in three games in 2016 before the Hawks' semifinal loss.
"You don't truly embrace it as much as you should while you have him," Jones said of Hooker, who ranks seventh among active NCAA Tournament players with 1,762 career points. "But he's going to be one of those young men who will make a mark, wherever he goes from here."
---
North Dakota basketball has never been this great. It's something you've got to embrace. It's a really good thing. We all kind of take that under our wing and just walk with a chip on our shoulder, knowing that people don't really believe sometimes.
–North Dakota's Drick Bernstine
---
The regular season and tourney title proved a lot to outsiders about the small school in Grand Forks, North Dakota, that is barely a decade into its Division I tenure.
Even Arizona coach Sean Miller took note.
"Very well coached, tough team," Miller said of the Fighting Hawks. "When you win your regular season, which they did, and then you win your conference tournament, I think it says a lot about your heart. And I think they're a team that has a big heart. And it's going to be a tough game."
Jones knows plenty about heart. He played on the Northern Iowa squad that stunned Missouri in the 1990 NCAA Tournament.
His Fighting Hawks have a chance to pull off another big upset in a month and sport that gets marked by them every year.
"We've always taken the road less traveled," Jones said. "We went from Division II to Division I. People who don't know, that's an extremely difficult journey because of the scheduling.
"It's just a road that's less traveled, but I think it's prepared us for today."
×
Photos
Related Stories