Estimated read time: 6-7 minutes
This archived news story is available only for your personal, non-commercial use. Information in the story may be outdated or superseded by additional information. Reading or replaying the story in its archived form does not constitute a republication of the story.
SALT LAKE CITY — When South Dakota State head coach T.J. Otzelberger took the helm of a program that had just made its third NCAA tournament in five years in 2016, he looked at the roster and knew he needed senior leadership on a underclassman-heavy roster.
As is, the Jackrabbits squad has just two seniors and both transferred to Brookings, South Dakota for their final season. One of those is A.J. Hess, who played four years (a fibular fracture derailed his senior season a few games in and he redshirted) at Southern Utah University — just a four-hour drive south of Salt Lake.
Otzelberger started meeting with potential transfers when he came across Hess.
What did Otzelberger see in Hess? He saw a guard that could shoot but more importantly, someone with experience that had good character and would do anything to win, which is exactly what he was looking for.
"You could tell very early on that what he wanted out of his college career is to be sitting where we are today," Otzelberger said Wednesday during a pre-tournament press conference. "He wasn't fortunate at SUU to play in the tournament. When I heard him tell his story, I asked him why he would consider an opportunity at South Dakota State and he said, 'coach, you have a program and a culture that's been successful and that's something that I'm really longing for.'"
Nearly a year from that meeting, Hess kicked back in his chair inside the Jackrabbits' locker room at Vivint Arena. He carried a slight grin as he looked around the tiny room filled with reporters from all over the country.
His dream of making the tournament had come true and with a few coincidences.
Shortly after that dream to make the NCAA tournament came true, Hess had a realization. When the 16-seeded Jackrabbits hit the court against No. 1 Gonzaga Thursday, he will face the team he began his college career playing against in the state he began his collegiate career.
"It might be destiny — I don't know. I don't want to say it's destiny, but it's definitely a possibility," Hess joked, sitting in the team's locker room Wednesday.
During Hess's freshman season, SUU traveled to Gonzaga and lost to the then-No. 21 Bulldogs 103-65 in Spokane, Washington. He recalls a hostile environment — the crowd players both love and loathe to face.
"It's pretty surreal given the circumstances that I'm coming back to Utah to play my first tournament game against the first team I ever played against in college," Hess said, of playing in his first NCAA tournament game.
Hess wound up scoring 840 career points playing for the Thunderbirds over a three-year stint, with a few extra games prior to his injury last season. But then he was at a crossroad.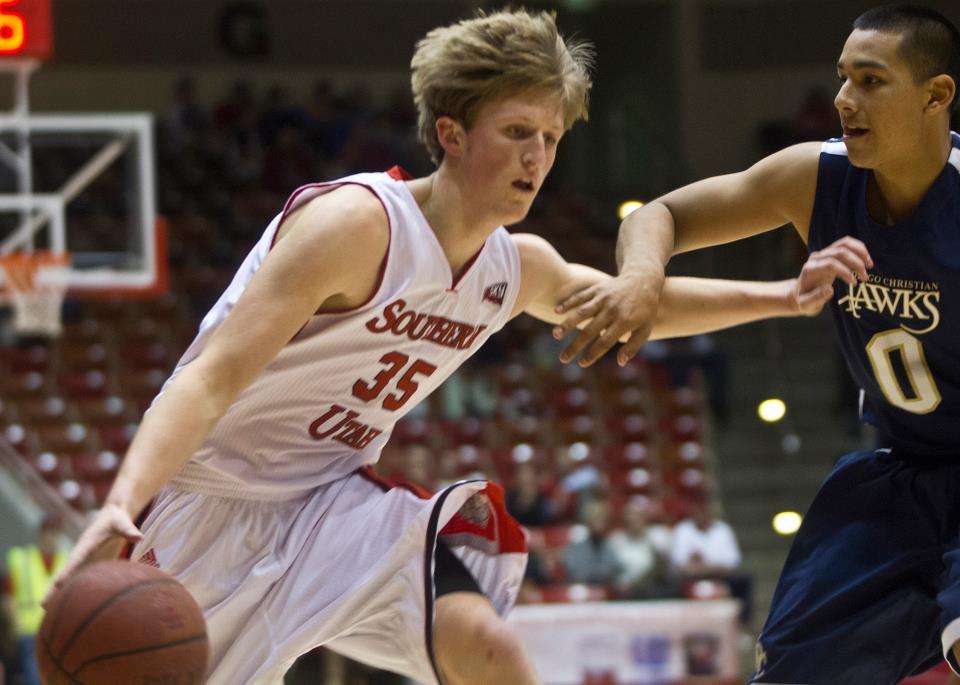 SUU fired head coach Nick Robinson at the end of last season and Hess also graduated. He had a choice: stay another year at SUU and learn from a new coaching staff or go elsewhere and play for another coach anyway. Either way, he had to learn a new system.
Though he liked Robinson's replacement, Todd Simon, he also searched around for options and liked what he saw from South Dakota State, where he could transfer and play immediately as a graduate for a team with a recent track record of winning.
For Hess, the opportunity to win immediately wasn't the only factor.
He heard stories from guys older than him that had played at South Dakota State's Frost Arena back when SUU was also a member of the Summit League.
"I loved the campus, I loved the atmosphere," he said. "A lot of old (SUU) guys told me about the atmosphere there and that it's an amazing environment, especially the homecourt advantage there. The fans are extremely supportive. I loved the coaching staff, loved the guys so it was just a really good fit. … Pretty much it came down to — I played four years at SUU, I really enjoyed my time there but I felt like it was time to get a change of scenery and maybe try something else."
Right after getting his degree, Hess transferred and was an immediate fit in the locker room, South Dakota State guard/forward Reed Tellinghuisen said.
"A.J. is just a great guy — he's a great team guy," he said.
On the court, Hess has factored in the Jackrabbits' success too. In a game at Idaho, he scored 31 points and made 7 of 12 attempts from 3-point range. He also enters the NCAA tournament as the team's third-leading scorer. However, it hasn't been an easy season.
The Jackrabbits started the season just 1-6 and that lone win came against a non-Division I program. When conference season began, the team opened league play by losing five of its first seven games. Injuries also hurt, including a dislocated elbow that sidelined Hess for six games.
---
"It's an amazing experience and I'm just trying to take it all in stride, soak it in and enjoy every little aspect of it because I know it can come and go really quick." — A.J. Hess, on playing in first NCAA tournament
---
Then things began to click. The Jackrabbits closed out the season winners of nine of their last 11 games, including a comeback in the league tournament semifinals against in-state rival South Dakota and a close win over Nebraska-Omaha in the finals to catapult the team into the NCAA tournament.
"A lot of guys had to step up that hadn't necessarily been playing a lot of minutes before and that really helped them come into their own, gain some confidence and really help produce to our team be that much deeper, that much stronger," Hess said. "The momentum was huge for us heading into the (conference) tournament and up into this point."
Despite knowing the odds are stacked against the Jackrabbits (a No. 16 seed has never beaten a No. 1 seed), he knows that eventually that day will come. Perhaps, he figures, why can't that be South Dakota State making history?
And if the Jackrabbits are thumped out quickly, Hess is still making the most of his opportunity and the gamble he took at going to a new program.
"It's an amazing experience and I'm just trying to take it all in stride, soak it in and enjoy every little aspect of it because I know it can come and go really quick," he said, eying his surroundings.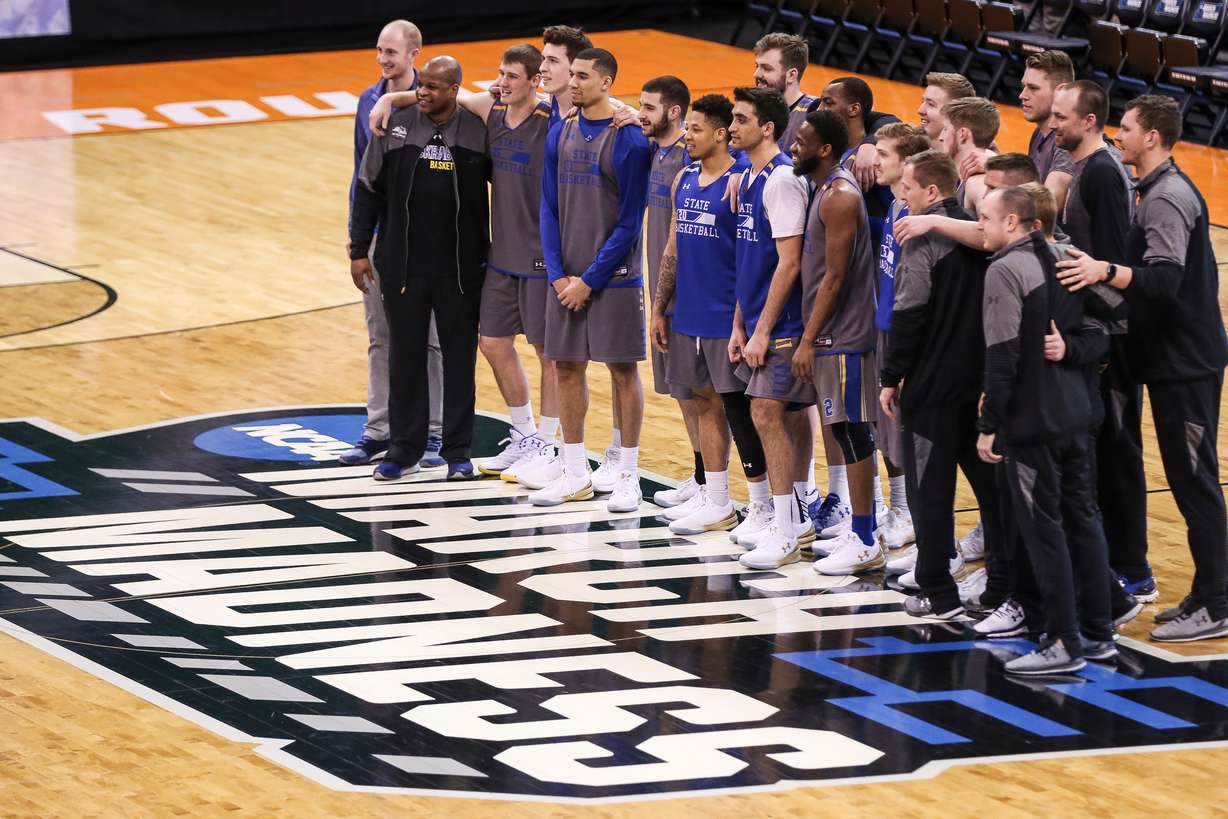 His teammates are also thrilled to see him enjoy the moment.
"It just gives me goosebumps thinking about it," Tellinghuisen said. "When we were recruiting him, we said 'Hey listen, you have a chance to go to the NCAA tournament if you come here.' And just making that dream come true for a guy like him is just an awesome feeling for not only me but for this whole team."
There was another person in the arena Wednesday rooting for Hess. Midway through the team's shootaround practice, Hess lights up as he sees a familiar face in the crowd. He halts his dribble and wanders into the seats to say hello to a man sitting in the front row of the lower bowl: his former coach at SUU, Robinson.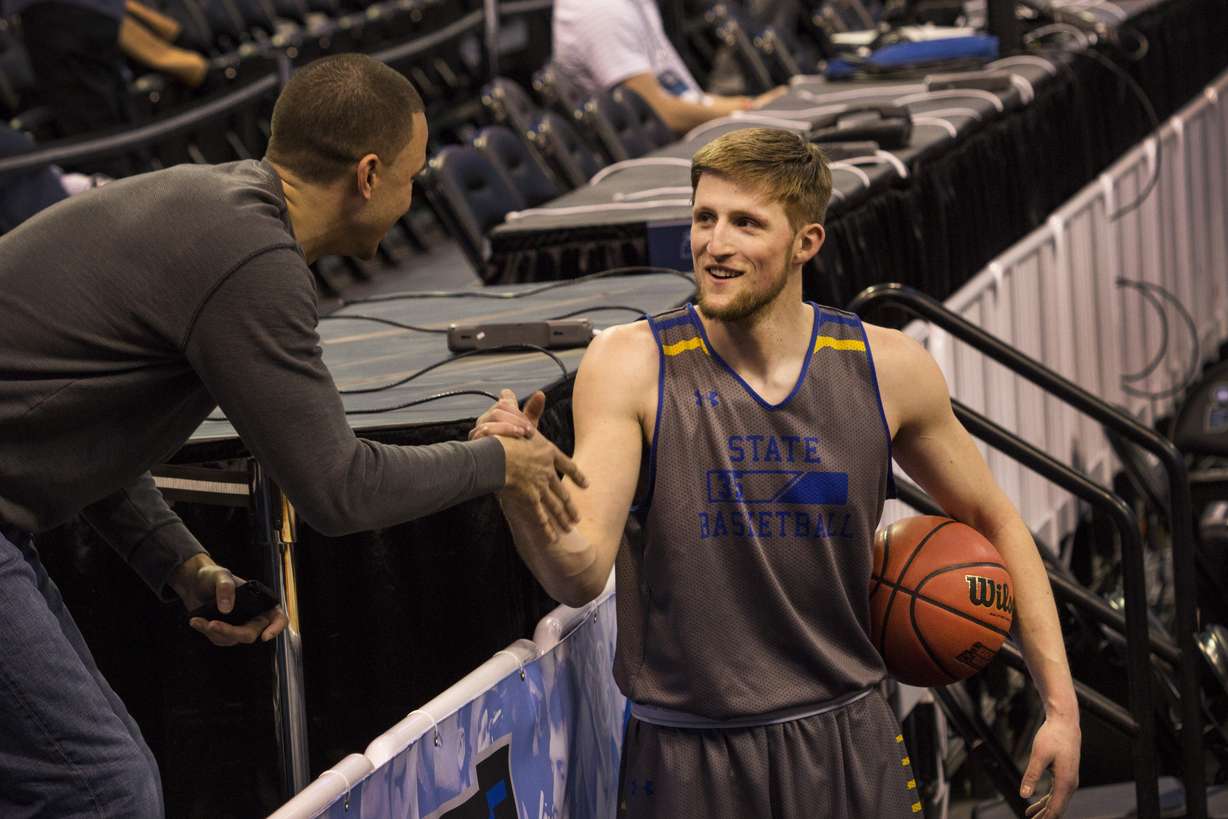 Robinson, who had coached Hess for four years, recalled when the guard came to SUU with two goals: graduate college and go to the NCAA tournament. He pauses thinking about it while flashing a smile akin to a proud father.
"It's amazing to see him have fulfilled both of those goals," he said. "It's a great feeling to be able to know he's been able to accomplish the goals that he's set out for himself but to also to be able to help his team reach an amazing milestone."
×
Photos
Related stories
Most recent Sports stories