Estimated read time: 3-4 minutes
This archived news story is available only for your personal, non-commercial use. Information in the story may be outdated or superseded by additional information. Reading or replaying the story in its archived form does not constitute a republication of the story.
PROVO — It wasn't how the season was supposed to end.
The BYU women's basketball team had just beaten top-seeded Gonzaga and rode a wave of confidence into the West Coast Conference Tournament a week ago in Las Vegas.
But all the hopes, highs and ambitions of a third-straight NCAA Tournament berth plummeted downward in a stunning loss to Saint Mary's in the WCC semifinals.
"They really wanted to go to the (NCAA) tournament, and they knew the only way was to win the (WCC) tournament," BYU coach Jeff Judkins said. "They felt that we were good enough if we played our best that we could win it."
Success is rarely determined by how teams respond in the face of greatness, but how players pick themselves up in the face of adversity. BYU is hoping to be successful when it opens the Women's National Invitation Tournament at 7 p.m. Thursday against Washington State on BYUtv.
"A loss like that definitely hurts. It hurts because you watch teams go on to the Big Dance, and you obviously wish that was you," BYU senior guard Makenzi Pulsipher said. "But there are a lot of teams that don't go to postseason tournaments at all.
"It's still a great opportunity to continue to roll forward, and for (Judkins), it's a good chance for his younger girls to get experience."
A lot of emotion was spilled on the floor of the Orleans Arena in Las Vegas. Some of it spilled over into the postgame press conference.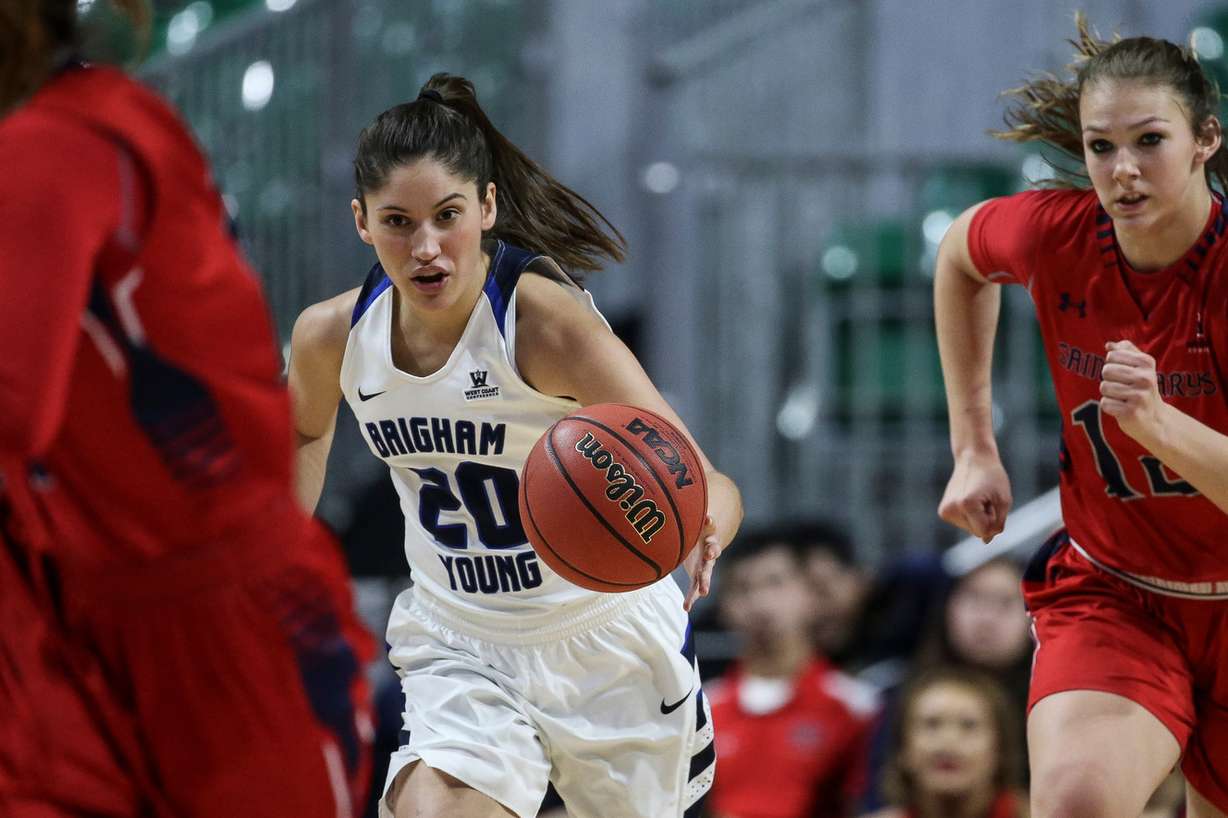 But Judkins said the Cougars hope to channel that emotion into a win over a Washington State team that has their attention.
"When you don't achieve what you are good enough to do, it's emotional," Judkins said. "But it's hard; we felt like we let that game get away from us. Some of our players didn't play as well as they normally do, and that makes it hard, too."
The Cougars (20-11) are making their 13th postseason appearance, including fifth in the WNIT. For Pulsipher, it marks the fifth-straight postseason berth, with two of them coming via the WNIT.
The turnaround is apparent in Judkins' 16 seasons, when the Cougars went to the NCAA Sweet 16 as recently as 2014 and advanced to the WNIT third round in 2013.
"If we're not playing in a postseason tournament, there's something wrong," Pulsipher said. "We expect to go there.
"It's that kind of mindset that gets you places, where you aren't settling. We've grown and changed for the better."
BYU isn't opening with a lower-seeded team from a mid-major conference, but a Pac-12 team that is the top-rated squad from the league that sent six teams to the NCAA Tournament.
And though the red Cougars' 12-19 record isn't much on paper, they are well-known by BYU. Washington State boasts wins over Loyola Marymount, Saint Mary's, San Francisco, San Diego and Utah, among common opponents with the host Cougars.
Washington State finished seventh in the Pac-12 with a 6-12 record that included a 2-10 mark on the road.
"It also sets a good tone for us, where they are talentwise," Judkins said. "The Pac-12 was pretty good this year, and they got beat by a lot of good teams.
"I think it has the attention of our players."
That it does.
"They're a great team and play in a great conference," Pulsipher said. "We have a lot of respect for them."
×
Related stories
Most recent Sports stories