This archived news story is available only for your personal, non-commercial use. Information in the story may be outdated or superseded by additional information. Reading or replaying the story in its archived form does not constitute a republication of the story.
LAS VEGAS — The BYU women's basketball team withstood an initial blow after losing West Coast Conference Player of the Year Cassie Broadhead to foul trouble midway through the second quarter of its tournament semifinal game Monday against Saint Mary's.
But the Gaels kept coming, and coming, and coming.
Makenzi Pulsipher picked up some slack with a game-high 16 points, but the second-seeded Cougars fell to No. 3 seed Saint Mary's 59-49 Monday at Orleans Arena for the Gaels' first trip to the tournament final since 2011.
"They're the same team we play every year and every time," said Pulsipher, who shot 5 of 11 with two 3-pointers, both in the first half. "Sometimes we go away from doing the simple things; we stood around too much on offense and relied on one person at a time. They packed it in and played to our bigs.
"We didn't take advantage of some of the things they were giving us, and we sped up too much."
Shannon Mauldin led a balanced scoring effort for Saint Mary's (20-11), which also got 12 points from Sydney Raggio and 10 each from Megan McKay and Devyn Galland in the effort.
"If you came looking for offense, that probably wasn't the game to sit and watch," Saint Mary's coach Paul Thomas said. "But as a coaching staff, we're proud of our team for defending BYU like they did."
McKay collected four points as the Gaels made their first six shots and jumped out to a 10-3 lead, locking down BYU's offense save for one 3-pointer by Pulsipher in the first eight minutes of the game.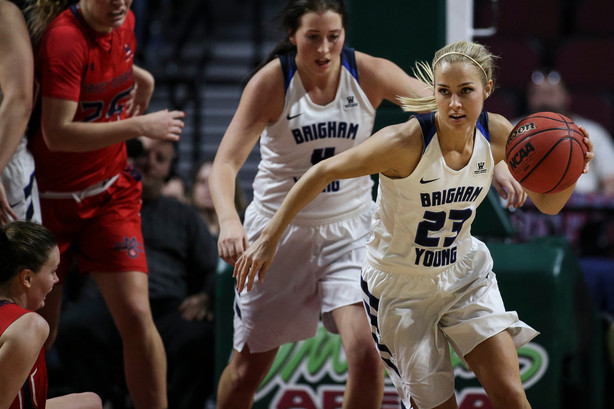 After Broadhead went to the bench in the second quarter, Kalani Purcell scored two of her 15 points to cap a 9-2 run and give the Cougars their first lead of the game with 4:44 left in the half.
Amanda Wayment scored back-to-back layups to push the advantage to 22-18, and Brenna Chase dropped in an open layup in transition during a 10-2 run as BYU (20-11) settled into a 27-20 halftime advantage, appearing to weather an early storm like it did Friday against San Diego.
"It was a tough game," BYU coach Jeff Judkins said. "We hung in tough in the first half, but the third quarter didn't help us and we didn't make plays when we needed to."
But foul trouble continued, and BYU didn't help itself on the boards, either. The Cougars racked up 23 fouls, including four or more each by Broadhead, Purcell and Wayment, then lost the rebounding battle 50-25 to a Gaels team that crashed the glass with 29 defensive boards.
"I'm just watching the ball, getting in the right position, and my size is a huge advantage. Other girls were boxing out, and that allows me to have more area to get the ball," said McKay, who had a game-high 14 rebounds. "We pride ourselves on all of us being able to box out. I think that makes it a lot easier."
Saint Mary's finished off a 13-0 run for a 39-33 lead with 2:37 left in the third quarter, then held BYU to two made field goals in the fourth quarter to set up a date with rival Gonzaga in Tuesday's championship game.
"I think we've been wanting to get to this point for five years, and Gonzaga's always fun to play," said Galland, a native of Spokane, Washington. "The crowd is always fun. The stakes right now — it's either do or die — and it'll be fun to play in front of the home folks."
Related Story
Broadhead entered the game scoring more than 18 points per game. But the Gaels' stifling defense held her to just two points on 1-of-9 shooting while she played most of her 32 minutes with three fouls.
"I thought she played very tentative tonight," Judkins said. "She wasn't aggressive with the ball, and defensively she didn't guard like she normally does. I don't know if it was fouls, but it wasn't one of her best games tonight."
The Gaels' defense held BYU to just two field goals in the fourth quarter, including a 3-pointer by freshman Liz Eaton with 17 seconds left after Judkins emptied his bench with the final outcome in little doubt.
The Cougars will wait until this weekend to hear on their postseason fate. An NCAA Tournament long-shot, the Cougars likely needed to win the conference tournament and clinch the league's automatic bid for that entry. But with the No. 2 finish in the WCC, they should be able to rely on an entry into next week's Women's NIT.
"We can either take this as a positive thing and win a tournament with six games, and have a great postseason. Or we can show up, not care, (and) we'll probably get blown out," Judkins said. "If I were a betting man, I'll bet my team will be ready to go.
"It's going to hurt tonight. But hopefully we'll come back and be ready to go as a team."
Gonzaga 77, San Francisco 46
At Orleans Arena, Kiara Kudrow had 15 points and seven rebounds in just 21 minutes to lead five Bulldogs in double figures as the Zags manhandled the Dons to advance to the WCC championship game.
Jill Barta added 12 points, five rebounds and three assists, while Zykera Rice added 13, Laura Stockton 11 and Emma Stach 10 for Gonzaga (25-6).
Gonzaga held the Dons to just three makes on their first 26 shot attempts, using a 19-0 run to bury USF 41-6 with three minutes left in the second quarter.
Jill Barta and Kiara Kudrow combine to make nine of their first 10 shots for the Zags en route to a 47-17 lead at halftime.
Rachel Howard scored 10 of her team-high 18 points in the second half for San Francisco (18-13).
×
Photos