This archived news story is available only for your personal, non-commercial use. Information in the story may be outdated or superseded by additional information. Reading or replaying the story in its archived form does not constitute a republication of the story.
Editor's note: This is the second part of a two-part series examining the 2015-16 finances of public Division I and II NCAA universities across Utah.- - - - - -
OGDEN — There's one trait athletic directors and those in charge of college athletics finances across the state must have as the cost of athletics continues to rise: the ability to prioritize what's most important.
"You have to be creative not much in how you account, but how you budget and spend the resources you get because they're not as easy to come by," Jerry Bovee, director of athletics at Weber State, told KSL.com.
Just up the road in Logan, it's no different at Utah State University.
"I wouldn't say creative is the right word — it's figuring out what's most important and prioritize your expenses and just constantly reevaluating things," said Maggie McInerney, USU's associate athletic director for business affairs. "There's only so much creativity you can get with money. You either have it or you don't, so you have to figure out what your priorities are and what's most important, where you can save money or where you have things that you're spending money on that don't have value and how you decide what to keep and what goes, what makes sense and what doesn't."
That's the reality in college athletics everywhere from FBS programs in Power 5 conferences to Division II and III schools. College expenses are rising, and with that, an emphasis on programs to be efficient. That was the case in Utah where all six state NCAA programs dealt with increases during the 2015-16 fiscal year, and almost certainly face more in the future.
Of course, dealing with these costs may seem easier for some schools than others.
State of college athletics finances by the numbers
With no surprise, the University of Utah led the state in revenue during the 2015-16 fiscal year, but the gap between the U.'s athletic program and the rest of the state schools continues to rise at a rapid rate. BYU and Westminster are not required to release financial information as private universities.
If there's one grand statistic that illustrates this discrepancy, it's this: the U. drew in more money and spent more money than Utah State, Weber State, Southern Utah, Utah Valley and Dixie State's athletic departments combined during the past fiscal year.
Utah's athletic programs brought in $79.4 million total in 2016. USU hauled in $32 million while Weber State brought in $13.1 million, UVU brought in $12.8 million, SUU with $11.3 million and Dixie State with $6.2 million.
How that money was acquired is also vastly different. For example, about 15 percent of Utah's total revenue was subsidized — money coming in from university funds or student fees — while roughly 67 percent of the state's other public Division I and Division II universities combined revenues came from subsidies.
In all, the latter six schools combined $62.56 million in money that came from student fees or university support during the 2015-16 fiscal year. About $42.3 million of that came from either direct or indirect university support and the other $20.2 million came from student fees.
Direct funds include areas provided by an institution to a program such as tuition or federal work-study support. Indirect funds are "costs covered and services provided by the institution to athletics but not charged to athletics," as defined by the NCAA. Those services include facilities maintenance, utilities, security and risk management.
The U.'s revenue came mostly from media rights and its conference affiliation — areas where those outside of the major conferences (known as Power 5 conferences) are less likely to receive similar funding. Utah athletics officials said the program received $23.9 million from its Pac-12 Conference affiliation alone, which is just a little less than SUU and UVU's revenue totals combined.
The U. also benefits from having a football stadium capacity that is nearly double any of the other state universities and the largest seating capacity of any basketball arenas. Mix in Utah's higher ticket prices and ticket sale revenues are bound to be substantially higher. Utah's near-$17 million mark in ticket sales during the 2016 year surpassed the rest of the public NCAA schools combined by roughly $13.8 million.
The upcoming NCAA men's basketball tournament is another prime example of where the divide happens financially. Teams in each round of the tournament bring in money to their conference, which is shared equally between every team in the conference and the conference itself.
"(The Pac-12 has) more teams in the basketball tournament and so there's more shares flowing to the Pac-12 than there would be to the Big Sky," Bovee said, exemplifying the situation between large and small conferences. "We get an automatic qualifier and until one of our Big Sky schools wins a game, we're going to be stuck with one share that's going to be shared by 11 institutions and the conference office. That dollar amount that's going to be coming back to Weber State is going to be a lot smaller than someone from the Pac-12 that might get four or five schools in and win some games."
During the 2015-16 fiscal year, Utah received $2.9 million in NCAA distributions, while Weber State was the second-highest in the state with close to $855,000.
Related:
One noticeable trend is that costs continue to rise for everyone. While the U. led in revenue, it also led in expenses with $78.1 million. The others in the state had the following spending: Utah State ($32.4 million), Weber State ($13.1 million), Utah Valley ($12.7 million), Southern Utah ($11.5 million) and Dixie State ($6.3 million).
In Utah's case, it was a mammoth $19.3 million increase in expenditures from the previous fiscal year. Utah State's expenses rose by $4.1 million and the rest of Utah's Division I public programs also had more than $500,000 in increased expenditures.
"There's constant increase of expenses — just the cost of doing business constantly increases," said Jason Butikofer, director of athletics at Southern Utah University.
What causes rises in athletic expenses?
If there's one universal certainty in college athletics, it's knowing that the cost of business is going to factor one way or another. Prices generally just don't go down and that weighs in an athletic office. The price of travel fluctuates, costs of tuition rises, books and board will rise in cost too. Then there's the potential that equipment breaks and must be replaced or other building upkeep expenses arise, which can be costly.
Travel costs are among the largest concerns. Those costs rose at the U. as the program used more charter flights to allow its student-athletes more class time that would otherwise be missed due to the Pac-12's scheduling quirks. That's a luxury those in the Power 5 — for the most part — can afford and those outside can't.
"The cost of doing business continues to go up on all fronts. Tuition goes up, the cost of books go up. I mean there's not a lot of things that are going down right now. Travel is a big one. … those expenses have gone up dramatically," Bovee said.
The price of gas is constantly changing, which can throw a wrench in athletic budgets.
"We can't control the price of fuel, which affects the price of charter buses and buying a plane ticket," said Jason Boothe, athletic director at Dixie State. "We can't control the cost of uniforms and apparel and equipment to an extent (too)."
There's another cost that college programs encounter. Winning means shelling out money to keep various coaching staffs intact to maintain success.
In recent years, Utah has given raises to football head coach Kyle Whittingham and basketball head coach Larry Krystkowiak. USU extended football head coach Matt Wells' contract in 2015. In 2016, Weber State extended basketball head coach Randy Rahe's contract through the 2024 season.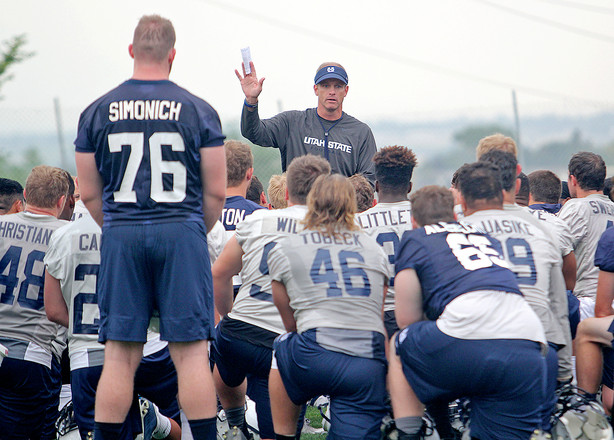 "Salaries don't go down and to stay competitive and to keep your coaches in place, you've got to be creative to figure that out," Bovee said.
There's even costs when coaches leave, with scrambles to find their replacements.
"If a coach quits, it costs quite a bit of money to bring in someone else," McInerney adds.
Trying to balance those costs
The biggest concern any businessperson has is running into the red. While spending is a necessity, especially with those uncontrollable costs, that means programs must know what they can control and spend wisely to prepare for any potential worst-case scenario.
There are several cases across the country where unexpected costs have led to financial troubles. Perhaps the most notable case involves California-Berkeley, which posted a $21.7 million deficit in the 2015-16 fiscal year, according to The Mercury News — mainly falling behind on debt payments for a recent football stadium renovation that was made because the aging stadium was deemed unsafe.
At the U., where several new projects have sprung up since the program joined the Pac-12, Steve Smith, Utah's associate athletic director for business and chief financial officer, said extra reserves created from donations haven't been touched much since the U.'s revenues increased in other areas to pay for new construction.
He said each fiscal decision is made knowing it can be afforded first.
"You plan conservatively on the revenue side and then you meet as a budget committee and we go through (the budget) and make sure we feel comfortable going into the next fiscal year that we budgeted OK, and if things turn south, we'll be able to weather the storm," he said.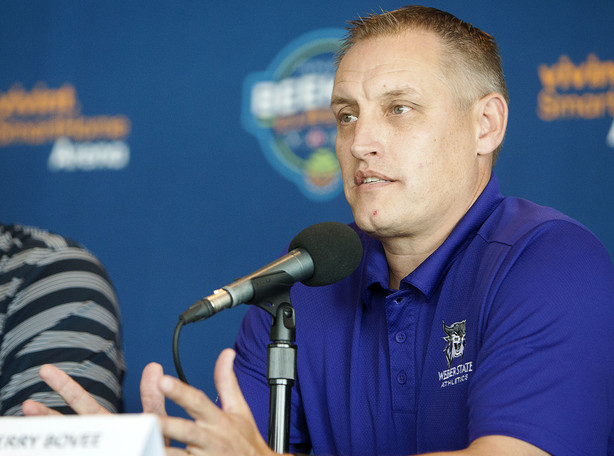 In 2015, Weber State contemplated the idea of paying for the cost of attendance stipends for its men's and women's basketball teams to pay additional college costs. However, Bovee said that's no longer something the program is looking into because it's not something other teams in the Big Sky Conference are doing — North Dakota being the lone exception. North Dakota is currently dealing with a $1.4 million budget shortfall that led to the school creating a committee to break down how to cut costs. The program cut baseball and golf to help ease the situation, but more spending cuts could be on the way.
"It doesn't make a lot of sense with the cost of attendance (stipends) because, in a lot of cases in our conference, you're not fully funded with what you can do anyway for all of your student-athletes," Bovee said, explaining why the program opted to back away from the idea.
Planning conservatively is a mentality that officials in athletic departments across the state said is important in this era of college athletics. Part of that is knowing costs are always rising, but also because revenues are equally unpredictable.
"So much of our budget is based on assumed revenue and that revenue is not fixed," McInerney said. "So if you have a ticket sales year where it's not as much, it's a matter of being in constant communication with the athletic director so that he understands where I think we're going to land and can make adjustments on the expense if needed."
One of the best ways to combat the unsteadiness of college athletic finances is creating reserves from any extra money, such as donations. Smith said the NCAA rules regarding how donation totals are tallied are vague. In Utah's case, donations don't count toward a revenue until the money is spent.
These reserves are helpful for financing projects but also providing insurance in case a program falls short on projected revenues.
"The goal with our budget this year is to have a surplus knowing that sometimes expenses and revenues are going to fluctuate from a year-to-year basis," Butikofer said. "Part of our strategic plan is put aside a small surplus on an annual basis so that when we do have unexpected expenses or we do have a year where maybe some type of expected revenue isn't exactly where we anticipated it to be that we can have a surplus that we can dip into to help mitigate that. And obviously (the) next year we're looking to make that up."
Curbing costs for students
UVU led the state in subsidy percentage used during the 2015-16 fiscal year. That's not uncommon as it is has been one of the highest subsidized programs in the country over the past few years.
Some may wonder why a university would fund athletics — millions of dollars at that, especially as costs continue to climb. However, UVU president Matthew Holland said athletics are important to the university.
"Athletics are a key component of a full university experience and, in some cases, the first exposure many people have to the university," he said. "Our athletics program enhances student life, fosters school spirit and increases the overall value of a degree earned at UVU."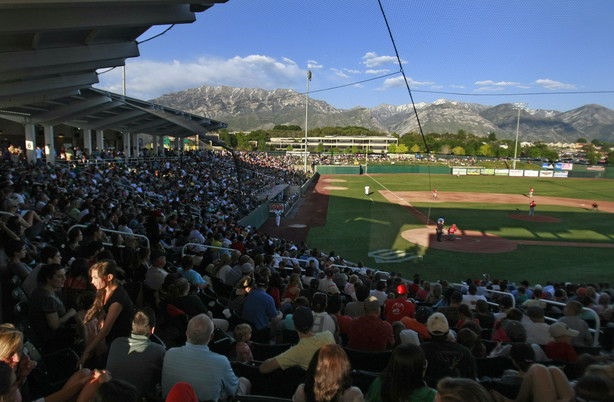 Holland points out the average student-athlete has a 3.35 GPA and that 26 student-athletes earned a 4.0 GPA last fall.
A similar point was made by U. academic officials happy that Pac-12 affiliation meant linking its institution with some of the best universities in the western U.S.
One of the more difficult parts of a public university's athletic director is making sure that the public — mostly students — aren't left overpaying while also remaining competitive with other programs in the state or conference or even nationally.
Butikofer knows that more than anyone. A 2015 audit pointed out the amount subsidized per SUU student was $1,164.90, which was the most in the state.
Statistics show that more money from student fees was used in 2015-16 than the previous year. That's the case across the state. That said, student enrollment increased throughout most of the state too, according to Utah System of Higher Education enrollment numbers.
The 2015 audit was based on total subsidy per student and not student fee per student. SUU's enrollment numbers have increased by more than 1,500 since fall 2014 and Butikofer insists that subsidy per student will decline. He said there has been no plan to increase student fees for athletics.
More than $5.1 million in student fees were used toward UVU's revenue, which is the second-highest total in the state. However, the university has the highest student population in the state. The Utah Higher Education date indicates the university had an enrollment of 33,311 at the start of the 2015-16 fiscal year and that number has since risen to 34,978.
"UVU's general student fees for athletics did not increase from 2010-11 to 2015-16," Holland said. "One of the reasons for this is because of the steady increase in our number of students. For 2015-16, UVU decreased its general student fee for athletics and, last month, our Board of Trustees approved retaining the same rate for 2017-18."
Bovee adds that those fees students are paying are an investment into athletics. It's why many programs do not charge student's admission price to athletic events.
"Obviously, if there's a percentage that a student pays into the fund — we don't charge a ticket price for our students because they invest into our program because of student fees. But if enrollment continues to climb, then naturally (total) student fees will climb with that."
Playing at different levels
Butikofer quietly chuckled as some of the U.'s athletic revenue numbers are mentioned. Oh, how merciful even a fraction of that would be for the smaller-revenue schools dealing with rising expenditures.
Officials of athletic departments outside the Power 5 are well aware those types of dollar amounts aren't coming their way. But being outside of the Power 5 is not necessarily a bad thing. Playing in the Power 5 means fighting with other programs with more money — a constant race for the newest facility or any other recruiting tool that may cost millions. It's not the same outside the Power 5 and, as Bovee is quick to point out, spending money doesn't always equate to success anyway.
Instead of focusing on what larger programs are doing, the focus remains on how to remain competitive within each school's own field of play. And ironically, how Utah's athletic departments prepare for each year's budgets isn't all too different from any other program in the state on a 1:1 revenue to expense scale.
"I think (Utah athletic director Chris Hill) would tell you that they have to be creative even though their revenues are higher," Bovee said. That's because while the U. rules the roost in Utah financially, its revenue is still tens of millions less than other Pac-12 foes.
There are plenty of similarities between the schools in the Power 5 and those who are not. Each draws in money from the same areas: fundraising for capital projects and scholarships, marketing efforts, media rights and tournaments. However, the money received are where those shifts are. Each has rising costs.
The difference is in the amount.
"It's the same revenue streams that all the others have in athletics," Bovee said.
"It's no different what (Division I programs are doing), just with smaller numbers. It's selling tickets, it's getting donations, it's selling sponsorships," added Boothe, regarding Dixie State, Utah's lone public Division II program.
At Dixie State, there are fewer scholarships the university can provide athletes. Division II universities have a different cap on scholarships than Division I schools. Football scholarship opportunities are also capped between the FBS and FCS. For instance, FBS schools can allot as many as 85 football scholarships, the FCS's cap is 63, Division II has a 36 football scholarship limit and Division III schools do not provide athletic scholarships.
Boothe said it's because of that jump in cost to cover scholarships that Dixie State is not actively looking to make a jump to Division I and only in a perfect fiscal plan would it even work.
"We would have to more than double our budget," he said, pointing out that the Trailblazers' budget is about half that of even the lower Division I budgets. "We're pretty competitive athletically with our budget where we are at Division II, but there's room for that growth a little bit for us to be really, really good across the board in all of our sports with some growth over time. But to the Division I thing, we're not funded for that at this point."
That's not a problem for the program, though.
"It's perfect for us because we can fill a really nice niche for us in the state of Utah and (be a) very good and competitive Division II program," Boothe added.
Finding future revenues
A season ago, when SUU won the Big Sky Conference title in football with a team that produced three NFL players, it did so with the lowest budget in the conference. That has led to a boost in ticket sales and avenues to increase revenue streams.
"SUU football is now the place to be on Saturdays here in Cedar City," Butikofer said.
He added that from 2014 to 2016, SUU's attendance doubled from 3,200 to 8,355, which he estimates is the largest attendance percentage in a two-year span anywhere in the country. In addition, fundraising and sponsorship figures increased too.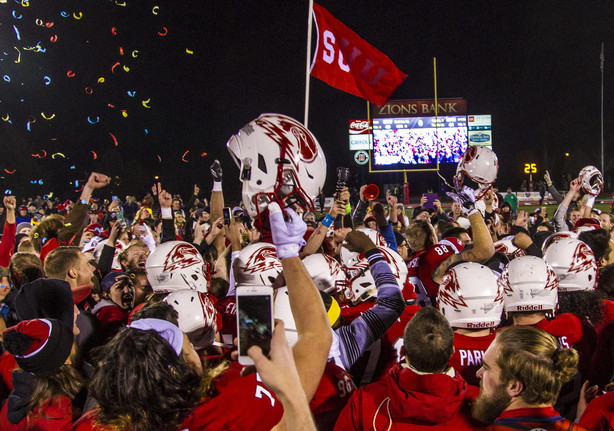 "A part of my transition here has been 100 percent focused on doing more with less, but at the same time, trying to find ways to do more with more and really try to be as competitive as possible in the Big Sky (Conference) and this region," Butikofer said.
Of course, programs will continue to push traditional revenue streams to generate as much money as possible. However, the creativity that lies within college athletics is ways to find more revenue without additional costs.
One of the largest paydays an FCS program can get is playing a Power 5 program on the gridiron. SUU received a massive payday this past season with both Utah and BYU on its schedule. This season, the T-Birds open at Oregon. SUU will play both Oregon State and Arizona in 2018, which is estimated to generate an extra $1 million for that fiscal year.
"It's a great opportunity for us in the region to elevate our brand and it's also a great revenue stream," Butikofer said.
In 2015, then-USU athletic director Scott Barnes turned to the state legislature to help pay for cost of attendance stipends for student-athletes. The move helped USU but was met with criticism outside of the program and especially outside of Logan.
It was also met with curiosity from other state university's athletic programs and seemingly opened the door for everyone else. Weber State went on to receive $1.3 million to help student-athletes during summer school which helped raise student-athlete graduation rates. It's a plan Bovee said could potentially help the program financially in the long run.
"We put all of those resources into education," he said. "We were able to put together a summer school plan for our student-athletes, which in the end, most of those resources were able to go back into system for tuition, for books to the bookstore, for housing on campus when traditionally we had been a little bit slower at Weber State, so it was a win-win for our system — our whole university."
Butikofer said a similar request was made for student-athlete welfare and student-athlete success which helps aid academics. However, that request was denied.
Holland said the Executive Appropriations Committee approved its initial higher education budget last week that included $3.1 million toward new funding for student-athlete graduation improvement and athletic-academic support. That money was to be split among the public universities.
"We did not request this support, but we certainly appreciate it," Holland said.
As costs increase and resources created with money also continue to rise, money plays a crucial role in collegiate athletics.
At times, it can seem money is all that matters in college athletics. But Bovee stops short of saying that.
"Resources matter, but I wouldn't go as far to say it's all about the resources," he said. "I think it doesn't necessarily translate to success on the court or the field. If you get outside of what your framework is, of what your expectations are for the program and it becomes all about resources, you'll leave behind developing the right culture that'll help you be successful."
×