This archived news story is available only for your personal, non-commercial use. Information in the story may be outdated or superseded by additional information. Reading or replaying the story in its archived form does not constitute a republication of the story.
SALT LAKE CITY (AP/KSL News) -- Calling their lives blessed, more than a dozen young women and girls from Utah polygamist families spoke at a rally Saturday, calling for a change in state laws and the right to live the life and religion they choose.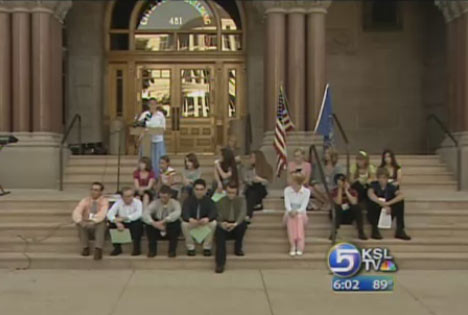 "Because of our beliefs, many of our people have been incarcerated and had their basic human rights stripped of them," said a 19-year-old identified only as Tyler. "Namely life, liberty and the pursuit of happiness. I didn't not come here today to ask for your permission to live my beliefs. I shouldn't have to."
The youth, ages 10-20, belong to various religious sects, including Apostolic United Brethren, the Davis County Cooperative Society, and Centennial Park, as well as families that practice polygamy independent of religious affiliation. They had their own band and brought their own signs and one after the other, stood up before the crowd to speak out in defense of polygamist families. They spoke voluntarily, but gave only their first names, saying later they were protecting the privacy of their parents.
Tyler: "I don't expect you to understand the reasons for this choice, but i do expect you to defend my right to make that choice."
Several of the youths admitted going public could change their lives.
Caleb: "Forces today claim that we as polygamist kids are oppressed and you know what, that is true and for those of you who attend public school you probably know what we are talking about. It's our teachers and peers who are oppressive to us, not our parents."
Amanda D. "I go to school, I want to have friends, I want to play sports, I'm just like any other teenager, but why am I treated differently just because of my parents."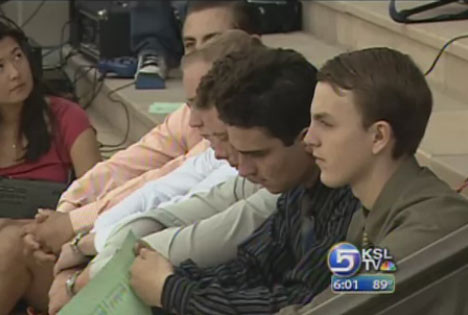 The rally, which drew a crowd of about 250 to Salt Lake's City Hall, is thought to be the first of its kind, said Mary Batchelor, co-founder of Principle Voices of Polygamy, a pro-polygamy education and advocacy group that helped organize the event.
Polygamy has been practiced here longer than Utah has been a state. First brought to the high desert by members of The Church of Jesus Christ of Latter-day Saints in 1846, the practice was abandoned by Mormons as a condition of statehood in 1890.
The church now excommunicates members found to be practicing plural marriage. It also disavows those who call themselves "fundamentalist Mormons," although most Utah-based polygamists identify themselves with those terms.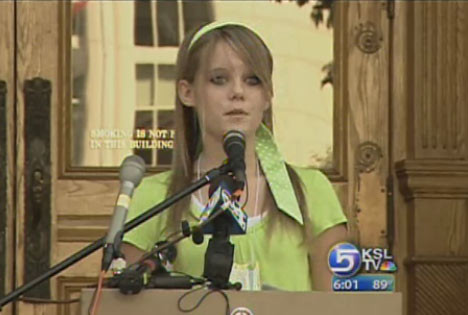 Fundamentalists split with the Mormon church over the polygamy issue in the 19th Century and continue to believe plural marriage is the key to eternal salvation.
Polygamy is banned in the Utah Constitution and a felony offense under the state's bigamy statute. Those who choose to live "the principle," as it is known to insiders, typically try to live their lives under the radar screen out of fear that attention will bring police to their door.
Rachel Young, a 45-year-old mother of one of the speakers, said that underlying fear kept some away from the rally.
"People are actually really scared to be known as polygamist because of the prejudice the public -- not just the government -- has about them," Young said.
Also absent Saturday were the stereotypes most often seen on television and in movies about polygamists and their kids -- girls in prairie dresses with long, braided hair and boys in buttoned-to-the-collar long-sleeved shirts sporting dour expressions.
Instead the kids here looked like any other teens. Dressed in flip-flops and blue jeans, bangs drooping over their eyes, they talked on cell phones and played rock music, crooning lyrics written to defend their family life.
All of the speakers praised their parents and families and said their lives were absent of the abuse, neglect, forced marriages and other "horror stories" sometimes associated with polygamist communities, particularly, the embattled southern Utah-based Fundamentalist Church of Jesus Christ of Latter Day Saints.
Jeanna: "To breakdown the stereotypes that are totally dominating polygamists, so much goes on about the FLDS, but there's so many more about polygamy than just flds."
Laura: "I'm standing up for our beliefs, our religion, the way we want to live and the way we choose to."
Speakers said that with "dozens of siblings" and multiple "moms" they are well supported, encouraged to be educated, and can to make their own choices about marriage, including whether to practice polygamy.
"We are not brainwashed, mistreated, neglected, malnourished, illiterate, defective or dysfunctional," 17-year-old Jessica said. "My brothers and sisters are freethinking, independent people. Some who have chosen this lifestyle, while others have branched out to a diversity of religions."
Most said the keep their lives private, but have experienced teasing and ridicule in their school and neighborhoods when the secret is found out.
The youth, who called for an end to prejudice, were praised by organizers for their courage.
"They want to defend their lifestyle, they don't want to be ashamed because of the way kids treat them, they want to hold up there head and say I'm proud to be from a polygamist family, and so I think this gives them that opportunity," said Anne Wilde of Principle Voices.
"You have paved the way for others to come forward as well," said Laura Fuller, a law student said to be a wife of well-known Utah polygamist John Daniel Kingston. "Today is just the first step. With courage like yours, someday, we will have the same rights as everyone else ... someday we will have the freedom to live our religion."
The teens who held the rally today call it a success and hope they won't be seen as victims.
The teens traveled from all over Utah. Some even came from out of state to attend.
On the Net: www.principlevoices.org
(Copyright 2006 by The Associated Press. All Rights Reserved.)
×