Estimated read time: 3-4 minutes
This archived news story is available only for your personal, non-commercial use. Information in the story may be outdated or superseded by additional information. Reading or replaying the story in its archived form does not constitute a republication of the story.
TAYLORSVILLE — Mercedes Staples has had plenty of big moments in her career at Viewmont High School, even as a junior who averaged 17.1 points and 4.2 assists per game during the regular season.
With just two seconds on the clock, the junior faced the biggest moment.
Staples scored a game-high 21 points, including a pair of free throws, to ice the final scoreline, and the Vikings advanced to the 5A state championship with a 49-47 win over Sky View at Salt Lake Community College on Friday afternoon.
"I was nervous, but I knew I could knock them down," said Staples, who also had five rebounds and four assists. "It's just a free throw; it's a free shot you have. I felt I wanted to step up and win it right there."
Megan Carr had nine points, 12 rebounds, four steals and three blocks for the Vikings (21-3), who advanced to their first state title game under seventh-year head coach Clint Straatman.
"That girl is unbelievable: blocking shots, getting rebounds and doing everything," Straatman said of Carr. "She didn't have the best shooting night, but she was unbelievable. I don't thinks she ever came out of the game."
Sky View (20-4) appeared on the verge of extending its state-leading 18-game winning streak as Kylie Hale made four of the Bobcats' seven first-half 3-pointers en route to a 29-22 halftime advantage.
That all changed in the second half.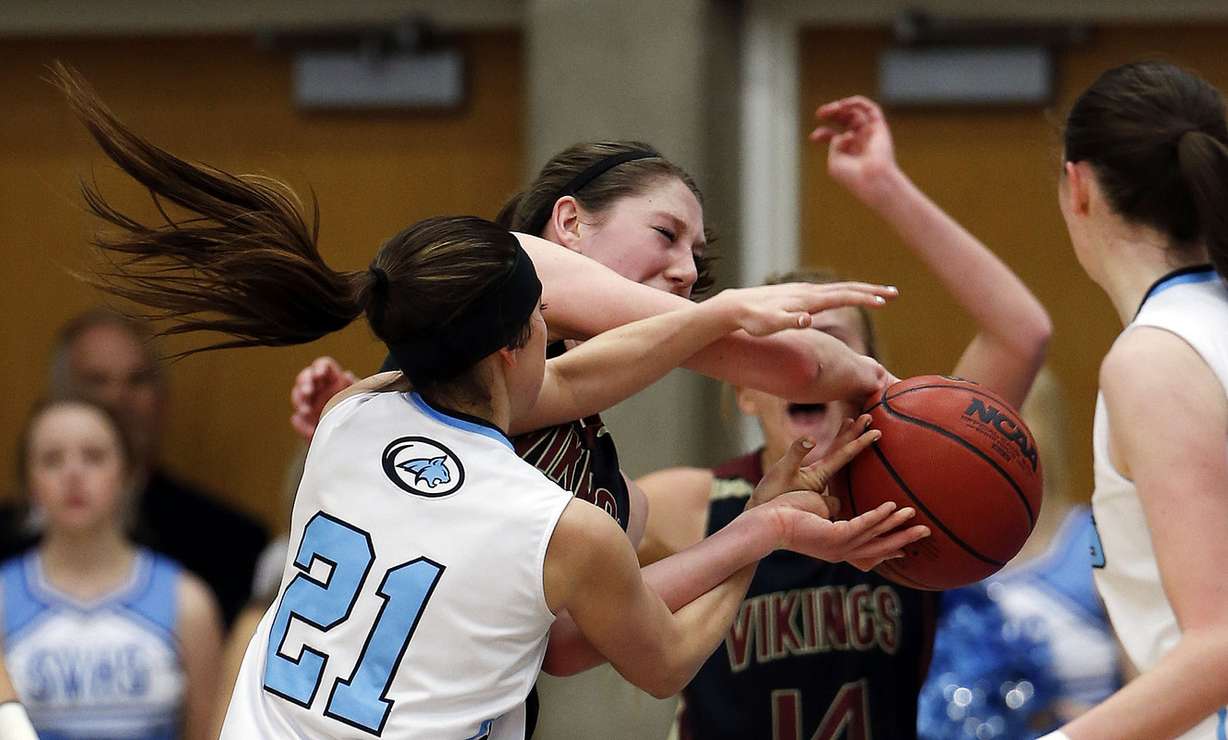 "I think we just came out with a lot more confidence," said Staples, who referred to her team as underdogs against the top team in the Cache Valley with a trio of Westminster signings. "We couldn't get our shots to fall in the first half, but we came out (in the second half) strong.
"I drove more, and decided to get to the basket more. That's exactly what we did."
Staples drained consecutive 3-pointers to open the third quarter, and the Vikings tied the game at 38-38 ahead of the final period.
"She's such a leader," Straatman said of Staples. "She really took charge, and all four of my seniors didn't let it happen."
The momentum continued to open the fourth. Staples paced a 9-0 run to open the final period, capping it with a trey from the college line at SLCC's Bruin Arena with five minutes left to give the Vikings a 44-38 lead.
The Region 2 co-champs defended the Bobcats' hot 3-point shooting with size, and Megan Carr patrolled the boards to an overwhelming advantage for the Vikings. Viewmont held a Sky View team that made 7-of-11 first-half 3-pointers to just three treys after the break.
"We just focused on two of their shooters (Hale and Kaylee Carlsen), making sure they didn't get their shots off," Staples said. "They were wide open, and this time we made them feel uncomfortable."
But the Bobcats refused to go away.
Hunter Krebs scored back-to-back buckets underneath the basket, and Sky View pulled within two, 47-45, with 1:43 left in the game.
Krebs was fouled on a rebound with eight seconds left and went to the line to tie the game. After missing the first, Sky View opted to intentionally miss the second. But Staples grabbed the rebound, and the Viking standout iced the game from the free-throw line on the other end.
Now the Vikings will be looking for their first state championship since winning the 3A title in 1980.
"We've been to the state tournament every year that I've been here, but we just come and get beat in the first (or second) round," said Straatman, whose team lost to Bingham in last year's tourney opener. "They just didn't believe in themselves. But I have a group right now that really believes in themselves — that's a big difference."
Hale led Sky View with 14 points and three assists, and Carlsen supplied 11 points, three assists and a steal.
×
Photos
Most recent Sports stories