This archived news story is available only for your personal, non-commercial use. Information in the story may be outdated or superseded by additional information. Reading or replaying the story in its archived form does not constitute a republication of the story.
SALT LAKE CITY — National Signing Day came and went, and it wasn't just about the local schools selecting in-state products to continue their football careers.
Three schools from the Pac-12 signed six of the top-10 recruits from the state of Utah, including Southern California in early enrollee Tayler Katoa from Layton and No. 1 overall recruit Jay Tufele from Bingham.
"First and foremost, all five of my top schools are really good programs and second to none," said Tufele, the top-rated recruit in the state by Scout.com. "But I felt like (USC) was the best fit for me.
"Their academics are second to none, and I feel like I could do really good over there. The legacy they have is really strong, and I just want to be great."
Stanford fullback Sione Lund confirmed his earlier commitment to Stanford, inking his National Letter of Intent to join Ridgeline's Levani Damuni.
"Going to Stanford wasn't easy," Lund said. "It was a hard road where there were probably more downs and ups. But it was all worth it."
Lund pledged his allegiance at his home, surrounded by close friends and family. While other recruits used special Signing Day assemblies at school or helicopters to announce their decisions, the former Brighton High star decided none of that was for him.
He called Stanford coach David Shaw from his family's kitchen to announce his commitment, and he formalized it in a low-key ceremony.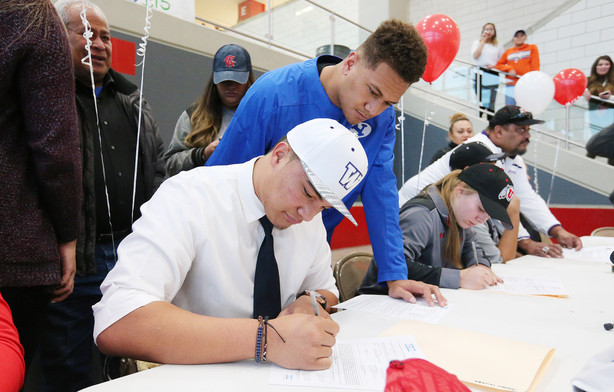 "I knew where I wanted to go at a young age, and most guys do, but they don't want to let anyone know," Lund said. "They love recruiting, and that's fine. You're young, and you should enjoy it."
Wide receiver Ty Jones graduated early from Provo, and he'll enroll at Washington on March 26 as the Huskies open spring camp.
"It's a tedious process; I've been waiting for too long," said Jones, a former Utah commit. "I can't wait to get to work. I've got a long way to go, but I'll be thinking about it for another month. I'm excited."
Lone Peak's Jackson McChesney also formalized a longstanding commitment, but he was one of 12 in-state targets picked up by second-year head coach Kalani Sitake and BYU.
"The thing about BYU is that Kalani gives a family-like feel,"said McChesney, whose brother Austin is a defensive back with the Cougars. "I want to be a part of his family and the BYU family."
McChesney committed to the program shortly after his sophomore season to then-head coach Bronco Mendenhall. But he also felt he fits in well with Sitake and the new coaching staff, including running backs coach Reno Mahe, who lives close to McChesney in northern Utah County.
The Lone Peak running back pledged his support to BYU alongside teammates Ammon Hannemann and Preston Lewis, while Knights teammate Dakota Hansen signed his letter of intent to join older brother Chase at Utah.
"Right from when my brother signed, they were amazing to him and great to our whole family," Dakota Hansen said. "They're playing at such a high level, how could you not want to go there right now?"
In addition to BYU and Utah, about a dozen Lone Peak athletes signed with schools that included Air Force, Dixie State, Utah Valley and Weber State.
"I'm really excited," said Hannemann, who recalled setting a goal to play football at BYU when he was 4 years old. "It's everything I've dreamed of. I love the coaches and all the people down there."
×
Photos
Related Stories