This archived news story is available only for your personal, non-commercial use. Information in the story may be outdated or superseded by additional information. Reading or replaying the story in its archived form does not constitute a republication of the story.
Many people had tears in their eyes as they reached out to their immortalized loved ones -- the faces of nine coal miners who died in the Crandall Canyon mine now brought back in an extraordinary public monument.
Kristin Kimber, widow of miner Brandon Kimber, said of her children, "For them to be excited and put a smile on their face to see their dad is quite amazing."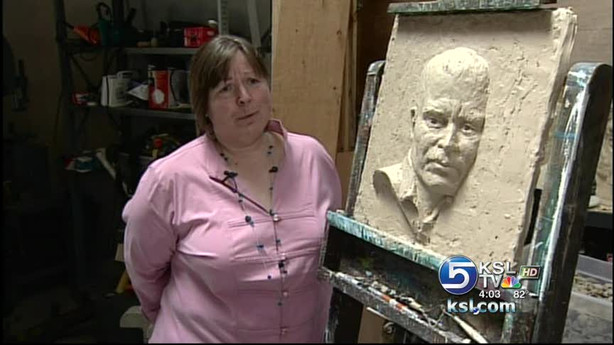 In the early hours of Aug. 6 last year, the Crandall Canyon mine collapsed, creating a seismic wave that measured close to 4.0. Trapped a mile deep inside the mountain were six miners working the overnight shift. Kerry Allred, Luis Hernandez, Carlos Payan, Don Erickson, Manuel Sanchez and Brandon Phillips are entombed within the closed mine.
Ten days later, on the evening of Aug. 16, the mine rumbled and collapsed again, killing three rescue workers. Gary Jensen, Brandon Kimber and Dale Black died trying to save their colleagues.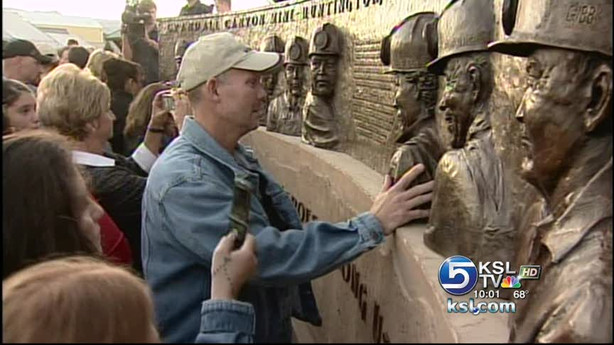 There have been many public prayers and memorial services over the past year but none quite like the one that unfolded Sunday night in Huntington. To say the monument touched people is an understatement. Many were moved to touch the bronze faces themselves in scenes that were reminiscent of the famous Vietnam Wall in Washington, D.C.
The new Miner's Memorial Park is now a very public place for people to always be reminded of what was lost. Gov. Jon Huntsman said, "Time is the great healer, but now with the unveiling of this masterpiece, it's time to celebrate these good lives, because I believe that good lives never die."
Nine faces, nine men to remember, a place for their loved ones to grieve and embrace, to touch and to sob.
Gaylene Arensdorf, the sister of miner Don Erickson, said, "Just felt like we were closer to him still, like he was still here."
Kimber said, "It's a very beautiful moment, and it just brings a lot of peace to you knowing that they're here forever."
The monument was created by Karen Jobe Templeton. She used photos and frequent discussions with family members to capture the men's personalities. She told the audience she deliberately put the faces six feet high so people would look right into the miners' eyes. "When you look into these men's eyes, you begin to understand the depth of what has been lost," she said.
A musical group from Washington State traveled to Utah to dedicate a song to the miners. But the centerpiece was a monument so strong it just kept pulling people in.
Ron Erickson, the uncle of Don Erickson, said, "This is outstanding, it's beautiful. I can't believe it."
Wendy Black, widow of Dale Black, said, "Their love is with us still. They will always live in our hearts."
"They have never left us. We just can't see them anymore. And this beautiful monument gives us their face that will remain with us forever," Kimber said.
Early in the day we asked Karen Templeton if she'd be bothered if people touched her work of art. She said, no, she welcomes it and hopes people will touch it over and over. She said if all the color is rubbed off the bronze in the next year, she'd be happy.
E-mail: hollenhorst@ksl.com
×
Related Links