Estimated read time: 4-5 minutes
This archived news story is available only for your personal, non-commercial use. Information in the story may be outdated or superseded by additional information. Reading or replaying the story in its archived form does not constitute a republication of the story.
SALT LAKE CITY — George Hill is out. Derrick Favors is out. Alec Burks is out.
But for how long?
That's been the question on most everyone's minds in the first few weeks of the NBA season because the Utah Jazz have encountered injury after injury. However, when the Jazz announce these injuries, they don't release any sort of information of how long to expect the player to be out.
After KSL.com reached out, the Jazz declined to comment on the policy.
I think I can imagine what they're thinking. It's a bad look when the injury timeframes announced don't end up matching up with the amount of time a player misses. With Derrick Rose's situation, for example, when he took longer to return than originally announced, fans worried about what it meant for Rose's overall health. And on the other hand, if a player returns before an expected timeframe, there are also questions about whether or not a player returned too soon.
However, releasing no timeframe information hurts fans and players repeatedly. First of all, there's the wild speculation. Take Gordon Hayward's broken finger suffered in the preseason. Without information from the team, fans and journalists alike headed to WebMD or local doctors trying to get an idea of how long it takes to recover from injuries like Hayward's without knowing the particulars of his injury.
But at least Hayward's injury was pretty black and white. But on sprains or strains, like Hill's sprained toe, knowing the severity and approximate timeline for return is immensely valuable. NBA players have missed two and 20 games with sprained toes before. What is the severity of Hill's injury? We don't really know.
As a result, we get this awkward dance every day where the beat writers ask head coach Quin Snyder about all the injuries, and he has to find new ways to not tell us anything, while emphasizing what critical pieces of the team are missing. Then, media and fans alike are forced to endlessly speculate about when said critical pieces will actually be productive members of the team.
And fans are starting to get upset. In a post titled "Does anybody else sometimes feel hesitant to purchase a ticket because of how the Jazz handle injury news?" Reddit user "SuperNinjaSteve" writes:
"I understand why they don't like putting a timetable for a player's return, but fans are almost completely left in the dark as far as injuries are concerned, and when it comes to buying tickets, you really run the risk of suddenly being blindsided by your favorite player missing the game because of an injury the team knew about all day but didn't release news to the public about until right before tipoff."
And yes, that's just one guy, a man who claims he's not only a ninja, but goes so far as to say he's a super one as well. But he's not alone. I have spoken with dozens of fans, online and off, who are frustrated because they don't have any idea when their favorite players are likely to return, and feel like the team (and media members) are holding back.
Worse, they're starting to blame the players. I've also spoken to dozens of fans who feel like the players are somehow lesser beings for sitting out with these injuries, when really, they're just frustrated with a continually extending process where the players are announced out on a game-by-game basis.
What do other teams do? Here's an example. Marvin Williams of the Charlotte Hornets was diagnosed with a bone bruise on his left knee Nov. 26. Here's the release the team sent out: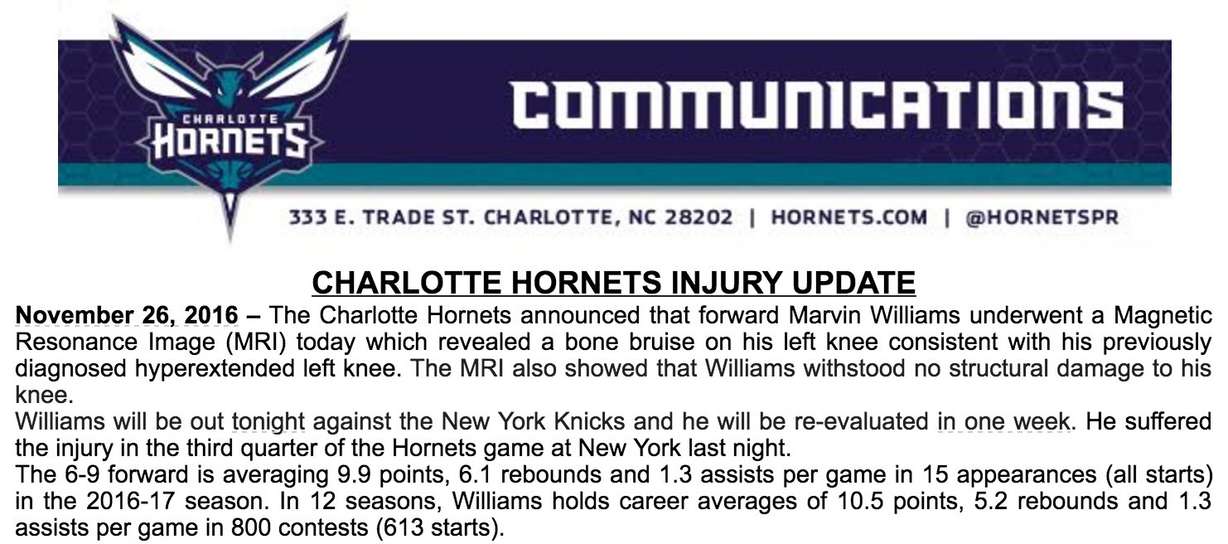 Favors of the Utah Jazz was diagnosed with a bone bruise on his left knee on Nov. 16. Here's the release the Jazz sent out:
That "re-evaluated in one week" clause that the Hornets used is really handy. It's not saying Williams will return in a week, it's just giving a clear minimum time he'll be out, when more information can be provided at a later date. In the meantime, there could be more clarity for fans.
Or take Nick Young's calf strain. On Nov. 30, the Lakers announced Young had an MRI and that the results showed a strained calf muscle. He's expected to be out 2-4 weeks. That's actually a big window, but again, at least it's fair to the people who care about the team.
Even Gregg Popovich and the famously quiet San Antonio Spurs have given semblances of timelines on injuries (although they don't have many). When Tony Parker was out due to a sore right knee early in the season, Popovich commented that he'd be "out for a week or so." Parker missed about a week (three games, to be precise), and a minimum of drama was created. Again, the Jazz have yet to give an official timeline on any injury this season.
I understand that the reality is that injuries are difficult to predict, and the status of them can change repeatedly. But we're all just asking for a little bit of respect on this issue: Trust the fans with limited information, and they will reward you with their trust as well.
×
Most recent Sports stories