This archived news story is available only for your personal, non-commercial use. Information in the story may be outdated or superseded by additional information. Reading or replaying the story in its archived form does not constitute a republication of the story.
SALT LAKE CITY — Nic Harris got the rare start for East High football in its 4A state championship tilt with Springville, filling in for junior Ben Ford amid an elbow injury.
Was he nervous? Possibly.
But then Harris looked over his shoulder and spied East running back Jaylen Warren — and everything flowed as smoothly as the Leopards' triple-option offense from there.
Warren eclipsed the 3,000-yard rushing mark on his 2016 senior season, piling up 206 yards and three touchdowns on the ground as East sprinted to a 48-20 win over the Red Devils for its second-consecutive 4A state championship at Rice-Eccles Stadium.
"I've been friends with him for a long time," said Parker, who completed 2-of-3 passes for 27 yards and added 62 rushing yards for a touchdown. "Seeing him accomplish that is amazing. We love him, and the team chemistry is big. We have a bond, and it shows when he comes in."
Warren finished the season with 39 rushing scores, setting a Utah high school record for most touchdowns in a single season to cap an undefeated campaign for the Leopards (14-0). He finishes his prolific senior season with 3,099 rushing yards and 39 touchdowns.
But the prolific running back who only holds a college offer from Snow College immediately deferred credit to his teammates for his achievements.
"It's my linemen. They did it all," Warren said. "I want to give my team the credit, because I couldn't have done it without them. I just follow my blocks, and make it happen."
Warren opened the scoring on the Leopards' first drive of the game, rushing for 52 of his 91 first-half yards to plunge into the end zone just three minutes into the game. His plunge on the first drive of the second half gave him rushing TDs, and the Leopards a 34-13 lead with 11:30 left in the third quarter.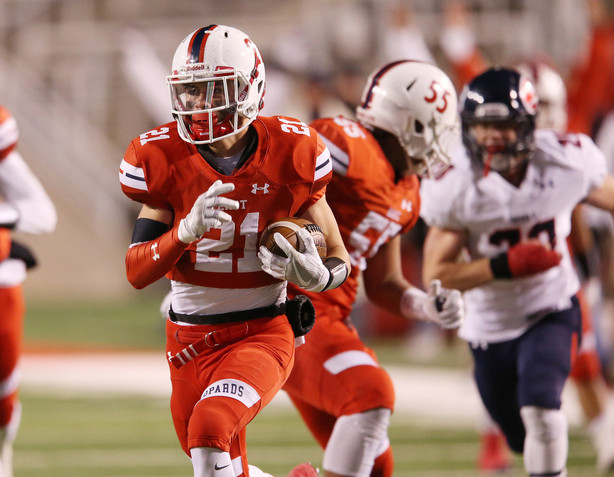 Touchdown runs by Charlie Vincent, Sione Molisi and quarterback Nicolas Harris gave the Leopards a 27-13 halftime lead. East piled up 276 yards of offense, including 249 on the ground, in a dominant first-half rushing performance.
The Leopards outgained Springville (12-1) with 521 yards to 276, including 494 net rushing yards.
Most importantly, though, East ended with a second-straight 4A title after the Leopards spent 20 years in a championship drought before 2015.
"This season was incredible; it was like a fairy tale," East coach Brandon Matich said. "We were able to go out to De La Salle, and win that game out there. To beat Pulaski Academy at home, to win a Region 5 championship — it's been a magical, fairy-tale season."
Still, Springville had a chance to make things interesting as early as the second quarter. The Leopards committed eight penalties for 100 yards, and nearly lost their substantial lead on a fumble in the second quarter before the defense forced a sack on fourth down.
Jantsen Thorpe pulled the Red Devils (12-1) with two scores on the first play of the fourth quarter, capping a long drive with his third total touchdown to cut the deficit to 34-20 with 11:56 left in the game.
"They're big up front," Matich said of Springville. "They're undefeated in the state championship game for a reason. They have a great defense.
"What they were doing worked."
Warren's third touchdown with 6:18 left in the game sealed the win on a 30-yard dash, and Tyler Eteauti added a 30-yard scamper for a touchdown with 3:11 left on the clock.
After sealing the win, East put in special guest Ben Ford to kneel on the ball and clinch the state title. Ford started the bulk of the Leopards' season before suffering an elbow injury a week ago and deferring to Harris in the season finale.
"I knew that was going to happen. He's worked his butt off, too," Warren said of Harris. "When he had the opportunity, I knew he would take advantage of it."
Friday night's title-clinching win celebrated Warren, but it also celebrated East's seniors for accomplishing consecutive championships for the first time since 1956.
"It doesn't feel any worse. It feels really good," Matich said when asked how the win felt.
"I have great kids. Football is everything to them; it's a way out to them. You've got to get to know my kids. They are special kids, and they deserve this as much if not more than anyone."
×
Photos
Related Stories