Estimated read time: 3-4 minutes
This archived news story is available only for your personal, non-commercial use. Information in the story may be outdated or superseded by additional information. Reading or replaying the story in its archived form does not constitute a republication of the story.
PROVO — Jonah Trinnaman was so hyped for BYU football's season opener against Arizona, he laid out what he was going to wear long before kickoff at University of Phoenix Stadium.
Of course, that's just what Trinnaman does for every game, his roommate Hunter Marshall confided.
Still, Trinnaman had a good reason to be excited.
The list of firsts in BYU's game notes was as long as the phone book, and Trinnaman recorded his first Division I reception, minute and player impact with six catches for 49 yards in the Cougars' 18-16 win over the Wildcats.
"It's a learning experience," Trinnaman said after practice Tuesday. "But it's a different level of play, and I'm looking forward to getting better every week in practice."
If Trinnaman's play didn't stand out on offense, that's OK. He tied with Moroni Laulu-Pututau for the team-high in receiving yards — but the offense relied on a steady stream of running back Jamaal Williams, who ran for 162 yards on 29 carries and gave up nearly 50 more yards and a touchdown on penalties.
Still, don't think the former Snow College standout is disappointed with a consistent run game.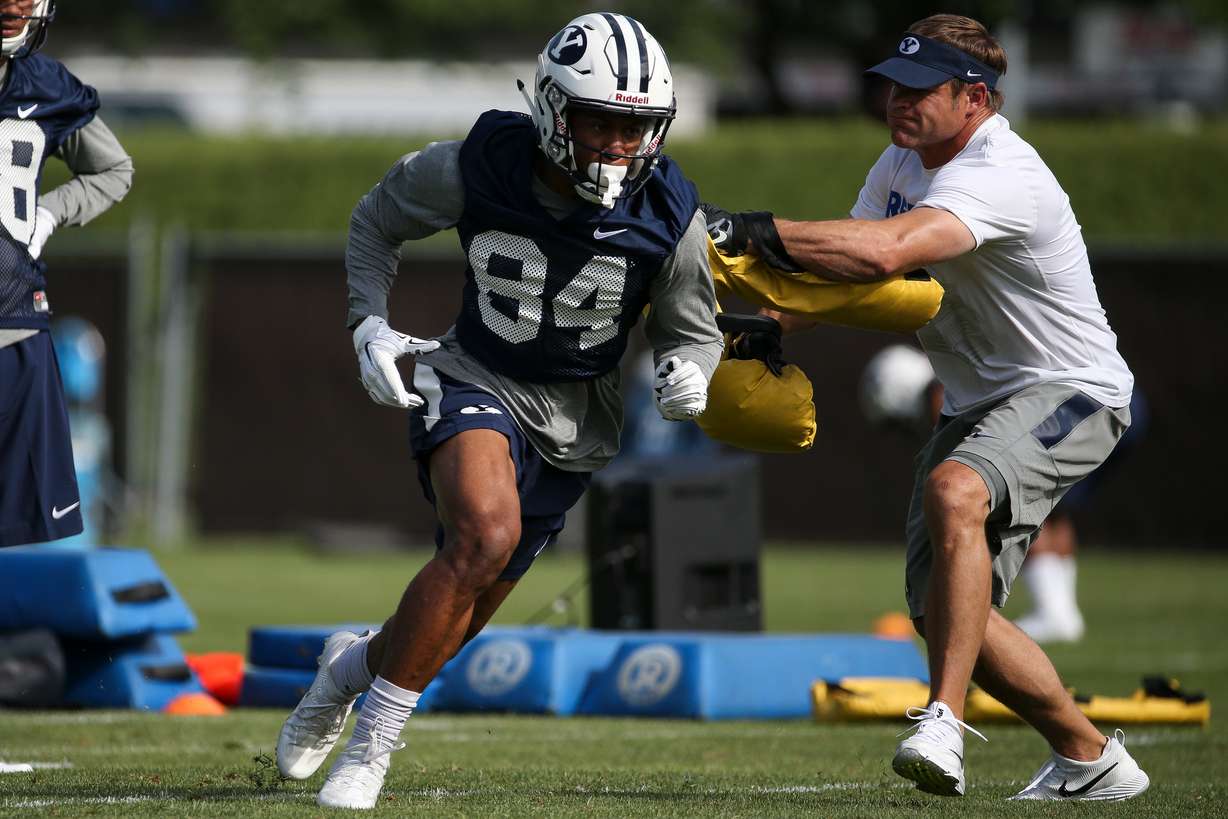 "Jamal is a great player; he's incredible," said Trinnaman, who prepped at American Fork High School. "He's going to get a lot of carries, but it's exciting to get more rocks our way. It's what we love to do, and hopefully we get more deep balls and things to get us going."
Trinnaman was a junior college All-American kick returner for the Badgers, and the 5-foot-11 wideout finished his sophomore season with a team-high 803 yards and eight touchdowns on 47 catches. He even threw an 8-yard touchdown pass for Snow, making him one of just three TD tossers behind starting quarterback Stefan Cantwell that season.
He's competitive as can be — but you might never know it by meeting the son of Laura and James Trinnaman.
"He's a super nice guy," Marshall said. "He will do anything for anyone. He also likes to plan out what he is going to wear for every game. It gets us hyped for the games and it's a lot of fun.
"He's got his style, and he rocks it."
Trinnaman also knows the team he will face Saturday at Rice-Eccles Stadium.
"They have a lot of good players with good coaching," Trinnaman said of rival Utah. "They know what they are doing. It's the U.; everybody knows about the U. It's exciting."
Make no mistake, Trinnaman wants to win — especially in the Cougars' next contest. A lifelong BYU fan who was recruited heavily by Utah and Hawaii as well, Trinnaman opted for the Cougars even though former receivers coach Guy Holliday took a job that switched from blue to red.
"To play for Ty Detmer, coach (Kalani) Sitake and coach (Ben) Cahoon, it's an opportunity you have to take," he said. "I dreamed of being a BYU football player, and it's exciting for me to grow with these guys as a player."
×
Related stories
Most recent Sports stories