Estimated read time: 4-5 minutes
This archived news story is available only for your personal, non-commercial use. Information in the story may be outdated or superseded by additional information. Reading or replaying the story in its archived form does not constitute a republication of the story.
PROVO — There was no suspense when BYU offensive coordinator Ty Detmer announced the Cougar's starting quarterback for the first game of the season.
"Taysom is going to be our starter and he's pretty excited about that," Detmer said.
Taysom Hill, 26, was the guy most everyone thought would be the signal caller for 2016. Many had questions about Tanner Mangum's thoughts now that he was No. 2. No one else really said anything about the other guys and their hopes and dreams. No mention of the other Detmer, who happens to be smallest gunslinger from the Lone Star State.
Koy Detmer Jr. has Lavell Edwards Stadium dreams of his own, though not too many people think he will ever replicate his uncle's success as a Heisman Trophy winning quarterback for the Cougars. His path to football success may actually be where he usually stands during football games, and that's on the sidelines. But a guy can still dream of getting in the games and Koy Detmer Jr. still remembers fondly the one and only opportunity he had to play in front of the BYU faithful.
"It's just a great place to play" Detmer Jr. recalled. "It's just a different feeling."
It also helps to play well when you get the chance. The current sophomore QB completed all three of his passes including a 47-yarder to Trey Dye in the 70-6 win over Wagner. His dad, a former University of Colorado and NFL quarterback, couldn't wait to call him after the game to find out about his experience.
But Detmer Jr. entered that blowout win when the game was already in hand and he knows his chances of playing any meaningful downs this season are pretty slim. He doesn't seem to care right now because he's picking up tips and pointers from Hill, Mangum and his famous relative who also happens to be his position coach.
"I'm loving where I am right now. If I'm scout team and I'm helping the defense out then I'm doing whatever I can to make them better."
And the diminutive QB is not afraid to take a hit, even if it looks like some guys could break him in half. In fact, Detmer Jr. likes getting smacked around a bit because it's all part of the game.
"I am smaller and you can't change anything about that," Detmer Jr. said with a smile on his face. "But you find ways to not just get hit. You throw and you get away from the hit a little bit."
All the hits and practice time are not wasted on Detmer Jr. He wanted to come to BYU to prove he could play big-time college football and hasn't really thought about potentially leaving Provo to pursue more playing time at a smaller school. He believes all of his experiences with this Cougar club help him reach his end goal: to become a college football coach.
"Anything Ty is saying or anything the other coaches are saying I am just trying to soak it all in," Detmer Jr. said. "I just want to know everything so that five or six years down the road, I can go coach."
He would be following in the footsteps of his uncle, father and grandfather if he went in to coaching. With that sort of pedigree, Detmer Jr. could have gone to school just about anywhere and still get a coaching job when he is done. But feels his time at BYU will give him a leg up when he finally graduates.
"You see the connections through BYU. Then it (convinces) me even more to get into coaching. The (BYU) network is crazy."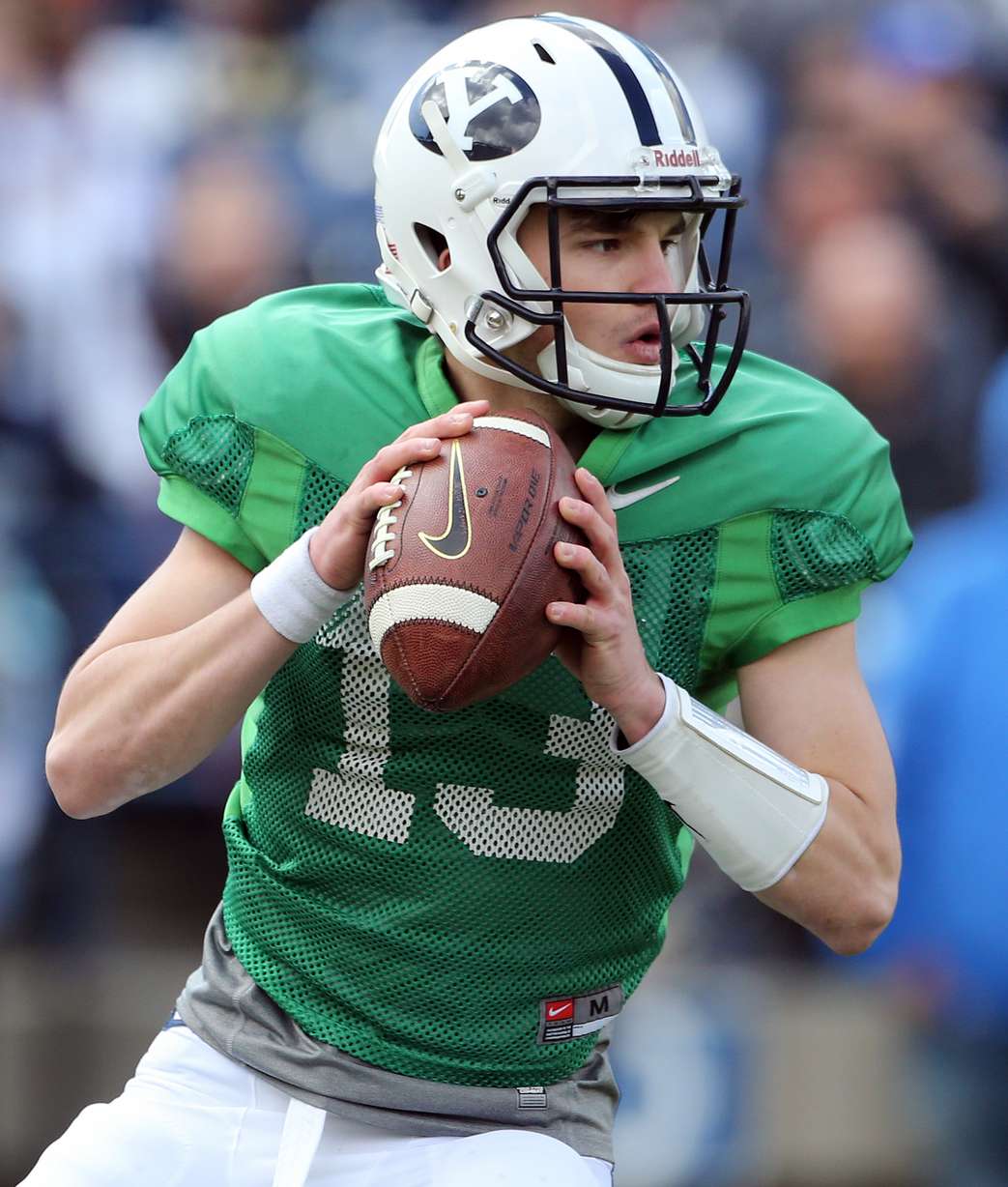 Koy Detmer Jr. knows his famous last name will only get him so far when it comes to playing time or his post playing days. And Ty doesn't baby his nephew at all.
"I would rather him be harder on me, because then I know I'm not doing something right," he said.
So, Detmer Jr. continues to work hard and learn from the other guys around him, because he never knows when it will be his turn to command the Cougars. He was the last QB flinging darts all over the practice field the same day Taysom Hill was announced as the starter. With that type of work ethic he could become the Detmer in the future. Cleon is a reporter and producer for KSL Newsradio. He is also studio host for BYU football and basketball broadcasts.
×
Photos
Related stories
Most recent Sports stories