Estimated read time: 4-5 minutes
This archived news story is available only for your personal, non-commercial use. Information in the story may be outdated or superseded by additional information. Reading or replaying the story in its archived form does not constitute a republication of the story.
PROVO — Taysom Hill woke up Tuesday morning on the dawn of his 26th birthday with another year of experience, wisdom, and a handful of presents from his wife.
Also, one important present from the BYU coaching staff.
The fifth-year senior Hill was revealed as the starter for the BYU football team as it caps fall camp and prepares for the season opener Sept. 3 against Arizona, BYU offensive coordinator Ty Detmer announced after practice.
"We talked as a staff this weekend, and Taysom is going to be our starter," Detmer said. "He's excited about that. We're excited to see him go again."
Hill, who missed almost the entire 2015 season after a foot injury sidelined him in the opener against Nebraska, expressed excitement for the opportunity.
"Coming back for my senior year, this wasn't ideal. I've been here for four years, and now I was in a quarterback battle," Hill said. "But I feel like I got a lot better because of it and the situation was handled really well.
"It's nice to be able to look forward and start to prepare for Arizona."
The 6-foot-2, 230-pound native of Pocatello, Idaho is a career 57 percent passer, though he's only finished one complete season as a starter. In 2013 as a sophomore, Hill threw for 2,938 yards and 19 touchdowns while running for 1,344 yards and 10 scores.
The next season, the then-junior suffered a catastrophic broken leg against Utah State — an injury that foreshadowed the troubles he underwent a year ago at Nebraska when he went down with a debilitating Lisfranc injury in the first half, returned until halftime against the Huskers, then felt pulled by the intense pain of the often career-ending injury.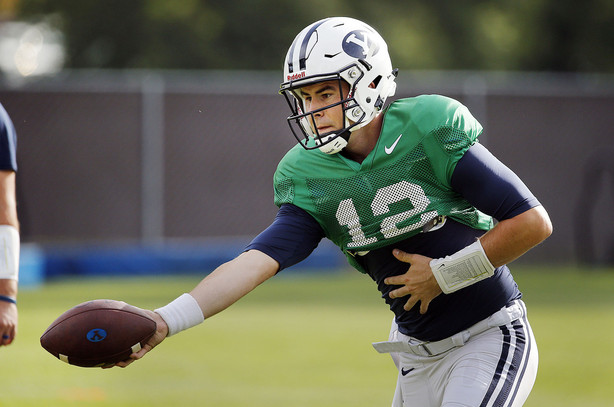 That's all behind him now.
"This injury has been so different than any other I've been through. It's nice to be on the backside of it, and to look back at the things I've gone through," Hill said. "We're about a year out of surgery, and I'm feeling really good, healthy and ready to go."
Rising sophomore Tanner Mangum will back up Hill, but coaches do not plan to use a redshirt on the former Freshman of the Year by the Touchdown Club of Columbus. Mangum, instead, will be called upon if necessary and has seen a bulk of the snaps in practice as the primary backup.
"Tanner handled it great. He made it a tough decision, which was his job," Detmer said Mangum, calling him a "big part" of the program. "We feel really good with both of those guys. He's going to be ready to go when called upon; there's no doubt about that. We're excited to have both of them and know that both can go in and win games for us."
But this is Hill's team until further notice, and the BYU star who returned for one more season after graduating last April with a degree in finance has been working out with 80 percent of the reps since he received news of the decision late last week.
"He's 100 percent healthy, and he's a fifth-year senior," Detmer said of Hill. "He's got the experience and the leadership of the group, and we feel really comfortable with him in there and going full speed."
Mangum's performance last season and through spring camp — when Hill was still coming back from surgery — made the decision that much harder. But over the summer and fall, first-yera head coach Kalani Sitake said Hill pulled away and there was no need to keep the quarterback battle a secret anymore.
Ty Detmer explains the decision to name Taysom Hill as BYU's starting QB @KSL5TV#KSLSports#BYUpic.twitter.com/zLdxyCXu5R

— Jeremiah Jensen (@JJSportsBeat) August 23, 2016
"Going through the film, Tanner did great and it was a really good competition," Sitake said. "But we felt like it was the right timing.
"They knew going into the weekend, and I think the timing and letting you guys know was right. It's no secret anymore. We're really excited to get going.
"Tanner will play. He's not redshirting. We'll see how it goes in the season."
With the biggest battle of fall camp behind them, the Cougars now turn their attention to the Wildcats — who have yet to formally name a starting quarterback of their own as Sept. 3 approaches.
"Coach Detmer has a really good idea of what I like now, and we'll start to put it together and make sure everyone else is comfortable," Hill said. "We'll get ready to go."
Senior-laden
7 Cougars named to Senior Bowl watch list
Seven BYU football players were named to the 2016-17 Reese's Senior Bowl Watch List announced Tuesday afternoon. Quarterback Taysom Hill, running back Jamaal Williams, linebacker/defensive lineman Harvey Langi, defensive lineman Travis Tuiloma, linebacker/defensive lineman Sae Tautu and defensive backs Michael Davis and Kai Nacua were all selected.
"The release of our watch list signifies the opening kickoff for the Reese's Senior Bowl," said Reese's Senior Bowl Executive Director Phil Savage. "We are looking forward to evaluating these prospects over the next several months in trying to find the best 110 players in America."
The 2017 Reese's Senior Bowl week officially begins on Tuesday, January 24 and concludes with the 68th game on January 28 at Ladd-Peebles Stadium in Mobile. Ala.
— BYU football staff
×
Photos