Estimated read time: 4-5 minutes
This archived news story is available only for your personal, non-commercial use. Information in the story may be outdated or superseded by additional information. Reading or replaying the story in its archived form does not constitute a republication of the story.
PROVO — When BYU offensive coordinator Ty Detmer was running the show as quarterback, the Cougars weren't just known as a QB factory — the tight end was a vital part of their show.
They included Gordon Hudson, Chad Lewis, Dennis Pitta and Andrew George, more recently. The Cougars were known for standout blockers who could also run routes and catch passes to form a staple of the passer-friendly offense under legendary coach LaVell Edwards.
In his first season back at BYU, Ty Detmer is still looking for one of those guys.
"We're waiting for that guy to step up and do it all," Detmer said after Saturday's scrimmage. "It may be a tight end by committee, or a little more three-receiver set. It'll depend on the situation. Right now, those guys are learning it all, and we'll see who is picking it up and who is there."
Tight ends coach Steve Clark admits his position group looks more like an executive boardroom than a two-deep depth chart right now. But the group is showing improvement — which is all you can ask from a tight end set that includes former defensive linemen, linebackers, outside receivers and Division II basketball players.
Head coach Kalani Sitake is on board with reinvigorating BYU's use of the tight end, a position that has fallen off in recent years under former offensive coordinator Robert Anae.
"We want to use the tight end, but if it's not the best scheme or talent, we won't force it," Sitake said. "But we have to be prepared to use the tight end in different parts of our offensive scheme. It all depends on their progress and what coach Detmer trusts them with."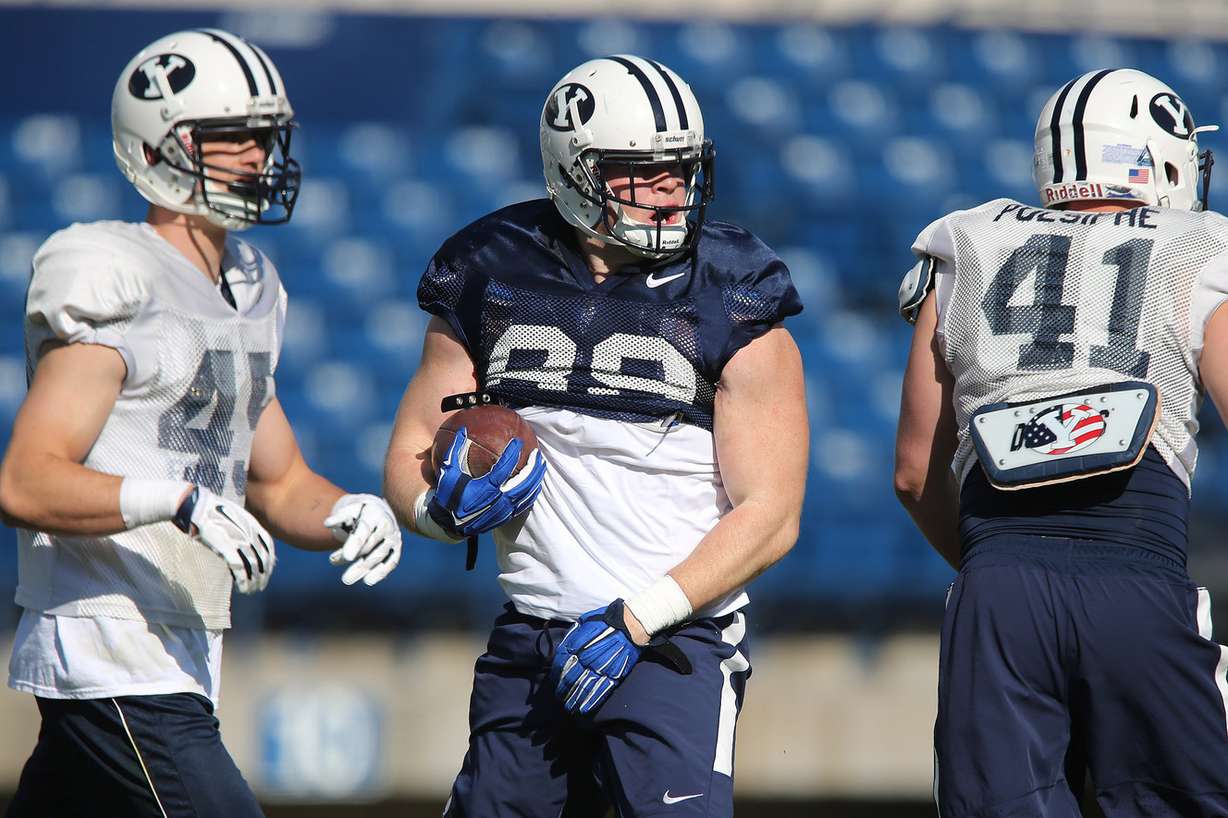 The past highlights or accolades don't matter to Clark, either. He's happy to work with a blank canvas of potential to fill in the team's needs.
"The first thing I tell them is I want tough guys," the former Weber State and Southern Utah offensive coordinator said. "I want fighters. I don't care how good you are; I want you to be tough. Right now, being stars isn't what we are looking. We want contributors and solid players."
Recently moved linebacker Troy Hinds sat out practice Tuesday while struggling with a hip injury. The former Davis High defensive standout played in 12 games as a freshman in 2014, then redshirted last season after hip surgery.
It's hard to tell if the latest concern will be a long-term injury that could impact Hinds' career. But Clark said it's definitely a concern coaches are taking seriously.
"He has hip problems, and he's still battling that," Clark said. "We'll try to get him out at the end of this week, and we'll see what he can do. But it's giving him some problems now."
The latest addition is freshman Alema Pilimai, who signed with BYU at linebacker but was moved in recent days to tight end with the depth the Cougars have in the box. A former high school quarterback, Pilimai has impressed Detmer and Clark with his speed and explosive playmaking ability.
Hunter Marshall may be the most complete tight end. The former Georgia Tech wide receiver finished his sophomore season at Snow College, and his instincts at the tight end spot stick out in a sea of teammates who have little experience at the position.
Then there's Solomone Wolfgramm, a former BYU-Hawaii basketball player who transferred to the mainland with limited football experience. Still, his combination of speed and size makes the 6-foot-5, 260-pound sophomore an intriguing possibility.
"Solo knows what to do, but it's not natural to play the game," Clark said. "He's trying to catch up to the speed of the game. But he's coming along; I'm really happy with his attitude."
Related Story
But the leader in the clubhouse is Tanner Balderree. The native Oregonian played in 10 games as a sophomore in 2015 after moving over from the defensive line. But he didn't register a catch and was used almost exclusively in blocking sets by the old coaching staff.
"He can block, and he does a great job with his hands because of his D-line training," Clark said of Balderree. "Now he needs to work on running routes and speed. That's what he's focused on this camp."
BYU has the pieces to make a complete tight end. Whether that tight end develops in the form of a single player, though, remains to be seen.
"There are some who block better than others who are receivers, and others who can receive the ball and not so much blocking," Sitake said. "We're working up to find someone who can be an all-around tight end. But if not, we'll do it by committee. There are a lot of guys who I feel like will be ready."
×
Photos
Related stories
Most recent Sports stories