Estimated read time: 3-4 minutes
This archived news story is available only for your personal, non-commercial use. Information in the story may be outdated or superseded by additional information. Reading or replaying the story in its archived form does not constitute a republication of the story.
SALT LAKE CITY — It's been a good year for Lehi's Tony Finau on the PGA Tour — good enough that he deserved some time off following the season's final major at the PGA Championship.
Finau was back in his old stomping grounds at Rose Park Golf Course this week for a free youth clinic for the Tony Finau Foundation.
"I'm happy to be back in my hometown. Rose Park is where it all started for me," he told KSL, "to continue my foundation work at the foundation of where it all started for me."
And though he had a remarkable year on tour that guaranteed him a PGA Tour card next season, his plan has always been to give back to other children growing up in the area who were just like him.
"I feel like this is who I am; I honestly do," Finau said. "I feel like I have an obligation and a responsibility to do it.
"I feel like I am in a position to start helping, and I understand what it means to be from these exact neighborhoods. I feel like I can help."
The 26-year-old West High graduate finished the season at No. 77 in the World Golf Rankings, and 45th on the FedEx Cup with 1,871 points. His scoring average of 70.689 came with eight top-25 finishes and 16 cuts made — as well as more than $1.5 million.
Oh, and there's a little thing called the Puerto Rico Open — his first PGA Tour event win that came March 27 after missing the cut in five of his previous seven starts.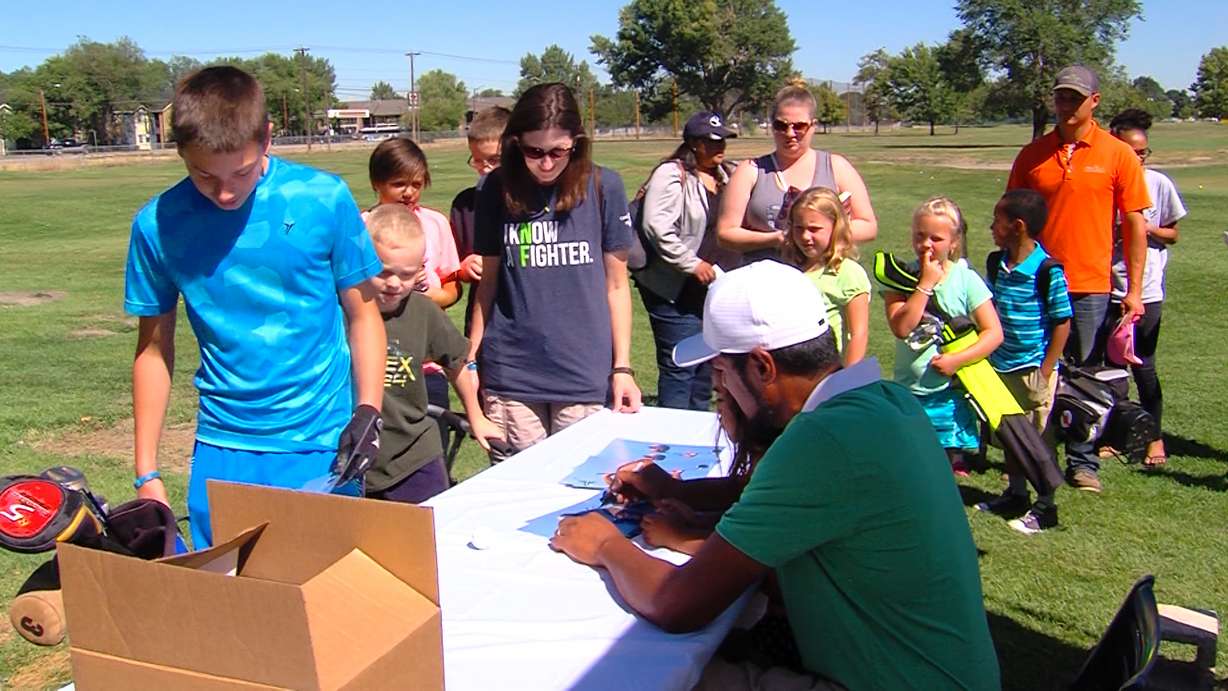 "I think anytime I can reflect on the season, I can go back to the win," Finau said. "It's always a good season with that.
"But overall, I was a little bit inconsistent and I hope I can improve on it. The way I look at it is as another year to look back and take a milestone year. You can't win multiple times until you win your first one. … Looking back on the season, I can definitely take a lot of positives and confidence moving forward."
While fellow Utahns Zac Blair and Daniel Summerhays continued to play on tour at the John Deere Classic, Finau came back home for his charity work.
Blair was 6-under Friday to finish tied for 13th after two rounds, and drained four birdies in five holes to pull within a shot of the lead.
Summerhays missed the cut in the event, though he's already clinched a spot in next April's Masters. That's a goal Finau will have through the remainder of the playoffs.
"I've taken the last few days off, and I'll count this as a day off," Finau said. "I'll get back to work throughout next week, and just prepare. I feel like I've made some strides on the golf course, mentally and physically, and hopefully I can continue my momentum on the PGA Tour."
Of course, the season isn't over for Finau. But it's still nice to be back on the Wasatch Front.
Related Story
"I'm happy to be back home and get refreshed for it. I think mentally and physically I'll be ready to go," Finau said. "I'm in a better position than I was last year, and I was close to getting into the tour championship last year. I hope to crack that this year; it's been my goal all year. I know how important it is for the following season."
But the most important thing are the children. His foundation is about more than just golf; Finau hopes to grant life skills to children who come from disadvantaged backgrounds, one that he knows.
"I'm here for these kids in any way that I can," he said. "The important thing is helping these less fortunate kids in any way possible."
×
Photos
Related Stories