This archived news story is available only for your personal, non-commercial use. Information in the story may be outdated or superseded by additional information. Reading or replaying the story in its archived form does not constitute a republication of the story.
SALT LAKE CITY — A large fire with dozens of explosions and a thick plume of black smoke that could be seen for miles destroyed two buildings, forced the closure of I-80 and kept firefighters busy in the heat for hours Friday.
The fire also prompted a grass fire, which forced the Utah Department of Transportation to close both directions of I-80 between I-215 and 5600 West for more than two hours because of concerns over smoke hampering visibility for motorists.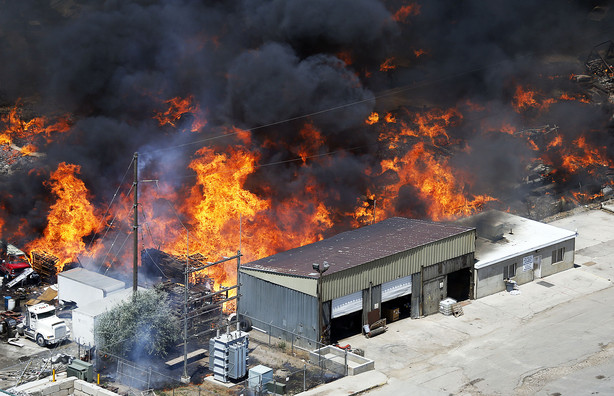 The fire started about noon in a commercial yard area at Rios Auto Recycling Junkyard, 4385 W. 700 South, said Salt Lake fire spokesman Mark Bednarik.
The owner told investigators that some of his employees were doing some "grinding work," cutting pallets that produced small sparks, Bednarik said.
"They thought everything was out, they went to grab their lunch, they came back (and) that's when they noticed … the fire was growing," he said.
The auto yard sits on 9 acres of property. By midafternoon, Bednarik estimated at least 50 percent of that area had burned, including two structures that were described as shops or mechanic garages. Many motor homes, semitrailers and cars were also destroyed, he said. That commercial fire was 100 percent contained by 3:30 p.m.
"There's still explosions happening … (but) the body of the fire is knocked down," Bednarik said. "It's not expected to grow or expand."
Dozens of explosions, ranging from small pops to much larger blasts, could be heard as the flames spread throughout the area.
"They were really loud explosions and it caught the power lines on fire, and (the transformers) started to explode as well," said Jaiyme Peterson, who works in an industrial yard just south of where the fire started.
The blasts, he said, sent "flaming debris up into the air."
Bednarik said there were several barrels that were burning. Crews were initially unsure what was in those barrels, but as a precaution warned the public to not get close to the black smoke.
By later Friday afternoon, the owner of the business claimed he only had propane on his property and whatever flammable materials were in the automobiles, Bednarik said.
Strong winds pushed the flames from the commercial fire past the fence bordering the property on 700 South, jumping that roadway and igniting a subsequent field fire near I-80, Bednarik said. That 50-acre fire was 100 percent contained by about 4 p.m., the fire department reported.
The agency posted a photo on Twitter showing scorched grass just feet from I-80. Bednarik praised the firefighters who kept the fire from advancing past that point, including some assisting crews from the Unified Fire Authority.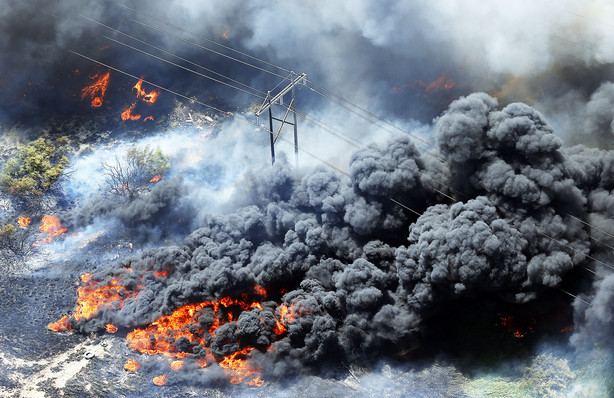 "They did a great job, with the wind coming at them, at keeping it from jumping I-80," he said.
Bednarik said the reopened interstate was still "gridlocked" early Friday evening.
One firefighter was being treated for minor heatstroke. Bednarik said all employees of the business had been accounted for.
"This caused quite a bit of work and quite a bit of disruption," he said of the fires.
Tracy Johnston, who owns nearby Action Transport, said he arrived at his neighboring business and saw the fire raging before emergency crews arrived.
"By the time I got over there, the whole thing was engulfed," Johnston said. "I was across the street and I could feel the heat. So it went up really fast. And I heard tanks blowing up, so I decided to … get away from there."
Johnston returned to his business, where firefighters arrived around 1 p.m. to evacuate him and five other employees. Several other employees were out running errands and were stranded away from the shop, he said.
"It really messes with everything as far as trying to run a business, but it could be worse," Johnston said.
Approximately 2,100 customers in the area of the fire were without power for a short time Friday afternoon, according to Rocky Mountain Power, but it wasn't initially clear what caused the outage. Company spokesman Paul Murphy said Friday afternoon that the outage and fire were "possibly" connected.
Salt Lake City International Airport officials reported that a few passenger bridges lost power, causing eight flights to be delayed. However, most backup generators "kicked right on" when the airport lost power, said spokeswoman Nancy Volmer.
Peterson said another fire destroyed the yard where he works in 2008.
"Even just the slightest spark will just set (the) whole thing off," he said.
Firefighters will monitor both fronts of the fires through Saturday morning and possibly that afternoon or evening, Bednarik said. The fires were still smouldering and showing "pretty significant flare-ups" after being contained Friday, he said.
Fire investigators don't anticipate anyone will face criminal repercussions due to the fire. The employees of the Rios Auto Recycling Junkyard "weren't doing anything illegal" to cause the fire to spread, Bednarik said.
A dollar estimate of the fire damage was not immediately available.
Contributing: McKenzie Romero
×
Photos