Estimated read time: 5-6 minutes
This archived news story is available only for your personal, non-commercial use. Information in the story may be outdated or superseded by additional information. Reading or replaying the story in its archived form does not constitute a republication of the story.
Photos: Jeff Reynolds/BYU Athletic Dept.
The sun was out, and the fans were out as well this morning, as BYU's only "open" practice of camp attracted 568 onlookers. Those on hand saw what Coach Bronco Mendenhall called a fairly "clean" practice, in terms of execution, and temperament.
*******
You can hear Bronco's post-practice interview by clicking his audio link to the right, and you will hear him start by talking about a change in plans for Tom Sorenson. Instead of opting immediately for surgery, Sorenson will instead see how a cortisone injection affects his injured shoulder. In two weeks, they will re-examine the shoulder, then proceed from that point. Sorenson has an AC injury that could be best classified as a "repetitive trauma"-type of ailment.
*******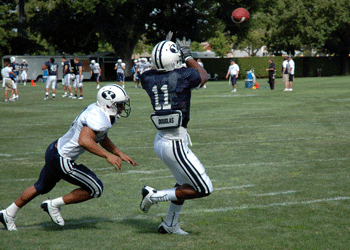 WR O'Neill Chambers' brash comments in an ESPN.com blog were also addressed by Bronco, and you will hear his comments as well. Without addressing Chambers personally, Bronco spoke to his freshman class as a group earlier today, and made it clear that when players step through the team door, they leave "Me" at the door, and replace it with "We."
*******
Alright, let's get down to business now, and let's start with some special teams notes. The punt return group consists of Bryce Mahuika, Luke Ashworth and Reed White, and while O'Neill Chambers joins them during warm-ups, he is not part of the 3-man group that takes punts in live drills. Chambers is also the least polished of the four in terms of pure punt-catching skills, attempting to receive punts at facemask level, while the other three are catching punts lower and more reliably.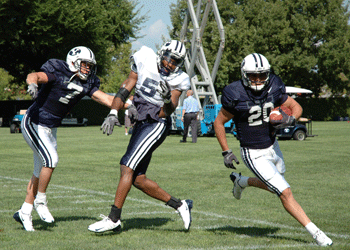 *******
The three-man "swinging gate" punt-protect formation was practiced today, and the two 3-man units are as follows:
1) Denney/Speredon/Reden (Speredon is the "gate" man)
2) Putnam/Richardson/Friel (Richardson is the "gate" man)
*******
After watching Austin Collie take snaps as the primary backup to holder Bryce Mahuika, QB Brenden Gaskins was holding with the 2s today.
*******
No big news out of kicking drills--Payne and Sorensen each went 1 for 2 in their longest FG attempts today, and they maxed out at only 40 yards or so.
*******
NTs Rick Wolfley (quad contusion) and Victor Unga (ankle sprain) were once again absent today, while LB Matt Bauman and WR Austin Collie remained out, although fully-padded. Trainers were going to start Bauman on the underwater treadmill this afternoon.
By the way, both Bauman and Collie have been spending early mornings in the pool, engaging in rehabilitative non weight-bearing activities. Bauman is on pace for a return to practice next week. Collie was on the sidelines, getting familiar with the tennis ball machine once again. He says after a while, those little yellow balls can really sting...
WR Bryce Mahuika once again missed most of practice with sore quads.
OL Jason Speredon took a knock on the knee and was kept out of the Team session at the end of practice.
*******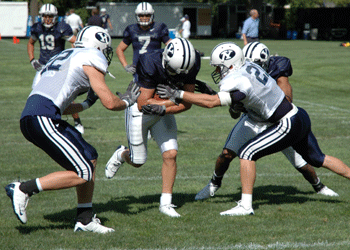 The "Team" portion (and practice itself) ended with Max Hall finding Harvey Unga with a 4-yard touchdown pass. Hall finished the session 11/19 for 80 yards and a touchdown.
*******
Just prior to the score, RB Fui Vakapuna and LB Jeff Bell got tangled up, and Fui took a swing at Bell, connecting with his helmet.
*******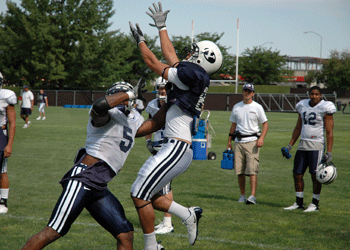 WR Luke Ashworth had another strong practice, and is taking full advantage of the absences of Collie and Mahuika to make plays at "Z." And to think he was targeted for Safety just a few weeks ago...
*******
Today was a day for trying out different personnel combinations, in many different areas on the field. I spoke with DL Coach Steve Kaufusi about the experimentation behind the top three of Dulan, Tialavea and Jorgensen, and you can hear Kaufusi address that in his interview link above.
*******
Kaneakua Friel was active at both TE ad FB positions this morning, and Bronco clearly intends to use him as sort of a "hybrid blocker/receiver." He talks more about Friel in his post-practice interview.
*******
I interviewed ILB Spencer Hadley, who has solidified his position at the #2 "Buck" linebacker spot, behind Shawn Doman. While fellow freshman Iona Pritchard is now running with the 2s at "Mike" linebacker, Pritchard is in reality a third-stringer there, since Matt Bauman will return to start at MLB when he is healthy. At that time, Matt Ah You will back up Bauman, but it is also conceivable Ah You could move back to Buck and displace Hadley as Doman's understudy. Either way, BYU has some options inside, and Hadley would need to play awfully well to see the field as a true freshman. You can hear Spencer's interview by clicking his link above.
*******
A reminder: all interviews are available in podcast format. Click or right click on the XML link above to line that up, or go to the "Podcast Feeds" link in the BYU Sports Menu for instructions.
*******
The #1 offensive line combo remains M. Reynolds/Feinga/D. Reynolds/Bright/Oswald. Otherwise, numerous combinations were tried out today--featuring R.J. Willing at center, guard and tackle (not at the same time, mind you. That would be impressive).
A novel #2 line was composed of Aletto/Taufi/Reden/Brown/Stringham, as Speredon sat out with his sore knee.
*******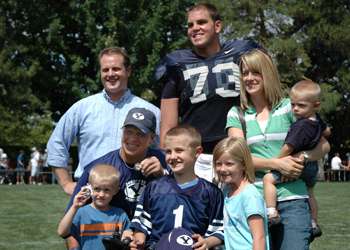 Today marked the return of the team's "Thursday's Heroes" tradition. Today, a family from Jason Speredon's home church ward was present to be honored by the team and presented with gifts. The Jensen family includes 10- and 5-year old boys Zach and Brady, both of whom have Muscular Dystrophy. Speredon helped make the team presentation, and Bronco spent a great deal of time with the boys and the family after practice.
*******
Tomorrow is the first scheduled day of two-a-days, with the 10:00am session followed by a 5:00pm workout. The plan is to go fully-padded and heavier in the morning, then helmets or shells and light in the afternoon. On such days, I may attend only the busier morning session; still haven't decided, however.
*******
×
Photos
Most recent Sports stories