This archived news story is available only for your personal, non-commercial use. Information in the story may be outdated or superseded by additional information. Reading or replaying the story in its archived form does not constitute a republication of the story.
LEHI — Just over a week ago, Lehi resident Tony Finau won his first PGA Tour event with a stirring finish at the Puerto Rico Open.
In most cases, the winner of Tour-approved events heads to Augusta, Georgia, where they receive an automatic exemption to play in the Masters, which starts Thursday.
Not Finau, though.
The former West High basketball star is currently ranked No. 73 in the world golf rankings, and he was back in Utah this week instead of getting ready to play arguably the most famous golf course in the world.
The Puerto Rico Open is one of the only Tour events that does not present an automatic exemption to a major to its winner.
"For the competitive side of me, it's tough," Finau said while crushing golf balls at Thanksgiving Point. "It stings a little bit. I do definitely feel like I belong in that field."
The 6-foot-4 Finau closed the final round in Puerto Rico with a 2-under-par 70, capping a run of three-straight birdies on No. 18, to edge Steve Marino for his first tour title.
He recently made a much-publicized switch from Callaway to Nike, a move that puts him in the same equipment family as cousin Jabari Parker of the Milwaukee Bucks. And while Finau didn't consult his cousin before the switch, he admits the move has helped his game and the family ties.
"I haven't spoken with him about any of this," Finau told PGATour.com in January. "But it is great for both of us to be Nike athletes and be in the same family. I think that's really cool."
Finau noticed several differences right away; Nike balls have a resin core as opposed to the rubber core of other manufacturers — something Finau said really helps when hitting against the wind.
He also previously used two utility irons in his back for a long iron when he dealt with Callaway, but sees most of the same use in one of Nike's 4-irons.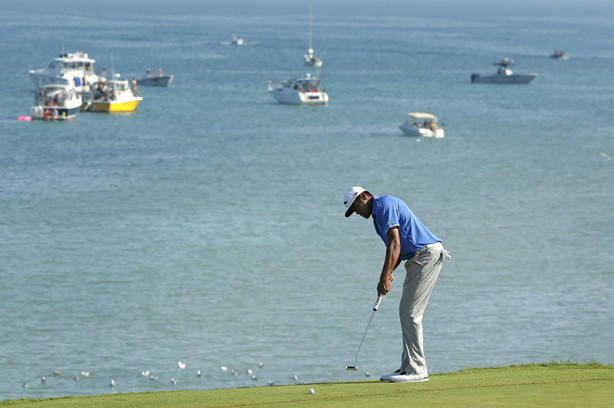 Finau may not get a chance to compete for a green jacket this weekend. But he's keeping his spirits up as he navigates a strong start in 2016.
After all, there will be plenty more opportunities for the 26-year-old from Salt Lake City.
"It gives me even more motivation moving forward to get in that field and compete with those guys," Finau told KSL's Rod Zundel. "But to be honest with you, a half-million dollar check and a two-year exemption on the PGA Tour isn't a bad thing."
Catch the rest of Zundel's interview with Finau on KSL Golf this Sunday at 11:05 p.m. MT.
×
Photos
Related Links
Related Stories