PROVO — BYU's next opponent has a big, left-handed center who shoots well from the field and has proven to be a matchup nightmare for a lot of post players his team has visited.
Sound familiar?
Creighton's Geoffrey Groselle may not be Gonzaga's Domantas Sabonis, but the task on BYU's posts to control the Bluejays' big man still weighs just as heavily as the Cougars (25-10) prepare for their National Invitation Tournament quarterfinal matchup with the Jays (24-10) at 7 p.m. Tuesday night in what is expected to be a sold-out Marriott Center.
"That kid's pretty good," BYU coach Dave Rose said of Groselle, who shoots 70 percent from the field. "We'll try to be physical, and we'll try to handle him with a couple of guys. He's really skilled."
Groselle may not be the best big man BYU has faced all year. Sabonis is leading the Bulldogs into the Sweet 16 of the NCAA Tournament's second weekend.
But Groselle still is a handful. The 7-foot-0, 240-pound senior from Plano, Texas, averages 10.9 points and 6.1 rebounds per game and leads a Creighton squad that pulls down 37.1 boards through its lengthy season that included a 9-9 finish in the Big East with wins over NCAA Tournament teams Seton Hall, Butler and Xavier as well as in-state rival Nebraska.
BYU center Corbin Kaufusi also compared Groselle to Sabonis, and said the best way to deal with the Jays' big man is the same as they've done with tall players all year: body up.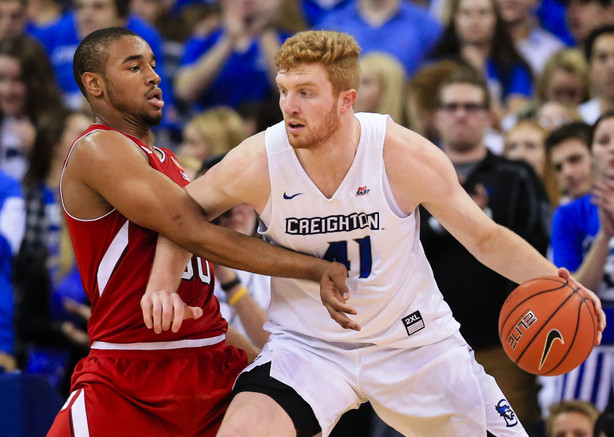 "That's what we usually do with the taller dudes. They tend to be leaner, so you can move him a bit," Kaufusi said. "He's really active, and I think a lot of guys are like that. The main thing, though, is that he's long and left-handed, kind of like Sabonis. He loves to go over the right shoulder with his left hand. Taking that away is a big thing."
Groselle isn't the only dangerous player the Jays boast. Point guard Maurice Watson Jr. leads four double-digit scorers from the regular season with 14.2 points per game, and he's also dished out a superb 220 assists on the year, while Cole Huff is a stretch forward who can step out and shoot to 11.1 points per game.
"Creighton runs a lot of things, and they run them well," BYU guard Nick Emery said. "Usually a team has one or two things they are really good at, and Creighton has five or six things they are really good at. They play like a team, and we're going to have to beat them. We can't have a bad game. We can't let them come at us."
KC SICK
Kyle Collinsworth missed Monday's practice with the flu or flu-like symptoms or some kind of flu-related virus.
It's an illness that has traveled around most of the team, and it finally hit Collinsworth the day before the senior's final game in the Marriott Center.
"Today's not an ideal day to miss, when we didn't practice Sunday," Rose said. "But he's got a lot of experience."
If Collinsworth can't go, Emery will likely slide over to the point guard position, leaving wings Zac Seljaas, Jordan Chatman or Jakob Hartsock to potentially fill Emery's usual spot in the starting five.
But the freshman from Lone Peak High doesn't expect the Cougars to have to go to Plan B.
"With Kyle out, it was a bit rough. Me and (senior Chase Fischer) got a little tired on the guard line," Emery said after practice. "But Kyle will battle back. He'll be ready tomorrow. He's playing, for sure. Kyle's a tough guy. Even if he was sick, he'll play through it."
BYU in the NIT
WCC LOVE
It's been a pretty good postseason for the West Coast Conference, even as the league back-stepped to a one-bid conference with the Zags.
But besides the Bulldogs' run to the Sweet 16, BYU and Saint Mary's are also making active postseason runs. The Gaels (29-5) will play at Valparaiso (28-6) in an NIT quarterfinal immediately preceding BYU's contest Tuesday night on ESPN.
"I think it's a good league, especially at the top," Rose said of the conference's postseason success. "With the success in the postseason, hopefully it allows us to continue to grow and get better. We've got a lot of uncertainty right now."
Beyond the WCC's Big Three, the conference is also replacing head coaches at Portland, San Francisco and Santa Clara. Pacific recently named former NBA star Damon Stoudamire as its next head coach.
"The WCC is good. It's top-heavy, but I think in the WCC we battle," Emery said. "It's a tough league. People talk about the smaller gyms, but they're still Division I basketball teams. To see Saint Mary's, Gonzaga and us still in the postseason, it means a lot to the WCC."
Listen to postpractice interviews with Rose, Emery and Kaufusi in the "Cougar Cuts" section below.
Contributing: Brittany Copeland
×
Photos