Estimated read time: 3-4 minutes
This archived news story is available only for your personal, non-commercial use. Information in the story may be outdated or superseded by additional information. Reading or replaying the story in its archived form does not constitute a republication of the story.
SANDY — Real Salt Lake reached an agreement to bring back former striker Yura Movsisyan, Russian club Spartak Moscow announced Friday.
Movsisyan will occupy one of RSL's three Designated Player slots. The club also confirmed his return, pending the receipt of Movsisyan international transfer certificate from the Russian federation. The Spartak release says the deal is a loan through Dec. 1, 2016, when RSL will have an option to buy the player outright.
"For me, it's been a long time I've been wanting to come back," Movsisyan said in a statement. "Obviously Salt Lake was my first choice because it was such a great place for me and my family. I felt at home in Utah. Leaving with a championship — I want to come back and do that again."
Movsisyan scored 27 goals in 66 games for Spartak, but multiple reports have indicated the 28-year-old striker wants to return to the United States. He and his wife Marianna are the parents of two children, and though he holds both Armenian and American citizenship and plays for the Armenian national team, much of Movsisyan family is still in California.
The Armenian forward who grew up in California has spent the past five seasons playing in Russia and Denmark after helping RSL win the 2009 MLS Cup championship. He will wear the No. 14 jersey, just like he did before departing RSL and MLS for Europe six years ago.
Movsisyan scored 15 goals in 53 regular-season appearances in his first stint with RSL, including the stoppage-time goal against Colorado to lead the Salt Lake club to its first-ever MLS Cup playoff appearance in 2008.
He also scored RSL's first-ever playoff goal in club history during a November win over Chivas USA at Rio Tinto Stadium in 2008. The next year, Movsisyan and RSL defeated the L.A. Galaxy on penalty kicks to bring Utah its first professional sports title since the Utah Stars won the ABA championship in 1971.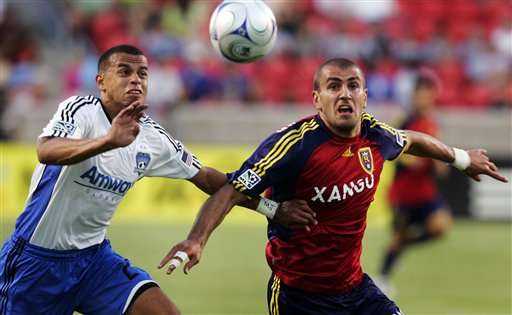 "Yura is a goalscorer," RSL general manager Craig Waibel said in a statement. "He's always been a goalscorer and statistically speaking, his numbers are undeniably productive no matter where he's played.
"He's at an age right now and at a point of his life right now, he had a priority with his wife that they wanted to move back to the states. Everything just added up to make sense for him to come. We have an undeniable interest to bring in good soccer players and goalscorers and Yura is one of those. We believe he's a double-digit goalscorer and we're really excited to get him back out on the field and start producing."
With Movsisyan's return to the fold, RSL now has six players from the 2009 Cup-winning squad, joining team captain Kyle Beckerman, midfielder Javier Morales, goalkeeper Nick Rimando, defender Tony Beltran and defender Jamison Olave.
Movsisyan then moved overseas to Danish club Randers FC, where he scored 12 goals in 30 appearances over two years.
But the 2006 MLS SuperDraft pick of Sporting Kansas City really broke out in the Russian Premier League, moving from Randers to Krasnodar and scoring 23 goals in 50 appearances. Spartak Moscow acquired the forward in 2012, and he made his debut in March 2013.
Movsisyan will be available to play in RSL's first game of 2016, a CONCACAF Champions League qualifier against Mexico's UANL Tigres. RSL hosts Tigres at 8 p.m. MST March 2 at Rio Tinto Stadium in the second leg of the home-and-home series.
"I want to win more championships with Salt Lake — with the club that I was part of the evolution," Movsisyan said. "I was part of the team that went basically from the bottom to being champions. This is what I want to do again and what I'm excited about. For me, it's an amazing thing to come back."
×
Photos
Most recent Sports stories