Estimated read time: 3-4 minutes
This archived news story is available only for your personal, non-commercial use. Information in the story may be outdated or superseded by additional information. Reading or replaying the story in its archived form does not constitute a republication of the story.
WASHINGTON (AP) — Reports of sexual assaults at the three U.S. military academies surged by more than 50 percent in the 2014-15 school year, and complaints of sexual harassment also spiked, according to Pentagon officials.
A senior defense official said that the sharp increases were due largely to students' growing confidence in the reporting system and expanded awareness programs that over the past several years have included training, videos and information sessions for both students and leaders. The programs have been aimed at making victims more aware of the reporting process and more comfortable seeking help.
But the dramatic increases raise nagging questions about whether criminal assaults and harassment are on the rise or if the numbers actually reflect a growing willingness of victims to come forward.
"I think it's appropriate for people to feel frustrated about hearing this in the news. Bottom line is that if this were an easy problem, we would have solved it years ago," said Nate Galbreath, the senior executive adviser for the Pentagon's sexual assault prevention office. "Unfortunately, this is a very hard problem to solve."
According to the report documents reviewed by the AP, there were 91 reported sexual assaults over the last school year at the U.S. Naval Academy in Annapolis, Maryland, the U.S. Military Academy at West Point, New York, and the U.S. Air Force Academy in Colorado, compared to 59 during the 2013-14 school year.
Reports of assaults went up at all three of the schools, but the number nearly doubled at the Air Force Academy, jumping from 25 to 49.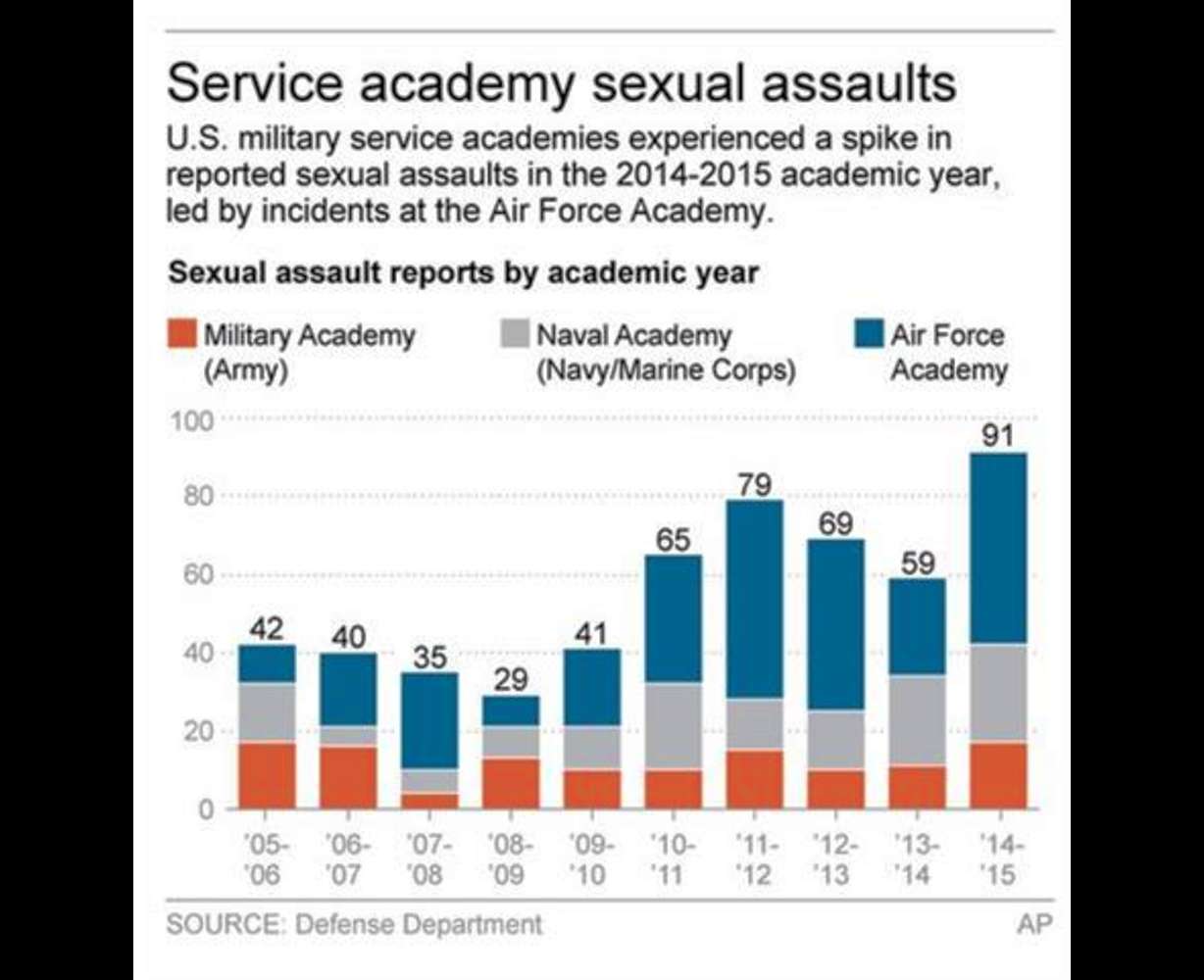 At the same time, the number of sexual harassment complaints spiked by 40 percent, to a total of 28 during the last school year. According to the documents, the most sexual harassment complaints were at the Naval Academy, with 13. There were seven at West Point and eight at the Air Force Academy.
Asked about the Air Force increases, officials said the decrease in assaults during the 2013-14 school year may have been an anomaly, and the latest totals were closer to the norm in previous years. Air Force cadets, they said, also seem to be much more aware of the sexual assault prevention and response coordinators on campus and may be more willing to file reports.
The Air Force, however, has seen a number of public sexual assault scandals in recent years, including incidents involving members of academy sports teams.
Galbreath said a key recommendation this year is for the academies to put more emphasis on sexual harassment prevention and training, because often harassment leads to assault. Discussions with focus groups and other studies found that while students are very familiar with how to report sexual assaults and how to treat victims, they didn't know as much about what makes up sexual harassment and what to do about it.
One problem is that sexual harassment is handled by the various military Equal Opportunity offices, while sexual assault issues are handled by the Sexual Assault Prevention and Response Offices.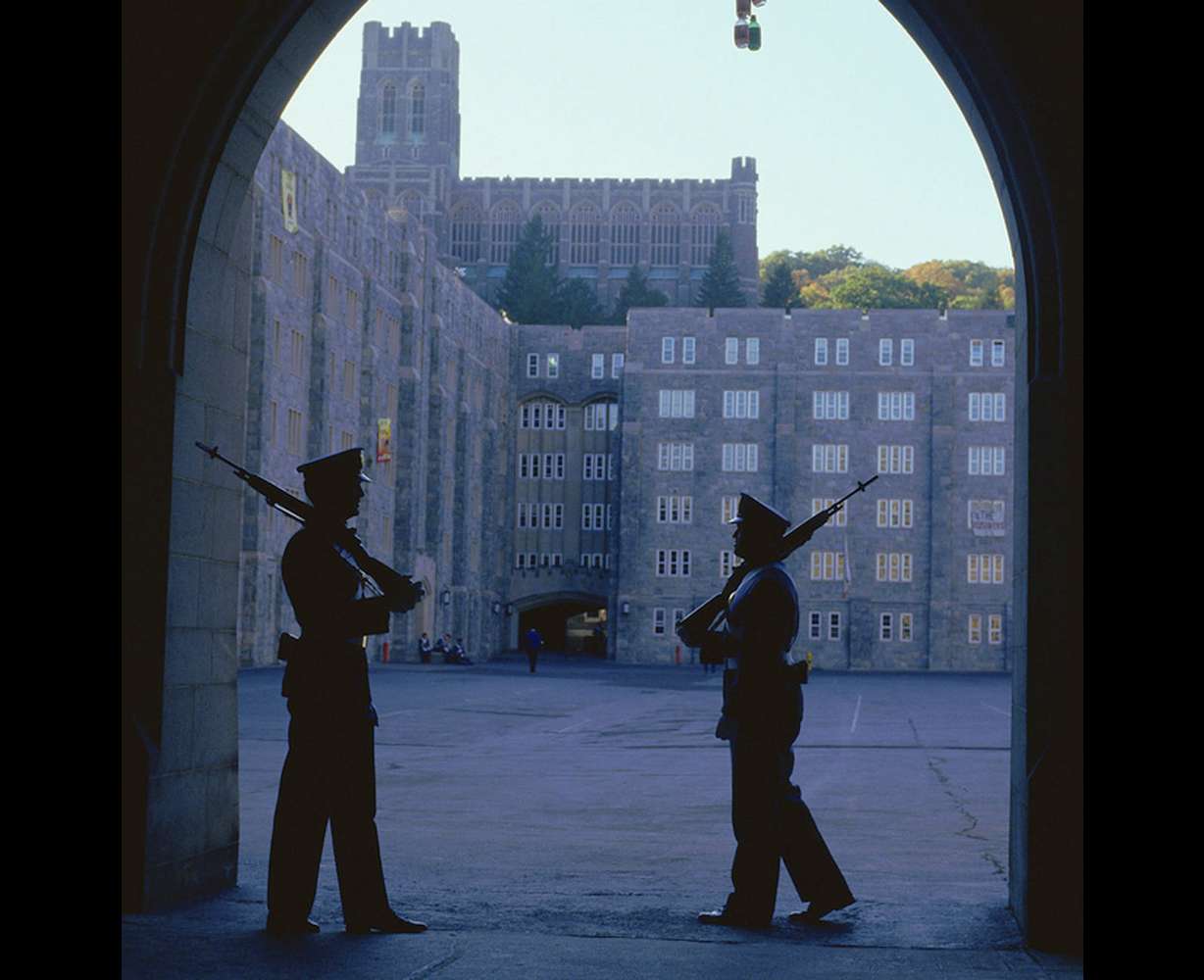 "That improved emphasis on sexual harassment will likely lead to prevention of sexual assault," Galbreath said. "We are smarter now and we know that a lot of other factors are beginning to play into prevention work."
He said that cadets and midshipmen need to be taught more about the connection between sexual harassment and sexual assault.
Senior Pentagon leaders have consistently argued for years that increased reporting is a good thing, because it suggests that victims are now more willing to come forward. Sexual assault in civilian and military society have historically been a vastly underreported crime because victims often fear reprisals or stigma, or they worry that they won't be believed or don't want to go through the emotional turmoil of a court case.
But officials acknowledged Thursday that it is often difficult to tell how much of the increase in numbers stems from more crime or more reporting.
Copyright © The Associated Press. All rights reserved. This material may not be published, broadcast, rewritten or redistributed.
×
Most recent U.S. stories