Estimated read time: 6-7 minutes
This archived news story is available only for your personal, non-commercial use. Information in the story may be outdated or superseded by additional information. Reading or replaying the story in its archived form does not constitute a republication of the story.
PROVO — BYU is a special place for new head football coach Kalani Sitake.
It's so special, in fact, that the 40-year-old first-time head coach admits he wanted the job since he was 8-years-old, when he would yell at former coach LaVell Edwards — who would coach Sitake beginning in 1994 — to 'give the ball to Vai (Sikahema) more.'
Now, he's the one calling the shots.
"I was voicing my opinion from day one. I think everybody that bleeds blue, that's how you live," Sitake said as he was introduced Monday as BYU's 14th head coach. "Whether you are a football player or not, you want to be involved with it. My job isn't to tell them what to do because I was one of those guys offering some criticism. My job is to make sure that they rise and shout, that they are cheering."
Sitake hopes to give those same fans plenty to rise, shout and cheer about.
"BYU is a special place, and I'm living proof of that," Sitake said. "This is overwhelming for me; I feel love and support from so many different people. I'm honored to be in this position.
"I'm excited about it and passionate about the opportunity."
After a 15-year coaching career that included nearly 10 years at rival Utah, the former BYU fullback made his way back to Provo to become the 14th head football coach in BYU history and the first minority coach at the institution.
"This is a new era in BYU football," BYU athletic director Tom Holmoe said. "This is the dawning of a new day in BYU football. Whenever you start with a new head coach, there is change. There were some things in this program that will remain the same. There were some things that he grew up on that we'll bring back."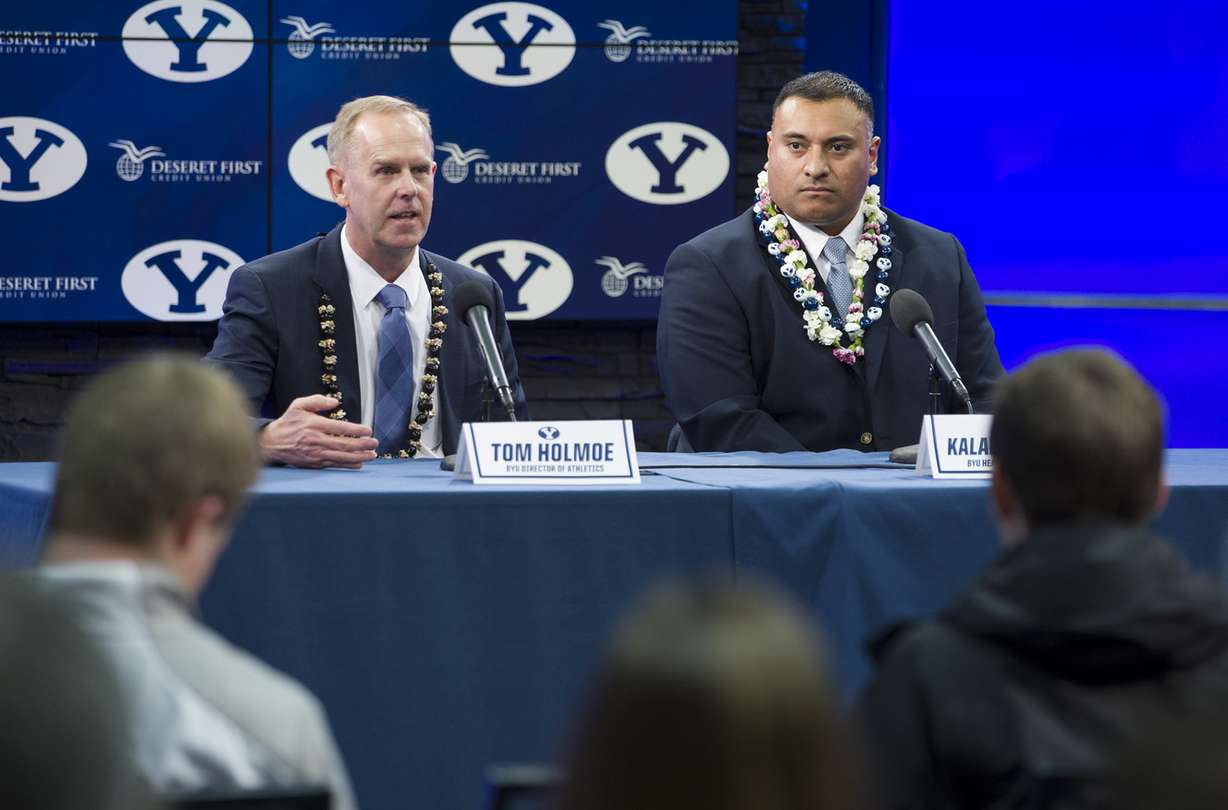 Sitake, a native of Nuku'alofa, Tonga, who grew up in Laie, Hawaii and Provo, was most recently the first-year defensive coordinator and head coach under former Utah State head coach Gary Andersen at Oregon State. In his time in Corvallis and Salt Lake City, Sitake earned the reputation of a hardened recruiter, and his personality immediately showed through as he formally accepted his latest job.
Sitake declined to name specific members of his coaching staff, but said he wanted to fill our his assistants "as soon as possible." Several Oregon State assistants announced Monday night that Iliasa Tuiaki would follow Sitake to Provo, though his job title remains unclear. Tuiaki worked with Sitake for five years at Utah, separated by a two-year stint as special teams coordinator at Utah State, and followed him and Gary Andersen to Corvallis in 2014. The Provo native and Southern Utah alum by way of Snow College worked most recently with the linebackers and defensive line, but also served as the offensive coordinator at Kearns High in 2007.
No matter his staff, Sitak ehas been told to be himself. Being himself will be one of the former Ute assistant coach's keys to success, according to the legendary Edwards, who coached Sitake from 1994-2000.
"I told him, if you're going to be successful, you have to be yourself. Don't try to be someone else," Edwards said. "If it works, fine. You're the right guy for the job, so just go work.
"He's going to be himself … and I think he's going to be just fine."
Being himself will be easy at BYU, added Sitake, who said the events of his life on the Provo campus had a life-changing effect on him. He credited Edwards and the football program for serving a mission for the LDS Church, which he did in Oakland, California from 1994-96. After returning, he was a three-year starter at fullback, scored one career touchdown, and was named the Impact Player of the Year in 1999. After graduating with a degree in English from BYU, he spent one season with the Cincinnati Bengals, then immediately began his coaching career at Eastern Arizona College, where he mentored the defensive backs and ran special teams.
The coaching transition rarely crossed Edwards mind when he looked at the former fullback. But he wasn't incrementally surprised when Holmoe announced Sitake as the first former Edwards player to fill the head coaching job at his alma mater.
"Every once in a while, someone would cross your mind. I can't remember the exact situation, but I thought once 'this guy could be a pretty good coach,'" Edwards said of Sitake. "I think I may have talked to him about going into coaching. The way he is with people, and his knowledge and his personality. He's great."
That personality made an immediate impression on BYU's current players.
"He's super quiet, super humble, but he's ready to go," running back Algie Brown said. "He seems like he's ready to instill what he has for our program. He's going to build on what we have, add what he can do, and what he expects from us."
Brown added he appreciated Sitake's emotional excitability, even in the brief time they had to visit with each other — opportunities the senior-to-be is sure to see plenty more in the coming months.
"I think it helps for us as the players; we kind of need someone who is willing to get us excited and fire us up," Brown said. "He sounds like he's fired up. We're excited."
Related Story
Being the first FBS coach of Tongan descent is also a boon, especially for New Zealand-born punter Jonny Linehan. The BYU rugby standout said Sitake would make an excellent rugby center, and he felt an instant kinship as a fellow native of the South Pacific.
"Coach Mendenhall and coach Sitake have two different coaching styles, but I feel like that enthusiasm is what we need," Linehan said. "Without putting too many expectations on him, I think he's going to do really well."
Those plans include Sitake's demand that BYU run a balance system on offense, an aggressive defense, and a special teams that will "try not to punt too much."
That's no problem for the current punter, though.
"No one wants to punt; not even I want to punt," Linehan said. "I want to win games, and I understand punting is probably not the best way to do be able to win. We'll punt when we need to, and I'm going to work today to get better for next season."
So it turns out, Linehan and Sitake have something else in common.
"I want to win. I want to win a lot, and get our guys to function at their best," Sitake said. "There are a lot of really great players here.
"We've done it for a long time, and I'm looking forward to continuing that tradition."
Contributing: Rod Zundel
×
Photos
Related stories
Most recent Sports stories