Estimated read time: 4-5 minutes
This archived news story is available only for your personal, non-commercial use. Information in the story may be outdated or superseded by additional information. Reading or replaying the story in its archived form does not constitute a republication of the story.
OREM — When Mark Pope decided to transfer to Kentucky following his sophomore season at Washington in 1993, it wasn't about helping a storied program seek another title.
The Wildcats, coached by Rick Pitino, had just made it to the Final Four for the first time in nine years. But what drew Pope to leave the school located less than 10 miles from where he attended high school in Bellevue, Washington, was the departure of Huskies head coach Lynn Nance and his desire to play for one of the best.
"I knew that (Pitino) would rip me apart piece by piece by piece and expose every weakness I have and try and grow it," Pope said. "And he does that. He's relentless with trying to develop players, and he's relentless with trying to develop teams.
"You want to coach those type of people; you want to be coached by those type of people; you want to be around those type of people in life, and he is that way."
His decision paid off, and Pope played a large role in helping Kentucky capture its sixth national championship in 1996.
Now leading a Utah Valley team that features only two players who came into the season with Division I playing time, Pope is using what he learned from the Hall of Famer to quickly mold an inexperienced bunch into a WAC competitor.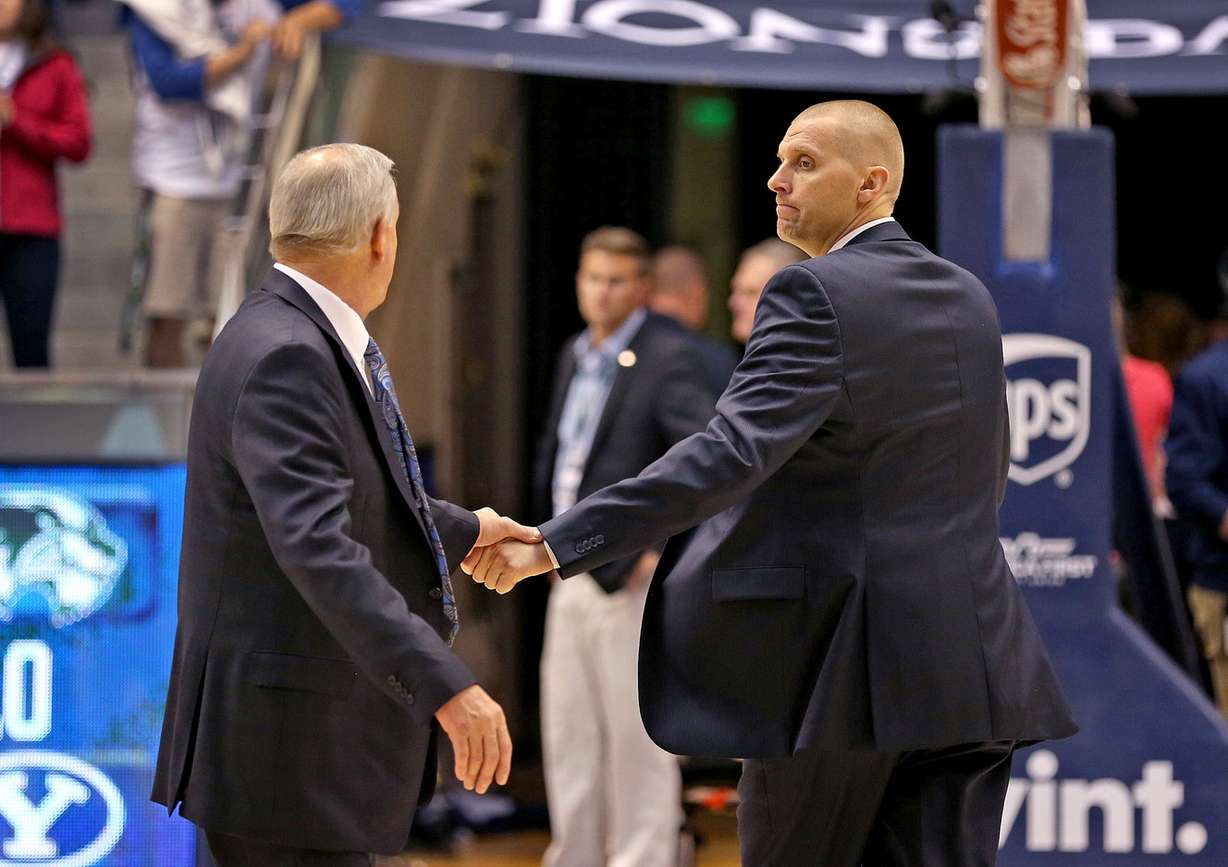 "This idea of developing guys and developing a team where there's no days off," Pope said of Pitino's influence on his coaching. "There's no days off with trying to rediscover some new way that you can communicate with a guy, or that you can push a guy, or motivate a guy, or grow his game technically, or all the above and the same thing with your team."
The Wolverines started Pope's tenure 2-6, with both wins coming against NAIA opponents, but they've won three straight heading into the Billy Mindardi Classic, which begins Tuesday in Louisville, Kentucky, and ends with Pope and Utah Valley playing Pitino's No. 19 Cardinals Wednesday at 5 p.m. MDT.
"I'm really excited," Pope said. "I think coach is one of the finest coaches in all of college basketball. He really revolutionized the game 30 years ago, and the game hasn't looked back since."
Pitino was one of the initial college coaches to adapt his team's style of play to take advantage of the newly introduced three-point line in 1987. His Providence team was dubbed "Pitino's Bombinos" for the amount of shots they attempted behind the arc.
With 729 career wins, Pitino is among the top 40 most winningest coaches in the history of college basketball. Pope fondly recalls the "force of will" through which he helped him improve en route to the NBA.
"I consider him a really good friend," Pope said. "I love him to death. I'm excited to compete against him too. I mean you get to see him in the very best environment. I'm excited for the fact that he's going to want to beat us by 1,000. All that makes for a personally special day for me."
Though their teams are separated by a significant talent gap, the Wolverines have shown strides during their winning streak, which his players frequently attribute to Pope's coaching.
Following Utah Valley's 84-81 double-overtime victory over Weber State to start the run of wins, junior forward Konner Frey was praising Pope and his staff's guidance in a press conference when the first-year coach interrupted.
"I walk in and it's all about coach," Pope joked at the time.
While he prefers that his players be credited for any success they enjoy, they speak glowingly about the freedom Pope allows them on offense.
"Coach Pope lets me go, just get the rebound and go," senior point guard Marcel Davis said. "That's how I like to play; just go and make plays for my teammates."
Related Story
Frey, the Wolverines' leading scorer through 11 games, said Pope deserves all the recognition for the strides the team's made.
"I think when people look back, people will say, 'Wow, Coach Pope did that with that group of guys?'" Frey said. "Coach Pope is a phenomenal coach. He really is unbelievable. Who he is as a person, as players, we respect him so much. We want to give him 100 percent. We want to give him everything we've got."
In that regard, Pope is following in his mentor's footsteps: getting as much as he can from the personnel he's leading.
After Pope was named Dick Hunsaker's successor in March, Pitino told wolverinegreen.com, "Mark is a tireless worker and will be an outstanding head coach. I loved coaching him every second of his career."
Utah Valley opened the Billy Minardi Classic with a 102-77 loss to UNC Wilmington. The event was named after Pitino's brother-in-law and best friend who was killed in the Sept. 11, 2001 terrorist attacks on the World Trade Center.
---
Kyle Spencer is a freelance journalist residing in Orem. You can find him on Twitter @kyledspencer or reach him by email at kspence04@gmail.com.
×
Related stories