Estimated read time: 7-8 minutes
This archived news story is available only for your personal, non-commercial use. Information in the story may be outdated or superseded by additional information. Reading or replaying the story in its archived form does not constitute a republication of the story.
PROVO — After a wild game in which BYU football's furious comeback attempt against rival Utah fell just short, BYU athletic director Tom Holmoe announced to the team that Kalani Sitake would be filling the vacancy left by Bronco Mendenhall at head coach.
Now the attention turns to whom Sitake will choose as his assistants. Of particular interest in Provo is whom he will choose as the next offensive coordinator. Here are four names with a connection to BYU that Sitake could tap to run the Cougars' offense.
Steve Sarkisian
BYU fans will have an instant connection to the former Cougar signal caller as Sarkisian was the quarterback for what many Cougar fans consider the best football team in the history of the school. In 1996, Sarkisian led the Cougs to a 14-1 record and a win in the program's only New Year's Day bowl appearance. The Y. finished as the fifth ranked team in the nation and Sarkisian won the Sammy Baugh Trophy after throwing for 4,027 yards and 33 touchdowns.
On top of being a former Cougar great, Sarkisian also makes sense because he has been a terrific coach since his playing days in Provo. In 2001, he was brought on by former BYU offensive coordinator Norm Chow to coach quarterbacks at USC. Under Sarkisian's tutelage, USC quarterback, Carson Palmer, won the Heisman Trophy. Cougar fans are drooling thinking of what he could do with BYU's outstanding freshman quarterback, Tanner Mangum. Sarkisian eventually became the offensive coordinator at USC and had great success in that capacity. He later became head coach at both Washington and USC and had mixed success. While he wasn't a brilliant head coach, his experience in the position would be very helpful to first-time head coach Sitake.
Finally, and perhaps most importantly, Sarkisian is in need of a second chance and help. This past season, he was fired by USC for issues related to alcoholism. What better environment could there be for a guy who is trying to abstain from alcohol than BYU? It would be a great story of redemption if Sarkisian came back to the Y. and put his life back together.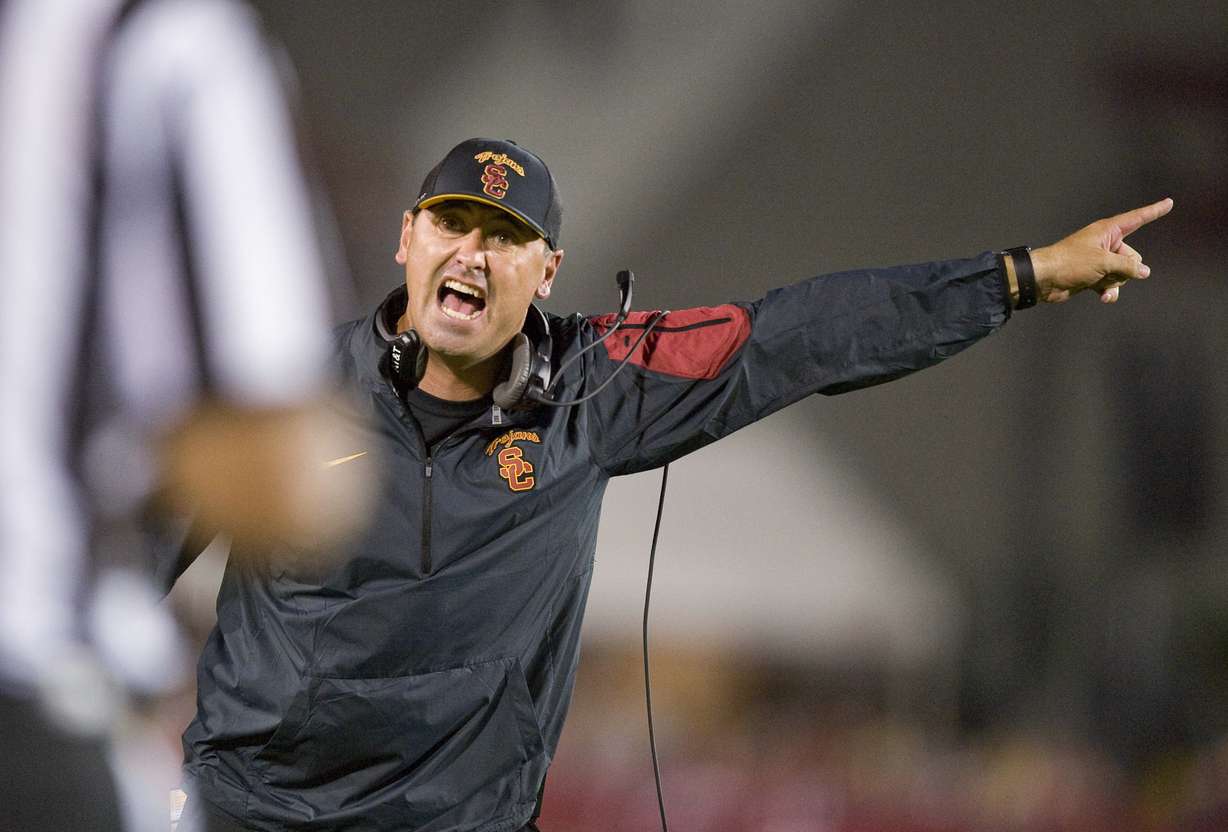 But Sarkisian also has past demons — albeit ones he claims he is putting behind him. If Sarkisian can stay sober, I believe he would be an excellent offensive coordinator. He has proven that he can get results, and I think he could do wonders with Mangum. But that is a pretty big if. Sarkisian is just a few months out of rehab and there is the ever-present reality that he may slip up and start indulging in alcohol again. While BYU should be a place of second chances, the program also needs leaders that can live up to the standards of the school.
Ty Detmer
Ty Detmer may very well be the most universally well-liked Cougar in the program's history. As quarterback for the Y., Detmer was undersized and didn't have a cannon for an arm but he made up for it with his ability to anticipate plays, his football IQ and his fiercely competitive spirit. The Cougar legend is the only player in school history to win the Heisman Trophy. On top of his incredible play on the field, Detmer is a very charismatic and approachable person with a fun Texas drawl. His people skills would be a huge benefit to the program in terms of recruiting.
While Detmer has not coached at the college level, you could argue that he was a glorified quarterbacks coach in his 14 seasons in the NFL. Numerous NFL teams signed Detmer not for his athletic ability but his incredible football mind and his proven ability and willingness to tutor young quarterbacks. In this capacity, Detmer was brilliant and helped further the career of NFL legends like Brett Favre. That's not to say that Detmer has no actual coaching experience, however. He has been coaching high school football in Texas since 2010.
But Detmer has no college coaching experience. While it seems like a shoo-in that he would make a great offensive coordinator because of his football IQ, there are no promises. He has not had to install an offensive scheme at the Division I level, and his abilities as a play caller are unknown. BYU plays a brutal schedule in 2016, and it might be asking too much of Detmer to expect him to produce huge results against the likes of Arizona, Michigan State and Mississippi State when he hasn't gotten his feet wet at this level yet.
Aaron Roderick
Roderick was a solid role player during his playing days in Provo. His time at the Y. was not particularly noteworthy, but he understands the culture of the school. Roderick played at BYU and coached at Utah with Sitake. The two have history together and have a rapport that could be helpful to the team. Lastly, Roderick has diverse experience as he has coached numerous positions during his tenure at Utah and has been the co-offensive coordinator two different times for the Utes, including this year.
But I am not at all excited about the possibility of Roderick coming to coach the Y. There are numerous reasons for that. Among the foremost, Roderick has been offered positions on BYU's staff in the past and has accepted them only to rescind his acceptance a short time later and go back to the Utes.
While this could be forgiven, the main reason I am not excited about him is that his offenses at the U. haven't been particularly noteworthy. This year, Roderick was way overly dependent on Ute running back Devontae Booker, and the team struggled to put up points. When Booker got injured, the offense collapsed and Roderick appeared inept in his play calling. While Sitake and Roderick are friends, I think BYUs new coach should look elsewhere for Robert Anae's replacement.
Related Story
Norm Chow
When legendary BYU coach LaVell Edwards promoted Chow to be the principle play caller in 1982, the young assistant from Hawaii hit the ground running. In his 17 years as play caller, Chow's offenses shattered NCAA records. Chow was the play caller during BYU's national championship season in 1984 and for Ty Detmer's Heisman winning campaign. During his time at the Y., Chow helped the Cougars roll to an incredible 244-91-3 record.
After being told he would not be the head coach at the Y. when Edwards retired, Chow moved on and had terrific success as the offensive coordinator for USC. Two Trojan offensive players won the Heisman under Chow, and the program won two national championships during his four years there.
But Chow is closing in on retirement age and would not be an offensive coordinator for a long time at the Y. If he came to the Y., he would bring with him decades of experience — very useful on Sitake's staff, but with a potentially limited a shelf life.
While Chow had terrific success at USC, his years as a coach since leaving USC have been largely forgettable. Offenses that he led for UCLA and Utah were anemic, and in his most recent stint as head coach at Hawaii the team went just 10-36 in his four seasons. It is definitely arguable that perhaps it is time for Chow to call it quits as the game has seemed to pass him by.
Another reason Chow may not be the best pick at offensive coordinator is that he has been known to have a difficult personality. Edwards was able to get great production from Chow and there were never any problems, at least publicly, while he was on staff. However, since then, Chow has bounced from job to job and has had numerous clashes with head coaches.
No matter the hire, the offensive coordinator role is going to be critical to BYU's success going forward. Sitake is known as a brilliant defensive mind but he has no experience coaching offenses and will need a sure-handed coordinator to help him while he is still learning the ropes as head coach. Personally, I would love to see Sitake give Sarkisian a try as I think Sark would make a terrific offensive coordinator and I'd love to see him get a second chance. If Sitake can somehow convince Detmer to come on as a QB coach who would take over if and when Sarkisian landed another head coaching gig, the future on offense at the Y. could be very bright.
---
Dylan Cannon is a regular KSL.com contributor and can be reached at DylanCannon86@gmail.com or via Twitter @DylanCannon11.
×
Most recent Sports stories