Estimated read time: 5-6 minutes
This archived news story is available only for your personal, non-commercial use. Information in the story may be outdated or superseded by additional information. Reading or replaying the story in its archived form does not constitute a republication of the story.
LAS VEGAS — Kalani Sitake has been named the 14th head football coach of Brigham Young University, athletic director Tom Holmoe announced following the Cougars' 35-28 loss to rival Utah in the Royal Purple Las Vegas Bowl.
"After the game in the locker room, I announced to our team that we officially named Kalani Sitake as our head coach of the BYU football team," Holmoe said. "It was a great opportunity for me to address the team immediately after.
"I appreciate the patience that the local media has had in trying to select a head coach."
BYU will formally introduce Sitake in a press conference Monday. Sitake is currently putting together a staff, and Holmoe said further developments will be addressed after the weekend.
"Kalani is a former BYU football player who understands BYU," Holmoe said of the new head coach. "In talking with him, we discussed his passion for BYU. It's interesting that he's been successful as a coach at the University of Utah. But many of my friends at Utah have told us we're getting a golden boy; he's great."
The hiring ends a wild, surprisingly public head coaching search for the private university owned by the LDS Church.
"A lot happened during the game on the field, and a lot has happened off the field," BYU associate athletic director Duff Tittle said in introducing Holmoe's comments.
Holmoe placed a priority on each candidate's ability to recruit in today's college football landscape.
"We feel really good about that, and one of the things I was looking for was leadership. The passion he has and his ability to recruit, as well as his ability to meld together defenses in our style, I feel good about that."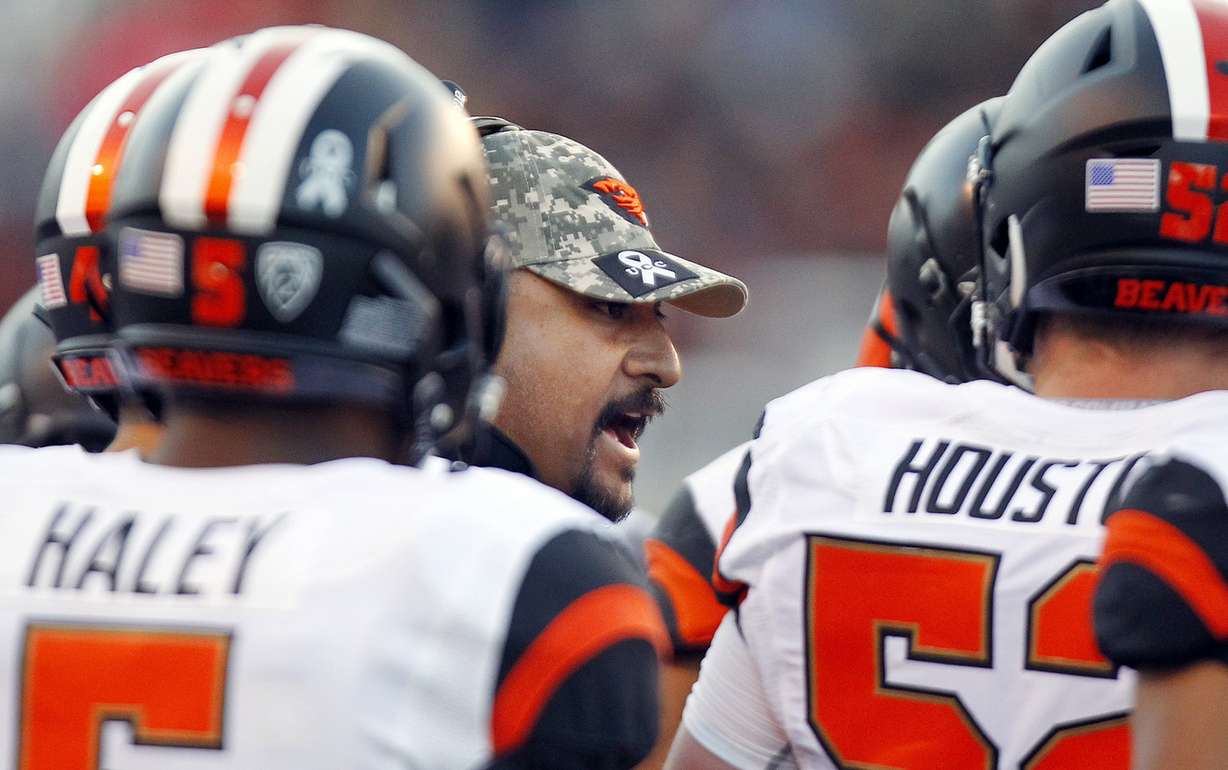 Holmoe met with most of the LDS coaches in college football in conducting the national search, such as Navy coach Ken Niumatalolo. He alluded to contacting Utah's Kyle Whittingham in the search, though the athletic director declined to specify names of candidates.
"I think I may have talked with every one that you would think that is LDS and a coach," Holmoe said. "I had an incredible opportunity to learn about each one of them and the football program at BYU through talking to each one of them.
"After a wide variety of things, I feel incredibly blessed to have Kalani join our team."
Holmoe added the team reacted positively to hire, even as he made the rounds through the postgame locker room to BYU's returning players for 2016.
"They had just come back from getting behind 35-0, and to go in and tell them after that ... I talked to a lot of the players," Holmoe said. "Individually, they were very, very excited."
Sitake is just the fourth head coach since 1972 after LaVell Edwards filled that capacity for nearly 30 years. Immediate predecessor Bronco Mendenhall was in for 11 years prior to Sitake's appointment, accumulating a record of 99-42. Sitake is the first former player of the Edwards era to take the head coaching job; Mendenhall played college football at Snow College and Oregon State, and former BYU coach Gary Crowton, a 1983 BYU graduate and Orem High alum, played at Snow College.
BYU is the first Football Bowl Subdivision head coaching job of Sitake's career.
Sitake has helped guide two Pac 12 defenses at Utah and Oregon State, though his first-year unit struggled to a last-place finish in the Pac 12 in scoring defense (37 points per game), total defense (481.5 yards allowed per game) and rushing defense (225.5 yards allowed per game).
The 40-year-old Sitake played fullback at BYU and began his coaching career at Eastern Arizona College but quickly moved to his alma mater in 2002 to become a graduate assistant. After one season, Sitake took a job at Southern Utah for two years, serving as the Thunderbirds' running backs and tight ends coach in 2003 and coaching the offensive line and tight ends in 2004.
He joined fellow BYU alumnus Kyle Whittingham's staff at Utah in 2005 as a linebackers coach, and was promoted to defensive coordinator in 2009 while adding the assistant head coaching title in 2012. Sitake's final defense at Utah led the nation with 55 sacks in 2014 before joining former Utah State head coach Gary Andersen in Corvallis, Oregon as the assistant head coach.
"I think that's awesome for Kalani," Whittingham said in Las Vegas. "I'm very excited for Kalani; he deserves it, he'll do a great job. I think it's a great hire. I'm proud of him.
"He did a great job for us, and he's going to do a fine job there. He's ready for this, in my opinion and he's ready."
A native of Nuku'alofa, Tonga, Sitake became the first native Tongan defensive coordinator in FBS history when Utah gave him the title six years ago and now becomes the first native Tongan to head a program in FBS history. The 40-year-old Sitake's full name is Kelaokalani Fifita Sitake.
In his first season at Utah, he helped mentor three all-Mountain West selections and four NFL draft picks in the Utes' defense, while also ranking in the top 25 in total defense, pass defense, scoring defense, pass efficiency defense and opponent third down conversions.
Sitake coached 11 all-conference honorees during his time at Utah, including Morris Trophy winner Star Lotulelei, who is currently with the Carolina Panthers.
BYU's hiring of Sitake immediately opened a ground swell of former player support from the program and alumni group, including former running back and Philadelphia Eagles special teams ace Reno Mahe.
After graduating from BYU with a bachelor's degree in English in 2000, Sitake spent one NFL season in Cincinnati after signing a free-agent deal with the Bengals before retiring from professional football with a back injury.
Sitake spent his childhood in Laie, Hawaii and Provo, and graduated from high school in St. Louis, Missouri. He and his wife Timberly are the parents of three children.
"Looking at them in their (royal blue uniforms), it reminded me of the past, the present and the future of BYU football," Holmoe said. "That game itself was the strangest game I think I've ever been a part of. To see those guys claw back, that was cool.
"We play Utah really quickly again, and I've already talked to Kalani. We've got some plans."
×
Related stories
Most recent Sports stories