Estimated read time: 2-3 minutes
This archived news story is available only for your personal, non-commercial use. Information in the story may be outdated or superseded by additional information. Reading or replaying the story in its archived form does not constitute a republication of the story.
SALT LAKE CITY — La primera gran tormenta de nieve de Utah de la temporada significó un viaje agotador para los automovilistas a lo largo del Wasatch Front el lunes por la mañana, contribuyendo a más de 100 accidentes. Se espera que los viajes al trabajo del lunes por la noche y el martes por la mañana sean lo mismo.
El Departamento de Transporte de Utah emitió una "Alerta Meteorológica para las rutas" la tarde del lunes, diciendo que "la nieve será más frecuente y más pesada a lo largo de la I-15 y las rutas adyacentes al cañón/montaña". La alerta también incluye el este de Utah, cerca de Vernal, Moab y Monticello.
Anunciarse con usReport este anuncio
UDOT sugiere que los conductores utilicen mucha precaución en las siguientes carreteras:
I-15: ruta completa I-80: Grantsville hacia el este, en Parleys Canyon en el límite con Wyoming I-70: ruta completa I-84: ruta completa US-89: ruta completa US-191: hacia el norte hasta la I-70; Puerta del castillo a través de la cuenca a la línea de Wyoming EE.UU.-6: Castle Gate a través de Spanish Fork Canyon US-40: ruta completa US-50: ruta completa
"Esta es realmente nuestra primera gran prueba para los conductores durante la temporada", dijo el vocero de la UDOT, John Gleason. "En los próximos dos días, vamos a ver un poco de nieve. El tráfico de esta noche y mañana por la mañana podría ser tan traicionera como esta mañana".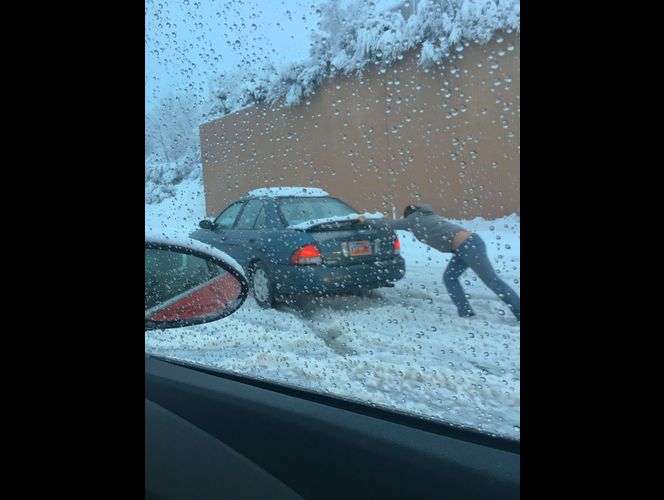 Tras el viaje por la mañana, la Patrulla de Caminos de Utah reportó 104 accidentes en el Condado de Salt Lake, 52 en el condado de Utah y 26 en el condado de Davis.
Aunque Gleason dijo que la jornada pasó sin mayores accidentes producidos durante la mañana, hubo algunos deslices menores que agravaron tráfico y ralentizaron los esfuerzos para los quitanieves "en todos los ámbitos", a pesar de que dijo que varios cientos de arados de nieve estaban en funcionamiento durante la mañana del lunes.
"Planee con anticipación, ajuste sus tiempos de viaje, evite viajes innecesarios y trabaje desde casa hoy y mañana si puede", dijo Gleason a KSL Newsradio "The Doug Wright Show" el lunes por la mañana. "Eso podría ayudar a tomar algunos de los vehículos de la carretera y dar a nuestros arados la oportunidad de hacer su trabajo".
A partir de la 1 p.m., la Ciudad Servicio Nacional Meteorológico de Salt Lake reportó 20.5 pulgadas de nieve en Bountiful, 14 pulgadas en Millcreek y 11 pulgadas en Draper. Cerca de 7 pulgadas se midieron en el aeropuerto internacional de Salt Lake.
×
Most recent News stories