Estimated read time: 5-6 minutes
This archived news story is available only for your personal, non-commercial use. Information in the story may be outdated or superseded by additional information. Reading or replaying the story in its archived form does not constitute a republication of the story.
OREM — Utah Valley came up with its biggest win of the Mark Pope era as it held on to beat Weber State in a thriller, 84-81, after two overtimes.
Twice the Wolverines trailed by at least seven points with only minutes remaining, both near the end of regulation and the first overtime, but used clutch shooting and a defense that was active throughout the game to move to 4-0 all-time against the Wildcats in Orem.
"This ranks right up there among the top of my favorite wins of all-time," Utah Valley coach Mark Pope said. "These guys showed so much courage and guts in so many ways, I couldn't be more proud of them."
Utah Valley capped a 9-0 run at the end of the second half when Jaden Jackson hit a three-pointer with 24 seconds left to give the hosts their first lead after halftime. Jeremy Senglin made one of two free throws to tie the game, 60-60, and Hayden Schenk's runner went awry to send the game to overtime.
"That was actually our plan, so we thought we'll just get down a bunch and then let them get over confident and then we will sneak up on them," Pope joked. "Our guys were down and out several times in this game."
Again the Wolverines found themselves in a hole, down 69-62 with 1:21 remaining in the first overtime, and fought back. Jackson followed up his layup that cut the deficit to five with his third of four three-pointers, and Konner Frey, isolated on the low block against Weber State's Joel Bolomboy, backed his defender down and banked in a hook shot to setup the final overtime, tied 69-69.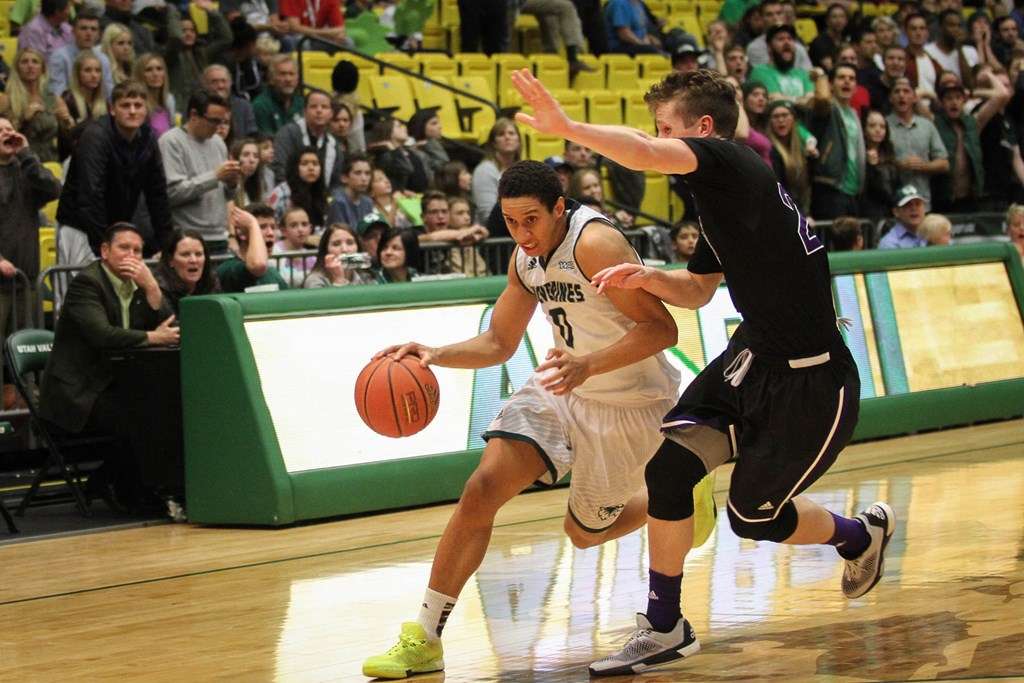 "Coach pulled us together and said 1:30 is a long time," Frey said. "Game's like that, at lot of times they don't really come down necessarily to the fine points, it just comes down to being as tough as you possibly can."
The teams traded baskets to start the final period, and after Senglin's three-point play put the Wildcats up two, Jackson hit another three to give Utah Valley the lead for good. Cory Cardwell knocked down two free throws, and Frey added four of his own from the line down the stretch, before partially blocking Senglin's last-ditch shot from just inside half court as time expired.
"It was improbable," Pope admitted.
The Wolverines' 37-percent shooting from the floor was just slightly better than the Wildcats' 33.3-percent effort, but every time the visitors looked like they might pull away Utah Valley came up with clutch shooting.
"I think later in that second half Marcel (Davis) really got us going being aggressive, scoring buckets and then everyone else started to knock down a few shots as well," Jackson said.
Davis made 6 of 13 from the floor for 16 points, including two threes that pulled the hosts within two with 1:27 to go, preceding Jackson's go-ahead shot.
"This guy right here," Davis said as he put an arm around Jackson, "We've got a lot of guts. This is our last year. We've been playing together since we were kids. I know if he misses one shot, the next one's in."
Jackson led the Wolverines with 23 points on 9 of 16 shooting.
Utah Valley is particularly thin at the big man positions, as it boasts only two players as tall as 6-foot-9, and both have limited experience playing Division I basketball. Frey and Andrew Bastien alternated most of the night against Bolomboy, who Pope called "the best raw athlete at the power forward, maybe, in the country."
Bastien didn't practice all week due to what Pope said is a "chronic knee injury" yet came up with four blocks and contributed six rebounds.
Frey had a block of his own to go with 22 points. The Wolverines' leading scorer struggled from the field, going 5 of 21, but made all 12 of his free throws and added 10 rebounds and two assists.
"(Ivory) 'Trey' (Young)'s not really practicing, Andrew Bastien's not really practicing, Hayden
Schenk is on very limited practice time and I'm trying to limit Konner's practice," Pope said. "So when we're out there, with our four other players, what we do is do layup lines. I'm kind of joking but that's kind of what we are - our practices are incredibly short."
The Wolverines were again outrebounded, 62-42, as Bolomboy demonstrated his skill and posted 28 points and 20 rebounds. But the Wolverines came up with their first win over an NCAA opponent this season despite losing four players to foul-outs.
"I've promised the guys over and over and over again that if they will continue to give us their heart and soul, if they will compete with every ounce of energy they have, that they're going to have some moments this year that they will never forget," Pope said. "The celebration in the locker room was pretty special because all of us collectively got to look at it like, 'there is really something to that.'"
Several students made their way onto the court to celebrate with the Utah Valley players, who jumped up together and celebrated the win. The students that remained after the players went to the locker room chanted "we want Pope," and the first-year coach obliged, hugging the students and leaping up and down joyously with them at center court.
"This was a fun one to share with everybody in the Wolverine nation," Pope said.
---
Kyle Spencer is a freelance journalist residing in Orem. You can find him on Twitter @kyledspencer or reach him by email at kspence04@gmail.com.
×
Photos
Most recent Sports stories