Estimated read time: 4-5 minutes
This archived news story is available only for your personal, non-commercial use. Information in the story may be outdated or superseded by additional information. Reading or replaying the story in its archived form does not constitute a republication of the story.
ATLANTA, Georgia (CNN) — Heart disease is the No. 1 killer in the world. With the growing global obesity epidemic, that may not be a big surprise, but fascinating new research shows that heart disease has been a problem for people for centuries.
Scientists further understood this after having a rare opportunity to study hearts preserved from the 16th or early 17th century that had been buried in the basement of the Convent of the Jacobins in Rennes, France. The building is being excavated to make room for a conference center.
Typically bodies from this period would be merely skeletons, but the hearts were well preserved in lead heart-shaped urns. The hearts were sometimes buried separate from the bodies in medieval Europe. Some scholars think this process started to preserve corpses if they needed to be transported over a long distance. Separate burial of the heart and the intestines became more common for French and English aristocratic families from the 12th century onward. The Pope banned these burials in 1299 and 1300, causing the tradition to decline in England, but in France the difficulty of getting the Pope's special permission to divide a corpse made it an "even more desirable practice" for wealthy families, according to a 2010 scholarly book on burial practices.
The lead urns containing the hearts in Rennes were labeled with names, so scholars may one day know more about who these people were. As of now, they only know more detail about one of the hearts, which belonged to the husband of a wealthy noblewoman whose exceptionally well preserved body was discovered and examined during the excavation.
When the archaeologists found these hearts' urns, they called in modern-day radiologists to take a closer look.
Using a CT scan and an MRI the scientists were able to get decent images of the hearts, but the organs had been embalmed. The embalming process made it difficult to learn much about the health of the hearts.
Story highlights
Archeologists found 400+ year old remains buried in a convent in Rennes, France
In the graves were five lead heart-shaped urns
Able to rehydrate them, radiologists found signs of heart disease in the majority of the hearts
Researchers were allowed to clean the hearts and then carefully remove the embalming materials to see if they could get a better sense of the people's health condition at death. Once the hearts were rehydrated, the doctors were able to use an MRI to get better images of the tissue. They were also able to dissect the hearts and take samples.
They discovered the majority showed signs of disease. One heart was in bad shape and could not be examined further. Another was found to be healthy, but three others had plaque on the coronary arteries, one of the hearts was enlarged, and another was heavy, meaning each of these three had heart disease.
"They were really pathological," said Fatima-Zohra Mokrane a radiologist at the University Hospital of Toulouse who presented the research at the Radiological Society of North America conference.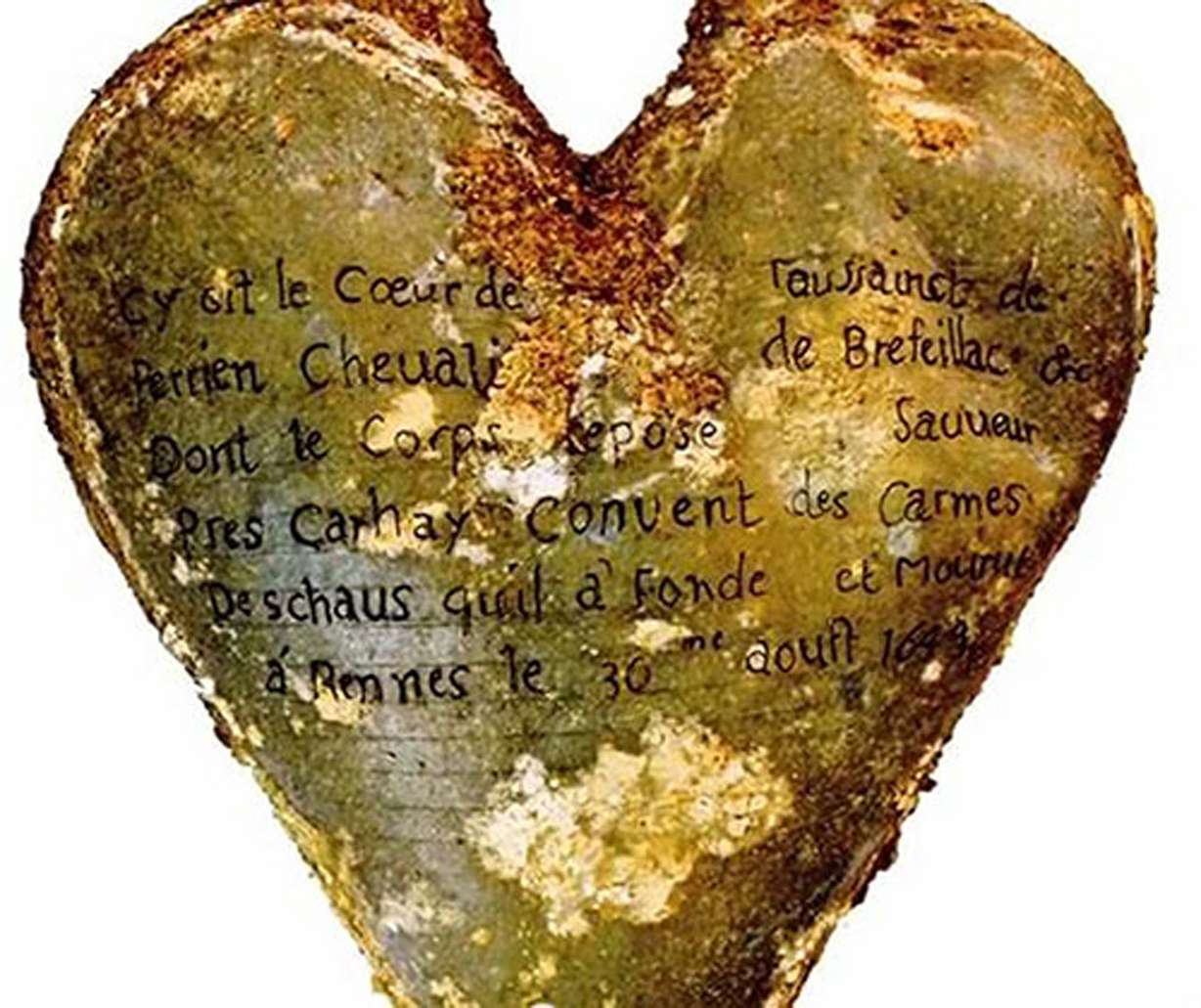 Forensic scientist Dr. Fabrice Dedouit, who also worked on the research and also helped do the examination of the preserved noblewoman's body, said the opportunity to work with tissue from this era is "very rare."
"At the beginning it was a surprise when we opened the lead cases. We didn't know precisely what were inside the urns," Dedouit said. "It was, in fact, really really exceptional material for us to study. You had a sensation of elasticity that was completely amazing. It is as if these people had recently died, rather than these being 500-year-old hearts."
This is not the first research to show that our ancestors had heart disease.
A 2011 study found atherosclerosis in ancient Egyptian mummies. Unlike the Rennes hearts, researchers were unable to rehydrate the organs.
"Museums don't take too kindly to that idea," said Dr. Gregory Thomas, co-author of the study. Thomas is the medical director of the MemorialCare Heart and Vascular Institute at Long Beach Memorial in California. After examining 52 ancient Egyptian mummies and finding 20 of the 44 that had cardiovascular structures had atherosclerosis or signs of it, he said he came away with an important takeaway from this kind of work.
"I think the lesson learned is that humans are inherently at risk for heart disease whether they live in ancient Egypt or North or South America or Europe," Thomas said. "I don't look at it as our fate is to die of heart disease, I look at this as a lesson that we humans have had this challenge from the beginning of time, but we can prevent or delay it. And we should use this as a reminder that we should do everything we currently know how to delay it: exercise, a lean diet, avoid smoking, taking medication that we need."
It's a lesson for the ages.
Copyright 2015 Cable News Network. Turner Broadcasting System, Inc. All Rights Reserved.
×
Photos
Most recent News stories
More stories you may be interested in