Estimated read time: 6-7 minutes
This archived news story is available only for your personal, non-commercial use. Information in the story may be outdated or superseded by additional information. Reading or replaying the story in its archived form does not constitute a republication of the story.
PROVO — With BYU head football coach Bronco Mendenhall leaving the program to take over as head coach of the University of Virginia, the Cougars have a position to fill for the first time in over a decade.
A potential hire is former BYU player and current Oregon State defensive coordinator Kalani Sitake. Here are some reasons the Cougars should hire Sitake and some reasons they should hesitate to hire him.
Reasons BYU would hire Sitake
Sitake is a proven defensive mind and can continue the tradition Mendenhall has established of solid defenses in Provo
Mendenhall was brought to Provo in 2003 as a defensive coordinator after a successful stint at New Mexico, where he coached future NFL Pro-Bowler Brian Urlacher. In the years prior to Mendenhall coming to the Y, the Cougars had been downright atrocious on defense during the Gary Crowton years. The defense drastically improved under Mendenhall for the two years he was defensive coordinator under Crowton. After taking over as head coach, Mendenhall retained the role of defensive coordinator and produced some terrific defenses, including perhaps the best in school history in 2012.
Sitake is also a proven defensive coach. In his years at the University of Utah, Sitake's defenses consistently ranked among the better ones in their conference and in the nation. If Sitake takes over as head coach, it seems very possible that he would retain the role of defensive coordinator and could continue the tradition that Mendenhall started of having a solid defense year in and year out.
Sitake knows how to recruit, especially among Polynesian players
BYU football owes much of its success to the Polynesian players who have played for the Cougars throughout the years. Some of the Y's all-time best players have come from the islands or are Polynesian-American. Coach LaVell Edwards was the first BYU head coach to actively recruit islanders, and it paid big dividends. The Cougars' roster this season, especially on the defensive side of the ball, is heavily saturated with players of Polynesian descent.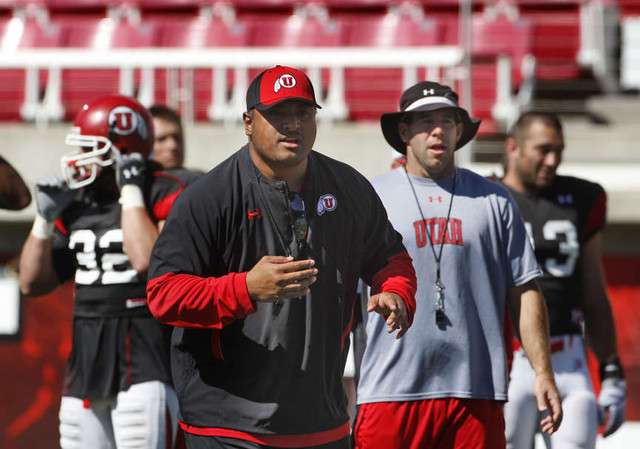 It seems like it could be a recruiting advantage to have a Polynesian head coach. Sitake, a native of Tonga, may be able to use his background to persuade some islanders that had previously considered Utah to come to the Y instead.
When Sitake left the University of Utah, many argued that the biggest thing the Utes would miss about him is his ability to recruit. Recruiting is the life-blood of any program, and it is vital that the next head coach at BYU is a good recruiter.
While Mendenhall got the most out of players that flew under the radar, the reality is that BYU will need to recruit and enroll more four- and five-star players if it wants to compete against the difficult schedules it has created for the next few years. Mendenhall's recruiting classes rarely ranked anywhere close to the top 25 by most major scouting websites, and the discrepancy in quality of recruits has been brought to the forefront as the Cougars have played difficult independent schedules. Sitake's prowess as a recruiter might help the program bring in better recruits, especially, as already mentioned, players of Polynesian descent.
Sitake is a young, up-and-coming coach
The reality in modern college football is that few head coaches stay at their first university for their entire career. This is especially true if the coach is successful at his first stop. Still, it would be nice to have a young coach who has the possibility of being a staple of the program for the next 20-30 years. Sitake is young — he's only 40 years old. If the Y chooses him to be the next head honcho, he could theoretically be the guy for decades if he is successful.
Reasons why BYU would not hire Sitake
Sitake has no experience as a head coach
BYU fans will be quick to point out that when Mendenhall was promoted to be the head coach at the Y, he had no prior head coaching experience. Most Cougar fans will admit that the hire turned out pretty well. But fans often forget about Mendenhall's first year where the Cougars limped out of the gate and got off to 1-3 start and then lost their final two games. Mendenhall had a steep learning curve, and the Y's record reflected that.
If it was tough sledding in Mendenhall's first year, however, it has nothing on BYU's 2016 schedule. The Cougars start off with four-straight Power 5 conference opponents. The schedule doesn't lighten up much after that, as the Y will face Michigan State on the road, Mississippi State at home and Boise State on the road. That is a brutal schedule for any coach, but especially a coach with no head coaching experience.
Sitake could be a terrific hire, but he's a wild card since he has no track record as a head coach and it could be a very bumpy first year for the Cougars if he is selected as the leader of the program.
Sitake has no experience working within the recruiting limitations BYU faces
As mentioned earlier, Sitake has been known to be a good recruiter. However, he has only recruited at universities that do not have the same restrictions the Y has. Never before has Sitake had to worry about whether or not his recruits could live a life of celibacy and not partake in any alcoholic beverages during their college careers.
Recruiting at BYU is a different endeavor than at any other college in the nation. Sitake may flourish in this environment and build upon (and hopefully do even better) the work that Mendenhall did, but he also might struggle with these limitations like Crowton did.
Sitake's defense at Oregon State this season was really bad
Some University of Utah fans have argued that Sitake's success as the program's defensive coordinator was more because of head coach Kyle Whittingham than Sitake. There may be some truth to that; Whittingham had established a scheme before Sitake took over as defensive coordinator.
It can be argued that Sitake's first season as defensive coordinator at Oregon State is further proof of that. The Beavers gave up at least 40 points in seven different contests this season with their last four opponents completing this feat to end the 2015 campaign.
To be fair, Sitake inherited a mess when he took over as the Beavers' defensive coordinator. It is hard to say how much can be extrapolated from this small sample size. Sitake was very successful at the U., and it's unfair to conclude that his accomplishments were mostly the product of coaching under Whittingham. Sitake has shown that he can get defenses to play well, and this last season seems to be an abberation.
Overall, Sitake could be a solid hire for the Cougars. He played at the Y, so he understands the unique culture of the university and the football program. He is considered to be a hot commodity in coaching circles and will probably have numerous suitors besides the Cougars. As a relatively young coach, he could potentially be in Provo for the next two or three decades if he has success.
---
![](http://media.bonnint.net/slc/2539/253958/25395882\.jpg?filter=ksl/65x65)

**About the Author: Dylan Cannon** ----------------------------------

Dylan Cannon is a regular KSL.com contributor and can be reached at DylanCannon86@gmail.com or via twitter @DylanCannon11.

×
Related stories