Estimated read time: 4-5 minutes
This archived news story is available only for your personal, non-commercial use. Information in the story may be outdated or superseded by additional information. Reading or replaying the story in its archived form does not constitute a republication of the story.
SALT LAKE CITY — After seven straight years of making the playoffs, Real Salt Lake won't be participating in MLS's postseason this year. Adding insult to injury, RSL's likely failure (current models give them a 0.4 percent chance of squeaking out a playoff spot) comes in a year when MLS expanded the playoff structure, allowing 12 of the 20 teams to make the cutoff.
But RSL will be left out due to its own inadequacy, especially the curious decisions and leadership of head coach Jeff Cassar. Repeatedly, Cassar didn't chase after opportunities to get his team the points they needed. Instead, Cassar was overly satisfied with inept performances in critical situations.
That explicit approval of on-field failure meant that RSL had no drive to improve throughout the season. The team made the same critical mistakes in Wednesday night's critical match against Portland, the loss of which doomed RSL's season for good.
Overall, RSL has dropped 27 points at home, far too many for a team that considers itself a playoff contender. Here's a rundown of some critical home draws and losses, and Jeff Cassar's quote after each.
May 6, 0-0 home draw vs. Los Angeles Galaxy
Cassar: "To sum it up, it's improvement from last week. I thought that our possession was good tonight. I felt that we made good choices on the ball under difficult circumstances. Overall, really pleased with tonight. Obviously, the aim is to get three points at home, and I thought we pushed, but came up just a little bit short on the points, but not on the performance."
June 7, 0-0 home draw against Rapids — Nick Rimando saved a Colorado penalty in the 89th minute to preserve RSL's draw.
Cassar: "Without a doubt, it's a missed opportunity. That being said, I thought we had a good performance. I thought our offense clicked very well. We limited them to not too many opportunities. We limited them, and created a lot of chances. If we get that one, I think things will open up, and we'll get more."
June 27, 2-2 home draw against Columbus — Jordan Allen's red card in the 77th minute prevented RSL from going for the win.
Cassar: "The guys showed a ton of character and fight today, and I was extremely proud of them. I thought we created enough chances to win this game and put it out of reach when it was 2-1, but we paid the price."
July 4, 1-1 home draw against Orlando — Orlando's Kaka picked up a red card in the first half, but RSL was unable to score in the second period.
Cassar: "We have to get three points at home. We didn't. But our attitude was right. The way we approached the game was right. I can't fault the guys' effort. We tried and we pushed. … Overall, I'm pleased with our guys' effort."
Aug. 15, 1-0 home loss to Portland — Former RSL man Nat Borchers scored a header in the 95th minute to win the game for Portland.
Cassar: "There was some beautiful soccer out there. I was really proud of watching our team play with that attacking style, that relentless style."
Oct. 14, 1-0 home loss to Portland — Jamison Olave's red card and penalty donated gave the Timbers the 1-0 win.
Cassar: "I'm not frustrated with the way we played. It was two teams that was battling extremely hard. Their goal came off of a long clearance. But I thought we moved the ball extremely well, we were missing the final ball again, but I'm not upset with the way our players played. Absolutely not."
Cassar repeatedly commended his players' poor performances, and as a result, nothing changed.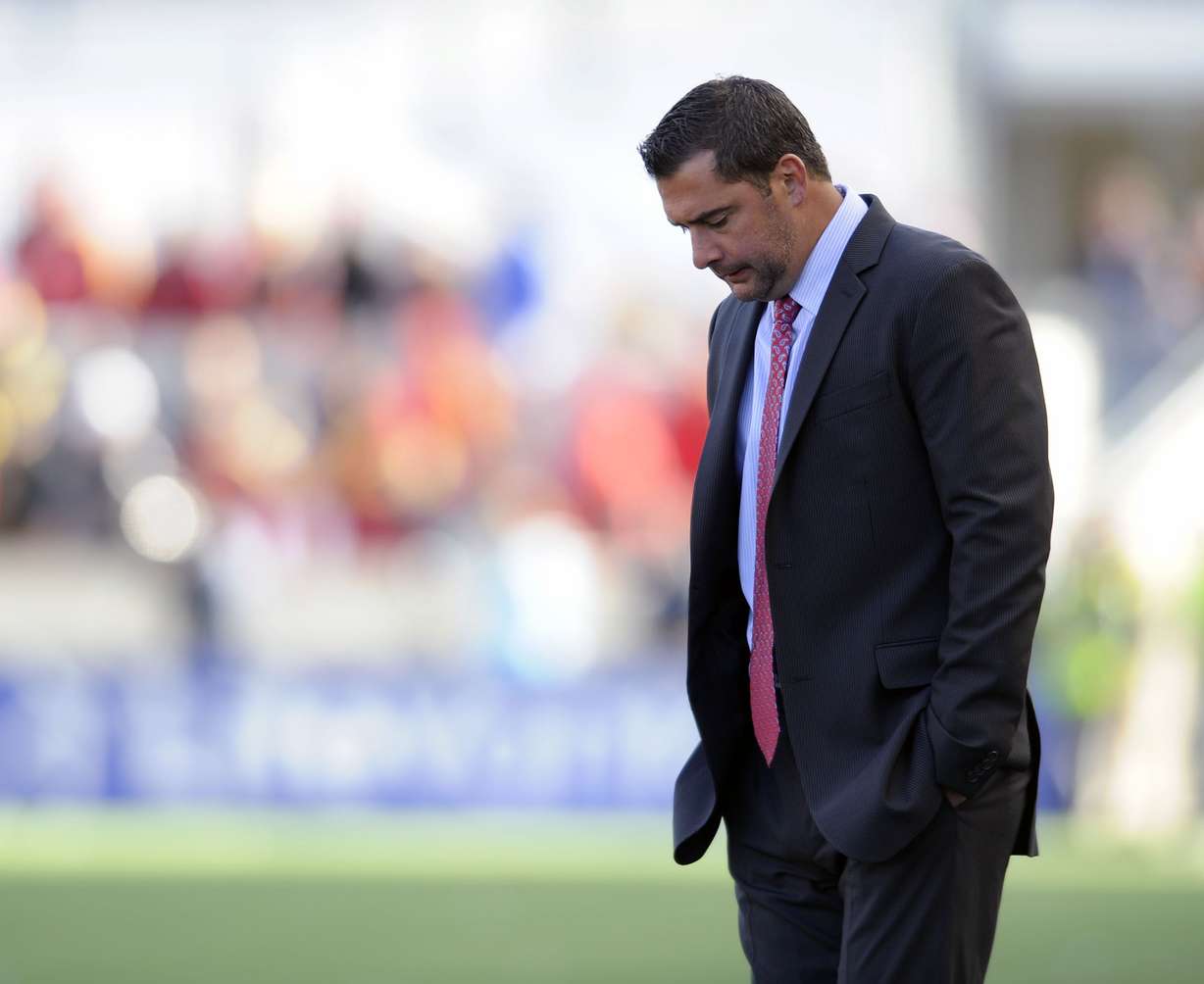 RSL's head coach also stood by his new 4-3-3 formation throughout the season despite disappointing results, and occasionally, misfit personnel. RSL chose to switch to the 4-3-3 because the previous reliance on the 4-4-2 diamond caused problems in many matchups. But the similar tactical inflexibility RSL showed with the 4-3-3 created new problems that were far worse than the ones RSL faced a year ago.
That's not to say the problems are entirely Cassar's fault, of course they aren't. In many ways, RSL's roster wasn't good enough this season, and general manager Craig Waibel's squad showed its lack of depth in attack, midfield and defense. But RSL's performances when the squad was at or near full strength, including Wednesday's nail in the coffin, show that RSL's disappointment can't be blamed on injuries and callups alone.
This is nearly a carbon copy of the situation the Utah Jazz found themselves in two seasons ago. Then, head coach Ty Corbin took over for franchise legend Jerry Sloan and lost in the first round of the playoffs in his first season. From then on, Corbin, too, made puzzling tactical and lineup choices, and seemed out of touch in public comments.
Cassar, just like Corbin, is a good man and a good assistant coach. But the role of head coach is too much for him, and it shows on nearly every level.
It's time for RSL to find a new, fresh, smart voice, one who keeps his players accountable through a rigid implementation of culture and process. RSL needs a leader who will only be satisfied when potential is met, not when the club falls drastically short.
×
Most recent Sports stories