This archived news story is available only for your personal, non-commercial use. Information in the story may be outdated or superseded by additional information. Reading or replaying the story in its archived form does not constitute a republication of the story.
SALT LAKE CITY — The University of Utah opened up its $36 million basketball facility Thursday, making it the next big project completed by the university since joining the Pac-12.
"This is just one of many new modern buildings that are coming up across our campus," University of Utah President David Pershing said at the ribbon-cutting ceremony. "And that's because of our commitment to our students to enrich their lives and provide them with an excellent, affordable education."
The 90,000 square foot Jon M. and Karen Huntsman Basketball Facility will house the men's and women's basketball programs, as well as the various Olympic student-athletes. It's a project that men's basketball coach Larry Krystkowiak and athletic director Chris Hill were heavily involved with along with the Huntsman family.
"This might be about the hardest time it's ever been for me to talk because I honestly feel like we've won the national championship," Krystkowiak said. "We can cut the nets down and celebrate."
Krystkowiak and his coaching staff, alongside Huntsman, toured various facilities around the country as they made their plans for what the facility would look like and what would be included. After touring the various facilities, Huntsman shared with Krystkowiak his desire to "do it right"; that everything would be done correctly and right.
"Here you've got a guy, and it's not because his name is on the building, it's because it's a once every century opportunity," Krystkowiak said, speaking about Huntsman's passion about the project. "Obviously Jon went up to the plate donation wise, financially. But he instilled in me and our staff that hey, let's do this right."
Krystkowiak added that he wanted the facility to honor those that have played before and were instrumental in Utah's success as well as looking forward to those that would continue to make Utah a successful program.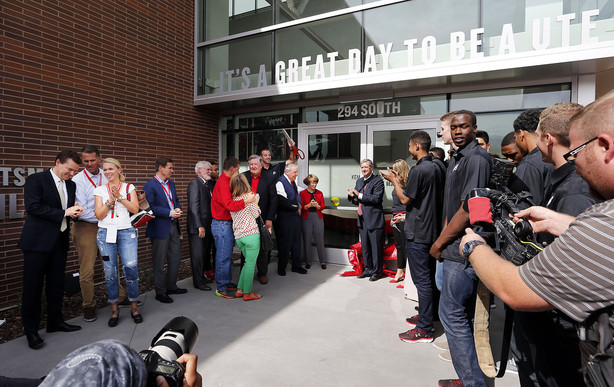 "Hopefully this facility is going to honor the past; that was one of my goals in one of the first building meetings. You go into some facilities and it's all about the Hall of Fame or it's all about the recruiting buzz — the future," Krystkowiak said. "I wanted a combination: let's honor the past, which we've done a great job of through this building, and then we're celebrating the present."
While the facility will be a great resource for the current student-athletes on campus, it will also be a valuable recruiting tool for the various programs. Women's basketball coach Lynne Roberts said the new facility has already had an impact on recruiting.
Roberts detailed a recent recruiting visit she participated in where the father was a Division I men's basketball assistant coach. As part of the visit, Roberts said she told the family she wanted to show what the facility would look like and how their daughter would fit in with the program.
"The dad leans across the table and says to her daughter, 'now sweetheart, we've talked about this: facilities are great, but it's not why you choose a school,'" Roberts said. "I'm going through the whole thing and at the end, the dad leans over and he says, 'honey, forget what I said, that place is incredible.' True story.
"To say that this is an incredible recruiting tool is an understatement," Roberts added. "This facility says that Utah basketball is important. It says that there is an expectation for us to be excellent and it says that we take care of our student-athletes better than anyone. That's what it's all about."
The new facility has the expected practice courts and locker rooms, but several other valuable aspects to help the teams in their game preparation, including:
Two 12,000 square foot practice gyms
Sports medicine and hydrotherapy rooms
Men's and women's film rooms
Men's and women's recruiting lounges
Player locker rooms and lounges
Coaches and staff locker rooms
Pre-game dining and multipurpose rooms
Coaches offices
Yoga room
Rooftop terrace that includes a garden area
Sports performance center and weight room
A Fuel U and nutrition station
Outdoor site plazas
Branded connection to the Huntsman Center
×
Photos