Estimated read time: 6-7 minutes
This archived news story is available only for your personal, non-commercial use. Information in the story may be outdated or superseded by additional information. Reading or replaying the story in its archived form does not constitute a republication of the story.
PROVO — There was a moment that happened in Lincoln, Nebraska, after the clock hit zero, that Mitch Mathews hit the end zone and Tanner Mangum was carried on the shoulders of a BYU football staff member into program history with his 33-28 win at Nebraska that snapped the Huskers' 29-year winning streak in home openers.
But this isn't about any of those guys, or at least not directly.
Senior wide receiver Terenn Houk was there. He had as good a view of the game-winning catch as anybody — he was one of three targets for the returned missionary freshman quarterback to hit on a play BYU simply calls "84" for no reason other than that it's a number and the Cougars run more than two options.
Houk didn't make the catch — but he looked at Mathews as the fellow senior fell over the line while getting mugged by three Nebraska defensive backs. He screamed, then turned to the ref as players, coaches and Cosmo mobbed the Hail Mary pass-catcher.
Touchdown.
That's when instinct took over.
Houk ran at the ref, opened his arms, and bear-hugged the line judge that normally draws a penalty and fine in some circles of football.
On this occasion, in this moment — and perhaps lucky for Houk — the assistant referee just laughed. It was just one second as Houk realized what he was doing — but the moment was caught on YouTube, Vine and Instagram within seconds.
"At first, when I ran over to him, he looks at me like 'what the heck is he doing?'" Houk said after describing the play. "You could totally tell he was kind of scared."
Then the referee just laughed.
"I knew I was OK," Houk said. "I felt so dumb; I can't believe that happened."
Neither could any of Houk's teammates, both past and present, who laughed with or at him again on the plane ride to Provo as ESPN unveiled the day's SportsCenter "Top 10" and then circled Houk for his post-play theatrics.
The moment of exuberance was understood. BYU coach Bronco Mendenhall — a man known more for his soft-spoken attitude, demeanor that has been compared to an LDS bishop in some settings, and an occasional fist pump when the Cougars score a touchdown — ran onto the field with arms raised, screaming like a small child who just won a $50 gift card to Toys R Us.
This play — informally called the "Houk Hug" by KSL NewsRadio play-by-play man Greg Wrubell and adopted by Houk and his teammates — was special.
"I can't believe it happened," Houk said before adding a shrug and a laugh. "It's my two words to the sentence of the Nebraska game. It's part of the sentence. That's my story."
There was at least one person in Memorial Stadium who wasn't laughing, joking and cajoling with Houk, though. Offensive coordinator Robert Anae exulted in the moment but also reminded Houk, in his stern coaching demeanor that players have come to both fearfully respect and love, "You realize you almost got flagged, right?"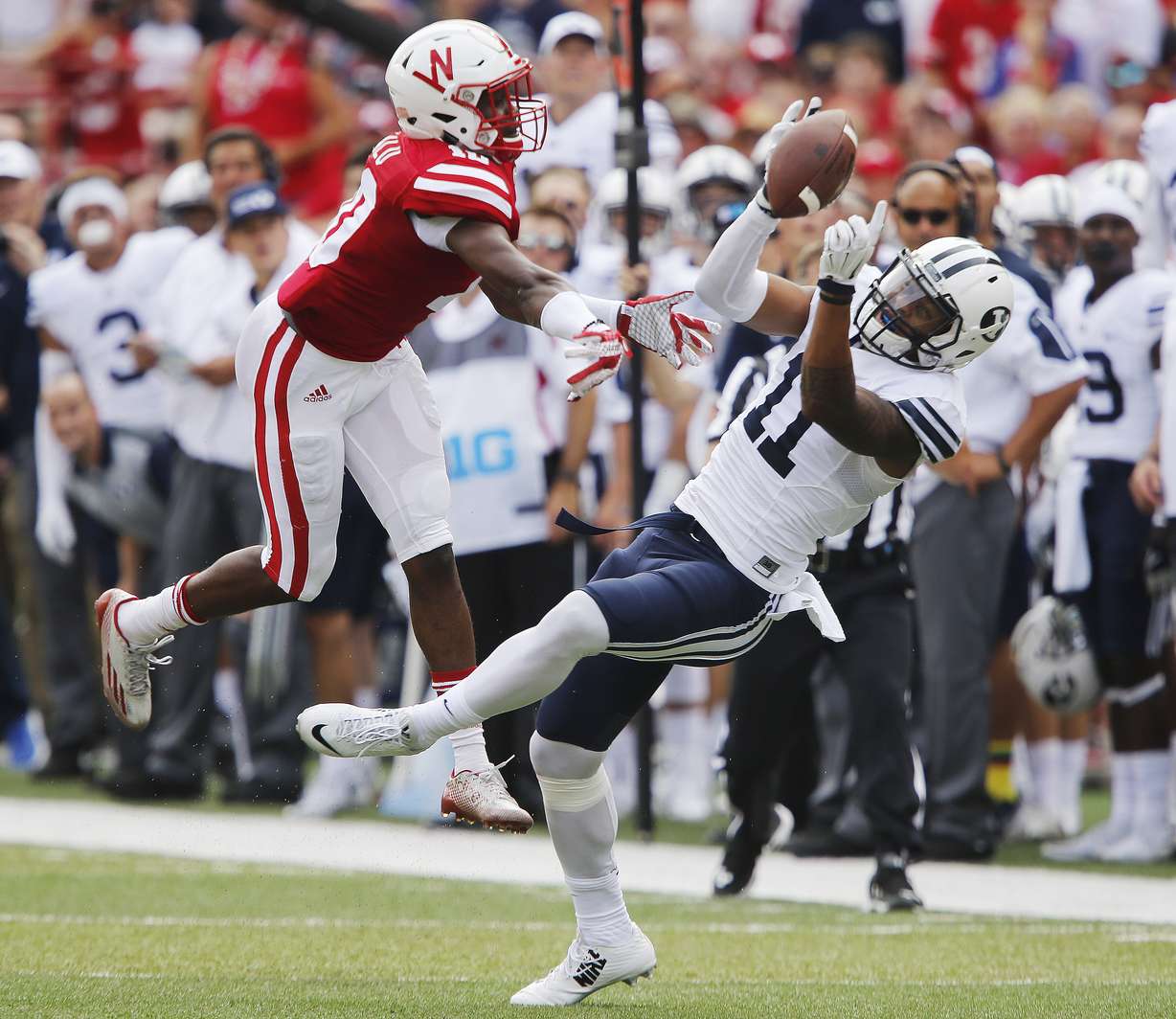 Houk knew — he was sufficiently shamed.
"Everyone was laughing, but coach Anae was just coach Anae," he said. "It was just funny, because we were watching the replay in the plane, and it focuses on Mitch … and then sure enough: 'Check out BYU football player Terenn Houk,' and it zooms in on me with a little circle around me, hugging the ref.
"I'm never going to live that down."
To think that it happened during Mangum's first snaps at quarterback makes it even crazier, Houk thought out loud. The moment made for an "eventful" weekend, Mangum said understatedly.
"It's definitely not something I expected in preparing throughout the week," Mangum added. "But it's been fun more than anything.
"I'm just happy that we won; that's the thought that keeps coming back to my head. We're 1-0, and that's the thing I care about the most."
BYU moves on to prepare for its home-opener Saturday at 8:15 p.m. MDT against Boise State. But the thrill of a Hail Mary stands out to everyone in the locker room.
"What an experience," BYU defensive back Matt Hadley said. "It was my first game back after my mission and getting to experience with the guys I love — 'wow' is all I can say."
Depth chart notes — Freshmen Beau Hoge and Koy Detmer Jr. were listed as the co-backup quarterbacks behind Mangum on BYU's new projected depth chart, with Mendenhall adding Hoge has a slight advantage early in the week if the Cougars need to go to a backup.
"If I were to say today, it would be Beau Hoge," the coach said. "That's as clear-cut as I can give you on Monday at noon. It might be different Wednesday, but if I'm saying now, that's who I think it is."
Right defensive end Logan Taele also moved up to the starting nose tackle, replacing Travis Tuiloma, who will miss four-to-six weeks with a knee injury. Kesni Tausinga backs him up, and Graham Rowley moves up to start at defensive end, with Remington Peck as the backup.
Mendenhall also said that suspended players Kai Nacua, Trey Dye, Tomasi Laulile and Sione Takitaki would return to game play this week and he did not anticipate any further punishment from various infractions dating back to the Miami Beach Bowl loss and through the offseason.
Nacua is the starting free safety, while Dye is listed as the No. 2 H back and Laulile backs up defensive captain Bronson Kaufusi at defensive end. Takitaki was not listed on Monday's depth chart.
Captain TBD — Mendenhall said Taysom Hill will continue in some capacity of leadership as the offensive captain despite his season-ending foot injury suffered Saturday. The head coach will consult with the former starting quarterback about potential additional captains in the coming days.
A BYU football spokesman clarified Monday that Hill's injury has been diagnosed as a Lisfranc sprain after doctors underwent testing. The magnitude injury, which was originally listed as a foot fracture, remains the same and Hill is likely out for the season.
The severity of the sprain was not immediately released.
"When you lose a player of Taysom's caliber, it's not just a player that makes up for that discrepancy or difference, it's an entire team, and that was the main takeaway from a year ago," Mendenhall said. "Eventually, when we got that approach clear and through to our team, we righted the ship. And so that would be the main takeaway: that every player in every position in every facet of the game needs to take up that slack."
×
Most recent Sports stories