This archived news story is available only for your personal, non-commercial use. Information in the story may be outdated or superseded by additional information. Reading or replaying the story in its archived form does not constitute a republication of the story.
SALT LAKE CITY — Matthew Harker, 39, was training for a triathlon by biking to work when he was killed by a drunk driver in Casper, Wyoming, on May 29, 2014.
Harker was attempting a left turn at an intersection a block away from his work when a drunk driver — who was celebrating his release from parole — swerved around stopped traffic and hit him.
His older brother, Ernie Harker, said Thursday he hopes a new public service campaign created for Maverik convenience stores along the Wasatch Front will help convince drivers to change their minds if they are considering driving under the influence of alcohol.
Harker recalled flying to the hospital that day. He, his parents and his seven other brothers thought Matt was going to be just fine after seeing him unconscious but breathing well. But doctors pronounced him braindead that night.
Harker watched his sister-in-law explain to her oldest three sons that their dad would never wake up.
"I remember hearing his (8-year-old) son saying, 'Who's going to have fun with us now?'" Harker, Maverik's director of marketing, recalled Thursday.
Harker unveiled the anti-drunken driving campaign Thursday at a downtown Maverik store accompanied by the law enforcement officers from the Utah Highway Patrol and other agencies.
The campaign will include gas pump wraps at the stores and public service announcements that will be played on the stores' video screens reminding people to not be "predators" on the road.
The UHP said it will be increasing efforts to enforce DUI laws this weekend as Labor Day marks the end of what it refers to as the 100 deadly days of summer, said UHP Col. Daniel Fuhr.
---
The sole purpose of this enforcement is to make sure that people get home safely.
–Trooper Lawrence Hopper
---
Trooper Lawrence Hopper said multi-agency DUI "blitzes" will take place over the weekend in Carbon and Salt Lake County counties and DUI checkpoints will be set up in Cedar City Friday night and in Orem Saturday night. More than 250 extra overtime shifts are available to law enforcement officers this weekend, he said.
"The sole purpose of this enforcement is to make sure that people get home safely," Hopper said. "If they have been drinking and get behind the wheel, we will be out there to stop them from hurting themselves or other people."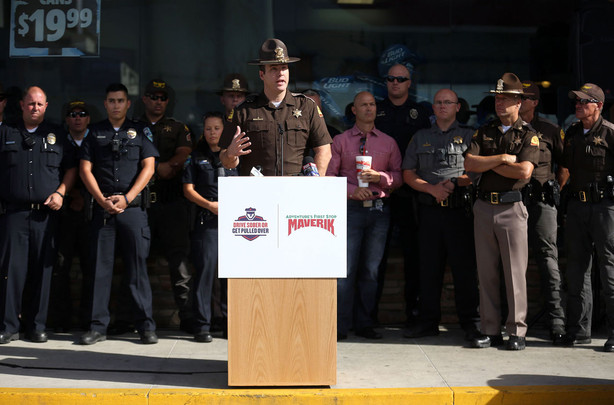 Fuhr said that simply planning ahead and the unprecedented modern ability to communicate with others should make DUI fatalities the easiest road fatality to prevent.
Accordingly, Harker said he hopes the campaign will motivate people to enjoy their Labor Day activities responsibly and never drink and drive.
"I'm the marketing director for Maverick. I'm the last guy to say you shouldn't have a good time," Harker said. "But we want people to be responsible, to be thoughtful, to care about each other and know that people make decisions that are going to impact people." Email: chlarson@deseretnews.com Twitter: cdlarson15g
×
Photos
Related Links