Estimated read time: 4-5 minutes
This archived news story is available only for your personal, non-commercial use. Information in the story may be outdated or superseded by additional information. Reading or replaying the story in its archived form does not constitute a republication of the story.
HIGHLAND — Lone Peak five-star guard Frank Jackson offered a verbal commitment to coach Mike Krzyzewski and Duke, the teenage basketball phenom announced Tuesday afternoon during a ceremony at his high school.
Jackson also had offers from Stanford, Utah and BYU, and he originally committed to the latter at age 14 before de-commiting just over a year ago. The Knight senior wrapped up a visit to the Durham, North Carolina campus last weekend with his parents, a visit that helped cement the defending national champion Blue Devils for his future college basketball career.
The American Fork native and his parents sat down with the legendary college basketball coach, and the tenured coach instantly made him feel at ease. Distance, then, was not a factor in pledging his loyalty to the Research Triangle institution.
"It's far from home, but at the same time, with Coach K and the success he's had in the Duke program is crazy," Jackson said after he made his commitment official at Lone Peak High School. "I feel like I'm going to be pushed there, and here's going to get the best out of me."
Jackson plans to join Duke for the 2016-17 year. But until then, he has unfinished business — leading the Knights to a Class 5A state championship.
The senior averaged 26.9 points, 4.5 rebounds and 2.0 steals per game while helping Lone Peak advance to the Class 5A state quarterfinals as a junior before a stunning loss to Viewmont. The 6-foot, 4-inch guard and pure scorer is rated the No. 14 prospect in the nation by ESPN.com, No. 17 by Scout.com and No. 10 by Rivals.com.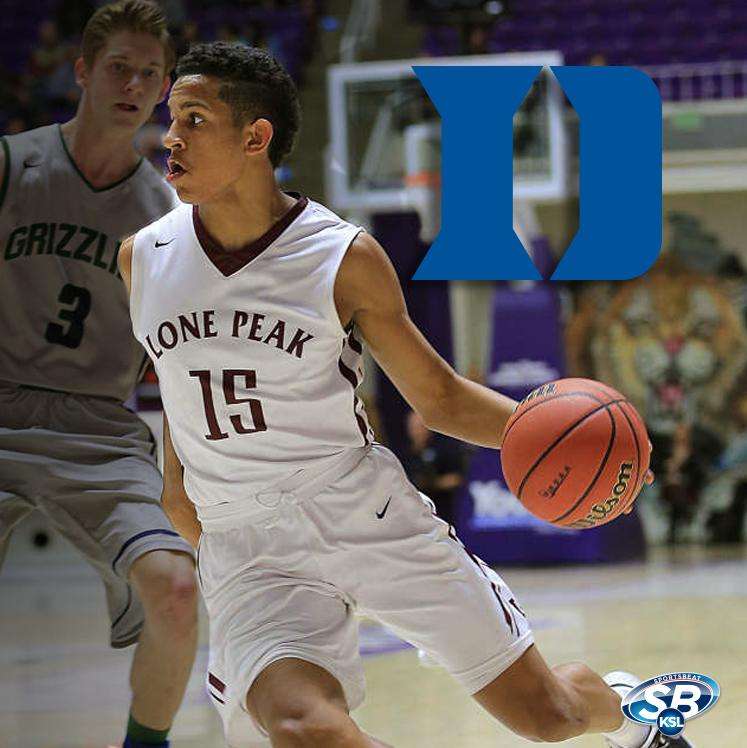 The title, then, is "more important than ever" for the Knights.
"I feel like this team has bonded really well. We've meshed so well together," Jackson said. "Winning state is at the top of my list right now, and that's what I'm worried about."
The official visit and a chance to meet Krzyzewski and sit down with him made Jackson's choice easier.
"It's something I've never thought would happen, to be honest," Jackson said. "At first, I was intimidated. But he made me feel so comfortable right from the beginning. That's a big reason why I made this commitment so early.
"I put my trust in him, and we'll see what happens from there."
The star of this year's upcoming Lone Peak squad, Jackson knows competition for playing time will be intense with the Blue Devils.
"You have to earn everything over there," Jackson said. "I'm going to go, play as hard, and I get a starting spot, that's great. But if not, I still have three (more) years, if I want, to be the best player I can be."
Jackson owns the state record for most points in a game, earning the spot following his transfer to Lone Peak in which he put up 54 against Las Vegas' Clark High School. He put up four of the top-six individual scoring outputs in the state last year.
But his stock his ballooned on the summer circuit, where he plays with his AAU team Utah Prospects, as well as in a myriad of all-star games. Jackson took home MVP honors at last week's UnderArmour Elite 24, a made-for-television all-star game featuring some of the top talent in the country on ESPNU. During the game, he threw down the following 360-degree dunk that sent much of the Internet into a frenzy.
"Being at all those events has been a blast, just playing with the best players," Jackson said. "When you play with the best players, you feel like you can play with anyone. It's a confidence-booster, being surrounded by NBA players and big-time coaches.
"It's a dream-come-true."
Jackson also took home top honors at the NBA Top 100 camp, held at the University of Virginia in June.
The local accolades made turning down top-notch in-state institutions, as well as the academically renowned Stanford, among the toughest decisions of Jackson's young life to date.
"It was one of the hardest thing I've ever had to do," he said. "The relationships I've built with those guys and everything they've done for me and my family. It was definitely hard. But they want what's best for me and my family. They couldn't be happier."
×
Related Stories