This archived news story is available only for your personal, non-commercial use. Information in the story may be outdated or superseded by additional information. Reading or replaying the story in its archived form does not constitute a republication of the story.
SALT LAKE CITY — Utah State and Southern Utah open the season Thursday night in Logan, and Aggie head coach Matt Wells stopped by KSL early Sunday afternoon to have a pre-game chat.
"Fall camp ended last week, and we started game prep right in the middle of the week," Wells said. "Tomorrow is like a Wednesday for us. Most of the game prep is almost done, and we're just looking forward to Thursday night."
Wells said he still gets asked "every day" about the knee of redshirt senior quarterback Chuckie Keeton. Sunday was another chance to reiterate the same question he's received ad nauseum.
"He's good. He's really good; strong, healthy, and he's moving around really good," Wells added of his veteran signal caller. "Really, there have been no after-effects. He's been a tremendous leader, had a really good camp, and now he'll go out and show his thing."
This fall was a chance for the Aggies to bring in their young players to add to the rotation, especially among the defense and special teams that lost several seniors from a year ago.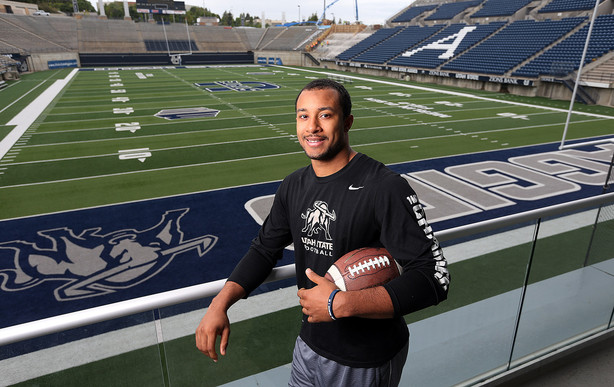 Utah State also found some depth in the running game, with sophomore LaJuan Hunt leading the way. But Wells also singled out redshirt freshman Justen Hervey and Blinn Junior College transfer Devantae Mays as two of the bigger standouts in fall camp.
"Those guys have been playing well throughout camp," Wells said. "I think we have some depth there."
On defense, the Aggies' strength once again starts at linebacker — and that corps begins with senior Kyler Fackrell and junior Nick Vigil.
"Nick and Kyler both have played at a high level in camp," Wells said. "Those two guys are difference-makers. They can tackle well in space, but also bring the pressure. It's a favorable matchup. There's no question they lead the defense."
Wells also clarified the passing game, which saw some of the biggest turnover from a year ago when JoJo Natson was dismissed from the team and Hunter Sharp was suspended for the first three games of 2015.
"I think (the other receivers) will step up," Wells said. "They're going to have to play well in the absence of some guys. Whether it's them or the play from our tight ends, I'm excited to watch Wyatt Houston, Dax Raymond and those guys who can fill those roles but in a different way."
The Aggies are tired of hitting each other in practice, and Wells said the team is just excited to start the season.
"I know it's not going to be perfect on Thursday night," Wells said. "But hopefully it's a good outcome and a good performance. But there will be things to work on and go back to the drawing board. It's that way every year. But everyone is excited to start the season."
×
Related Stories