This archived news story is available only for your personal, non-commercial use. Information in the story may be outdated or superseded by additional information. Reading or replaying the story in its archived form does not constitute a republication of the story.
PROVO — With BYU's opening game against Nebraska two weeks away, there is a growing consensus that the game might be an ugly one. Here are a few reasons why the game might be sloppy.
Injuries
Both the Cougars and the Cornhuskers have had some unfortunate injuries. BYU lost linebacker Colby Jorgensen, who was expected to be a contributor, to a scary neck injury that required emergency surgery. A week later, the Cougars lost starting tight end Steven Richards who sustained a serious knee injury. These injuries, particularly that to Richards, hurt BYU's depth and also affect the team's approach.
On the Cornhuskers' side, De'Mornay Pierson-El, the team's most dynamic playmaker who is electric as a punt returner, will be sidelined for the game with a foot injury. He joins receivers Lavan Alston and Sam Burtch, both of whom were expected to be frequent targets in Nebraska's passing attack, as victims to injuries. The injury to Pierson-El hurts the Cornhuskers' ability to get vertical in the passing game and will force the team to settle for underneath passes.
Suspensions
The last time BYU played a football game was not pretty. The Cougar defense couldn't stop Memphis and the offense was prone to turnovers. The culmination of a frustrating game, and season for that matter, was an ugly brawl with the Tigers that mired the inaugural Miami Beach Bowl. To maintain strategic advantage, BYU head coach Bronco Mendenhall has refused to say until game week — if at all — which players will be suspended for the game.
While it is not known yet, who will be missing, there is a high probability that safety Kai Nacua will be disciplined for a punch he threw that was captured on national television. Also involved in the skirmish was center Tejan Koroma, though his role could be interpreted as self-defense. Both of these players are critical to the team's success. In BYU's recent scrimmage, the Cougars held Koroma out, and the offensive line and snaps to the quarterback suffered greatly. Likewise, Nacua's presence will be missed as he is supposed to be an anchor in BYU's secondary.
The Cougars aren't the only ones who will be missing the services of various players due to suspension. Nebraska coach Mike Riley revealed last week that the Huskers have suspended five players for the opener. Similarly to Mendenhall, Riley declined to specify which players are going to be suspended. He did state that their absence will be noticeable come game time. Reading between the lines, it seems highly possible that Nebraska will be missing some of its better players as well.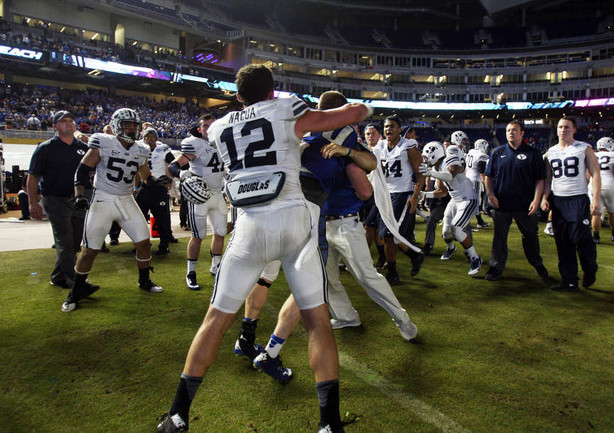 Nebraska will be breaking in a new offense and defense
Mike Riley has totally changed the Cornhuskers' offensive and defensive schemes. But whether or not a drastic departure from what former head coach Bo Pelini was running at Nebraska is necessary is debatable. Nebraska was good during Pelini's tenure but rarely great and never a major national contender. Even if Riley's difference of philosophy turns the Cornhuskers into a national powerhouse, there is ample evidence to suggest that it might take a while to catch on. The Cornhuskers have not faced an opponent besides themselves with these new look schemes, and it could be a bumpy ride against an experienced team like BYU.
BYU will be breaking in a new running back
Jamaal Williams was expected to become the all-time leading rusher in school history this season. After an injury-shortened 2014 campaign, Williams seemed to be on track to return to form. Then, suddenly, it was announced that he had withdrawn from school for personal reasons. The news came as a major blow to a team that had already lost a highly touted recruit in Charles West with legal troubles.
Algie Brown seems to be the person the Cougars are going with in the starting role. Brown showed some promise in 2014, but he too was bitten by the injury bug and may not realistically be expected to produce in a way that Williams would. The Cougars might have some hiccups in their running game, which will handcuff the offense.
So, the question then becomes can BYU win an ugly game? We'll see in a very short time. Dylan Cannon is a regular KSL.com contributor and can be reached at DylanCannon86@gmail.com or via Twitter @DylanCannon11. Listen to his weekly podcast, "Cougar Talk," on iTunes.
×
Related Stories