Estimated read time: 3-4 minutes
This archived news story is available only for your personal, non-commercial use. Information in the story may be outdated or superseded by additional information. Reading or replaying the story in its archived form does not constitute a republication of the story.
PROVO — Kai Nacua knows seniors need to step up and assume a leadership role in BYU's secondary.
But his time is coming a year early.
The 6-foot-1, 207-pound junior is one of the leading returning players on a BYU defense that is trying to fill the void of longtime staples like safety Craig Bills as it opens spring camp this week.
Nacua is ready to step into his new role, though.
"I'm still learning and trying to get a feel of everybody on the defense, to know where they should be, said Nacua, who played in 13 games as a sophomore and tallied 40 tackles and two interceptions. "I want to help around with everyone, even linebackers and linemen. I'm trying to help some of the new guys to get a feel of what coach Howell wants and what he's looking for on the field."
In a perfect world, the junior class on BYU's defense would defer to the seniors. But with only 10 total seniors on the defensive side of the ball, Nacua said the Class of 2017 won't be timid, either.
"We are all going to have to step up as juniors and lead the best we can," Nacua said. "We'll trail behind the seniors, but also give input as we can to make the secondary one of the best."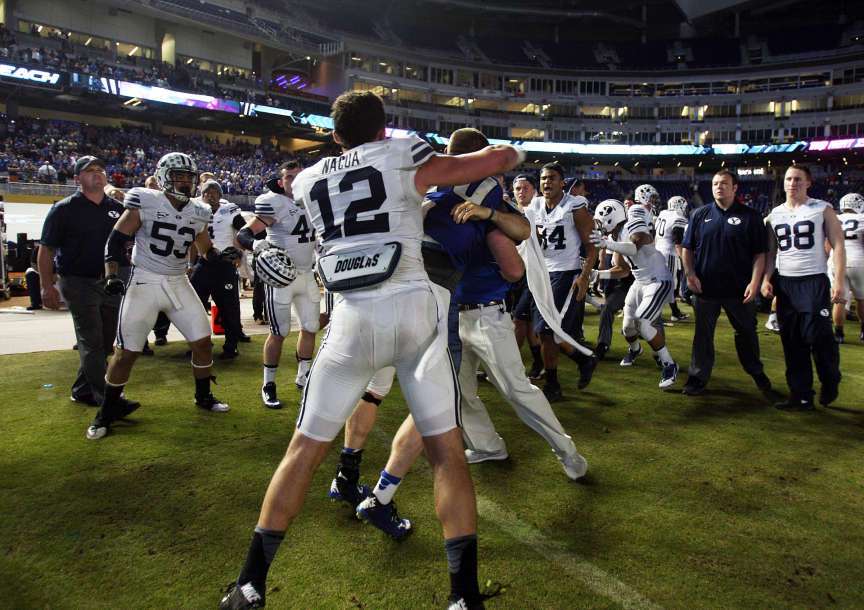 Nacua featured prominently in several media reports of the Cougars' postgame brawl following a 55-48 loss to Memphis in double-overtime of the Miami Beach Bowl. The junior spoke sparingly about the incident Wednesday, stating that he's spoken with the Memphis coaching staff and "apologized sincerely" for his actions in the event.
"We're sorry for what happened," Nacua said. "It happened, but it's last year, and now we're just moving on to next season."
Moving to next season includes fitting in with his new teammates, including his younger brother Isaiah, who hasn't played with big brother since middle school. The duo attended competing high schools, with Kai Nacua's Liberty rarely meeting Isaiah Nacua's Bishop Gorman until the Nevada state playoffs.
The two had a few good games in high school, though, and Kai Nacua is grateful to have his younger brother on the same side of the field as him.
"He whopped me in a state semifinal my senior year,"said the older Nacua, who plans on moving in with his brother after the younger spends a year in on-campus housing. "It's been really fun; I'm just trying to teach him the ropes. It's good for him, too, to learn and try to get back into shape. He really wanted to come back and play football, to just hit people."
Moving on for the defense also means a revised role of head coach Bronco Mendenhall in the day-to-day operations of BYU's defense. Through two days of spring camp, the Cougar defense hasn't made it through a full, planned session, the head coach said.
"We've made it through about 60 percent of a practice in terms of what I planned," Mendenhall added. "In all, the ball is moving right. The design is secondary right now."
Defensive coordinator Nick Howell has also taken a more active role in the secondary for the Cougars, a move Nacua fully supports.
"I think coach Howell has a chip on his shoulder," Nacua said. "He's ready to roll, and he wants our secondary to be one of the best. He wants us all to know exactly what we are doing and why we are doing it. Coach Howell is a great coach, and I'm loving what he is doing."
×
Photos
Related stories
Most recent Sports stories