This archived news story is available only for your personal, non-commercial use. Information in the story may be outdated or superseded by additional information. Reading or replaying the story in its archived form does not constitute a republication of the story.
SALT LAKE CITY — The NBA released the full 2015-16 season schedule on Wednesday, including the schedule of Utah Jazz.
The Jazz will open their season against the Eastern Conference on the road, beginning Oct. 28 against the Detroit Pistons and follow that with games on Oct. 30 and 31 against Philadelphia and Indiana.
The first home game of the season is Nov. 4 against the Portland Trail Blazers, led by former Weber State man Damian Lillard.
Overall, the schedule has a different feel than Jazz schedules of the past. There is no Christmas road trip this season. Instead, the Jazz will be home from Dec. 15-22. The Jazz will also have a home game on New Year's Eve, against Portland.
But making up for it is a road-heavy November schedule: eight of the Jazz's first 10 games are on the road, including a brutal four-game trip against Cleveland, Miami, Orlando and Atlanta.
The Jazz feature on national TV six times this season: three times on NBATV, twice on ESPN and once on TNT. The Jazz's final game of the season is April 13, against the Los Angeles Lakers. That game is on ESPN,and might be Kobe Bryant's final game.
Other notes:
The Jazz play on Leap Day, Feb. 29, on the road against Boston.
The NBA has reduced the number of four games in five nights to just one for the Jazz and 27 for all NBA teams. That's down from 70 last season.
Jazz's longest homestand is six games, from Jan. 25-Feb. 5.
Jazz's longest road trip is five games, from March 19-26.
Some really compelling possible playoff fights at the end of the season for the Jazz, finishing with Phoenix, San Antonio, Los Angeles Clippers, Denver and Dallas, before finishing off with the Lakers.
Here's the day-of-week breakdown of the schedule, courtesy Utah Jazz: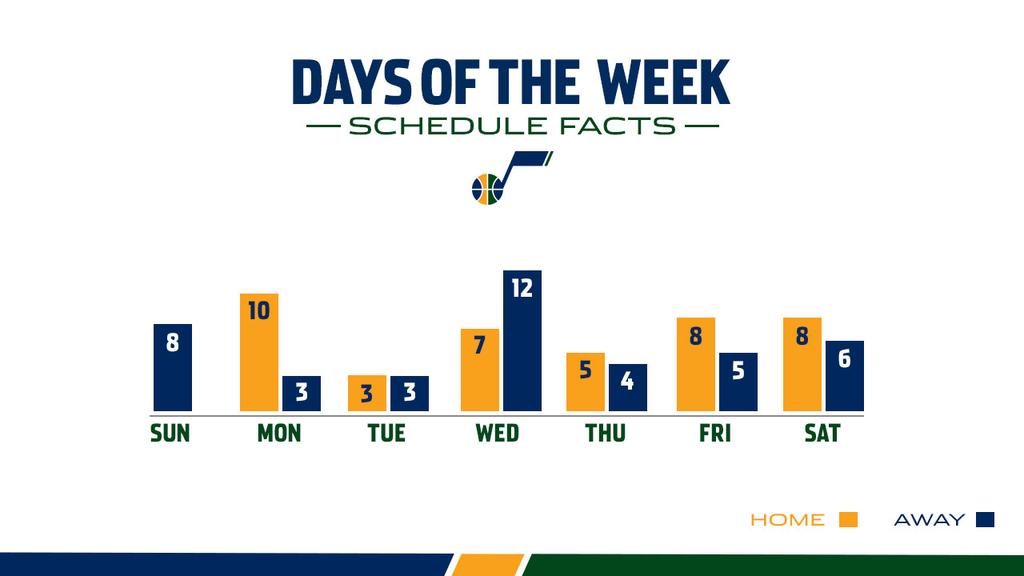 The full schedule is below:
2015-16 UTAH JAZZ SCHEDULE
OCTOBER
OPPONENT
TIME (MT)
Wed, Oct 28
@ Detroit
5:30 PM
Fri, Oct 30
@ Philadelphia
5:00 PM
Sat, Oct 31
@ Indiana
5:00 PM
NOVEMBER
OPPONENT
TIME (MT)
Wed, Nov 4
vs Portland
7:00 PM
Thu, Nov 5
@ Denver
7:00 PM
Sat, Nov 7
vs Memphis
7:00 PM
Tue, Nov 10
@ Cleveland
5:00 PM
Thu, Nov 12
@ Miami
5:30 PM
Fri, Nov 13
@ Orlando
5:00 PM
Sun, Nov 15
@ Atlanta
4:00 PM
Wed, Nov 18
vs Toronto
7:00 PM
Fri, Nov 20
@ Dallas
6:30 PM
Mon, Nov 23
vs Oklahoma City
7:00 PM
Wed, Nov 25
@ Los Angeles
8:30 PM
Sat, Nov 28
vs New Orleans
7:00 PM
Mon, Nov 30
vs Golden State
7:00 PM
DECEMBER
OPPONENT
TIME (MT)
Thu, Dec 3
vs Orlando
7:00 PM
Sat, Dec 5
vs Indiana
7:00 PM
Tue, Dec 8
@ Sacramento
8:00 PM
Wed, Dec 9
vs NY Knicks
7:00 PM
Fri, Dec 11
vs Oklahoma City
7:00 PM
Sun, Dec 13
@ Oklahoma City
5:00 PM
Mon, Dec 14
@ San Antonio
6:30 PM
Wed, Dec 16
vs New Orleans
7:00 PM
Fri, Dec 18
vs Denver
7:00 PM
Mon, Dec 21
vs Phoenix
7:00 PM
Wed, Dec 23
@ Golden State
8:30 PM
Sat, Dec 26
vs Los Angeles
7:00 PM
Mon, Dec 28
vs Philadelphia
7:00 PM
Wed, Dec 30
@ Minnesota
6:00 PM
Thu, Dec 31
vs Portland
7:00 PM
JANUARY
OPPONENT
TIME (MT)
Sat, Jan 2
vs Memphis
7:00 PM
Mon, Jan 4
vs Houston
7:00 PM
Wed, Jan 6
@ San Antonio
6:30 PM
Thu, Jan 7
@ Houston
6:00 PM
Sat, Jan 9
vs Miami
7:00 PM
Sun, Jan 10
@ Los Angeles
7:30 PM
Wed, Jan 13
@ Portland
8:00 PM
Thu, Jan 14
vs Sacramento
7:00 PM
Sat, Jan 16
vs Los Angeles
7:00 PM
Mon, Jan 18
@ Charlotte
12:00 PM
Wed, Jan 20
@ NY Knicks
5:30 PM
Fri, Jan 22
@ Brooklyn
5:30 PM
Sat, Jan 23
@ Washington
4:30 PM
Mon, Jan 25
vs Detroit
7:00 PM
Wed, Jan 27
vs Charlotte
7:00 PM
Fri, Jan 29
vs Minnesota
7:00 PM
FEBRUARY
OPPONENT
TIME (MT)
Mon, Feb 1
vs Chicago
7:00 PM
Wed, Feb 3
vs Denver
7:00 PM
Fri, Feb 5
vs Milwaukee
7:00 PM
Sat, Feb 6
@ Phoenix
7:00 PM
Tue, Feb 9
@ Dallas
6:30 PM
Wed, Feb 10
@ New Orleans
6:00 PM
Fri, Feb 19
@ Boston
8:30 PM
Sun, Feb 21
@ Portland
7:00 PM
Tue, Feb 23
vs Houston
7:00 PM
Thu, Feb 25
vs San Antonio
8:30 PM
Sat, Feb 27
vs Brooklyn
7:30 PM
Mon, Feb 29
@ Boston
5:30 PM
MARCH
OPPONENT
TIME (MT)
Wed, Mar 2
@ Toronto
5:30 PM
Fri, Mar 4
@ Memphis
6:00 PM
Sat, Mar 5
@ New Orleans
5:00 PM
Tue, Mar 8
vs Atlanta
7:00 PM
Wed, Mar 9
@ Golden State
8:30 PM
Fri, Mar 11
vs Washington
7:00 PM
Sun, Mar 13
@ Sacramento
4:00 PM
Mon, Mar 14
vs Cleveland
7:00 PM
Thu, Mar 17
vs Phoenix
7:00 PM
Sat, Mar 19
@ Chicago
6:00 PM
Sun, Mar 20
@ Milwaukee
5:00 PM
Wed, Mar 23
@ Houston
6:00 PM
Thu, Mar 24
@ Oklahoma City
6:00 PM
Sat, Mar 26
@ Minnesota
6:00 PM
Mon, Mar 28
vs Los Angeles
7:00 PM
Wed, Mar 30
vs Golden State
7:00 PM
APRIL
OPPONENT
TIME (MT)
Fri, Apr 1
vs Minnesota
7:00 PM
Sun, Apr 3
@ Phoenix
4:00 PM
Tue, Apr 5
vs San Antonio
7:00 PM
Fri, Apr 8
vs Los Angeles
7:00 PM
Sun, Apr 10
@ Denver
3:00 PM
Mon, Apr 11
vs Dallas
7:00 PM
Wed, Apr 13
@ Los Angeles
8:30 PM
×
Photos