This archived news story is available only for your personal, non-commercial use. Information in the story may be outdated or superseded by additional information. Reading or replaying the story in its archived form does not constitute a republication of the story.
PROVO — When former BYU assistant coach Mark Pope left to take the head coaching job at Utah Valley University, it left a significant hole in Dave Rose's coaching staff.
Who better to fill it than one of the top high school coaches in the state of Utah?
Rose officially announced the addition of Lone Peak head basketball coach Quincy Lewis to his staff, joining assistants Tim LaComb and Terry Nashif on Thursday afternoon.
"I'm very excited about the addition of Quincy Lewis to our staff," Rose said in a statement. "Quincy brings great knowledge of the game and a winning attitude. He has been successful everywhere he's been as a player and a coach and I look forward to adding Quincy to our team."
Lewis' 12-year run at Lone Peak turned the Knights into a Class 5A powerhouse, as well as a national basketball power. Lewis went 250-45 with Lone Peak, including seven state titles, 10 region titles, and his squad was awarded the MaxPreps national championship in 2013 — the same year Lewis won MaxPreps national coach of the year and Naismith national coach of the year honors.
"Coach Rose has built an outstanding program," Lewis said in a statement. "I'm really excited to get started and to be a part of his staff. I've known coach Rose and his wife Cheryl for a long time, having played for him at Dixie. They're very good people and it will be great to work with him."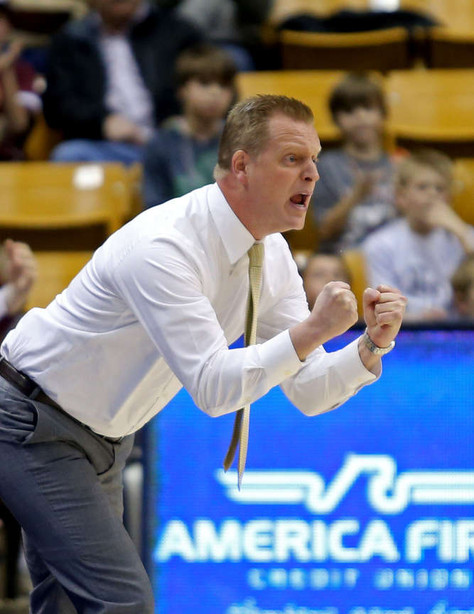 Lewis' proteges at Lone Peak have included several current and former BYU hoopsters like all-time leading scorer Tyler Haws and younger brother TJ Haws; former shooting guard Jackson Emery; recently graduated post Josh Sharp; redshirt senior Nate Austin and others. The successful high school coach also boasts current BYU target Frank Jackson, who recently opened him his recruitment after originally committing to the Cougars — but who still keeps the Provo program high on his list of potential college options.
Prior to his appointment at the Highland-based school, Lewis coached eight years in college basketball, with stops at BYU-Hawaii, Utah Valley State College and Southern Utah. The 1993 graduate of Wagner College in Staten Island, New York, played two seasons for Rose at Dixie State in St. George before finishing his career with the Seahawks, where he was inducted into the school's athletics hall of fame in 2012.
Lewis also earned a master's degree in exercise science from Utah in 1995.
LaComb was promoted to the associate head coach role following eight seasons on Rose's staff. He came to BYU as director of basketball operations in 2007, and has spent time as an assistant coach and recruiting coordinator for the Cougars' program.
"I feel fortunate to work here every day with outstanding coaches, players and people," LaComb said in a statement. "I love working with coach Rose and am grateful for his dedication, leadership and commitment to this program. I appreciate the opportunities he has given me to work here at BYU."
Andrew May rounds out Rose's staff as the new director of basketball operations. Prior to BYU, May spent four seasons at Salt Lake Community College, helping the Bruins to 103 wins, two trips to the NJCAA tournament, and three-straight conference titles.
May was a former BYU student manager under Rose, sitting on the team bench in the role from 2007-11. He graduated from BYU with a master's degree in exercise science in 2011.
×
Photos
Related Stories