Estimated read time: 7-8 minutes
This archived news story is available only for your personal, non-commercial use. Information in the story may be outdated or superseded by additional information. Reading or replaying the story in its archived form does not constitute a republication of the story.
BOSTON (CNN) — We don't have to pretend anymore: Dzhokhar "Jahar" Tsarnaev did it. The jury has spoken. He was in cahoots with his big brother, and together they set off the deadly bombs at the finish line of the 2013 Boston Marathon.
Jahar survived and his brother didn't, so he's the one we're left to deal with.
The way the law sees it, Jahar blew people up on a nice April day, killing two women in their 20s and a little boy. Jahar scarred and maimed more than 250 others and changed countless lives forever.
And, even if his brother pulled the trigger, Jahar shot a 26-year-old campus cop between the eyes a few days later because he wanted the cop's gun.
In the end, even Tsarnaev's own lawyer had grown impatient with the pretense of innocence: "The horrific acts that we've heard about — the death, destruction and devastation that we've heard about — deserve to be condemned, and the time is now," Judy Clarke said in her closing argument.
She urged jurors to "find the truth" and hold her 21-year-old client accountable.
But how? What we do next will say more about us as a society than it ever could about Tsarnaev.
He wrote in his boat hideout that innocents must pay with their lives for what our government is doing to his fellow Muslims. He's no innocent, but how will the jurors make him pay? Will they demand retribution as well?
Joe Kebartas, a 66-year-old retiree from South Boston, hopes not. A Vietnam veteran and former mental health worker, Kebartas stood in front of the John Joseph Moakley U.S. Courthouse every morning of Tsarnaev's trial. He held a simple sign, written by hand on poster board: "Death Penalty is Murder."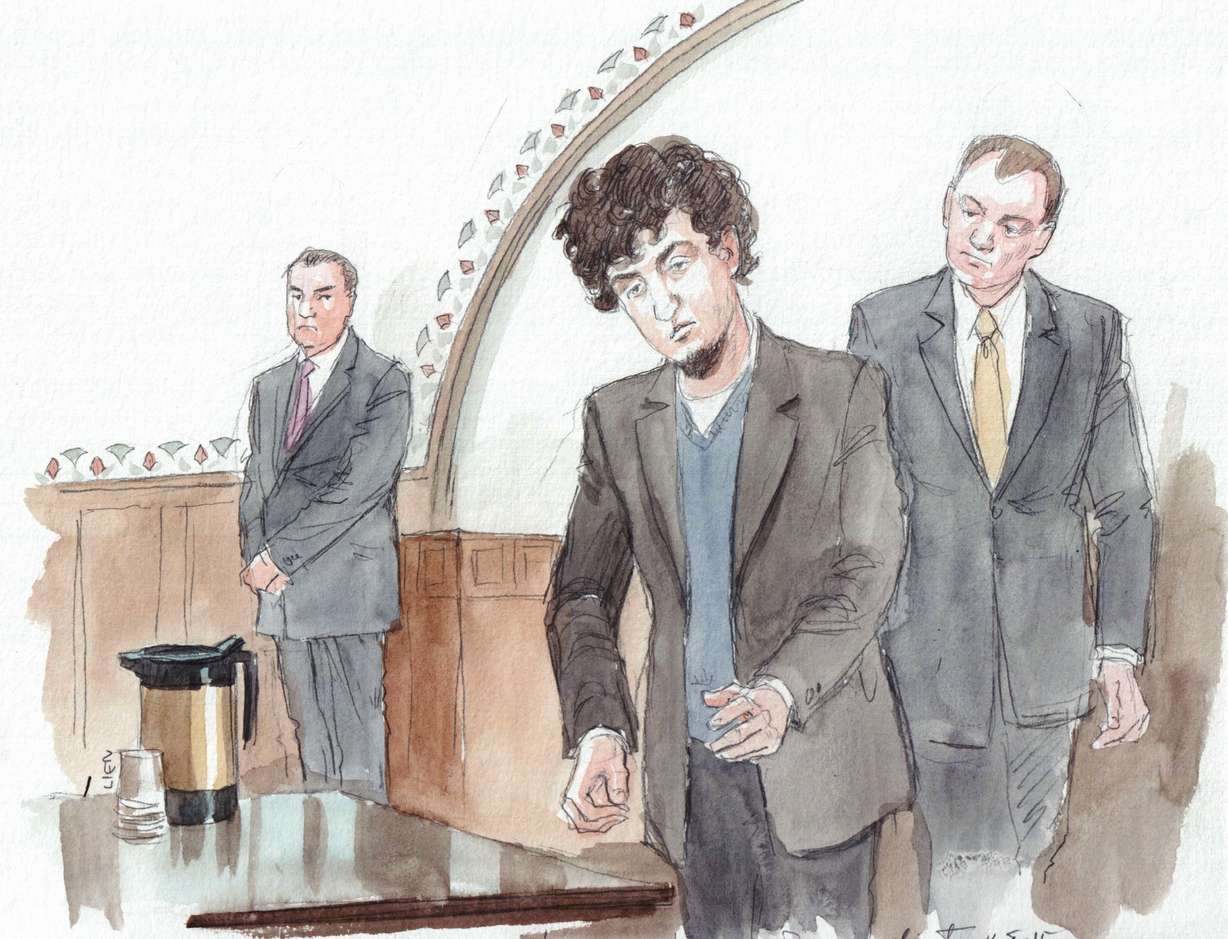 The word "Murder" was lettered in red, the color of blood.
Along with the construction crews, bomb-sniffing dogs and line of television cameras, Kebartas became part of the daily scene on the courthouse sidewalk. He was there when the snow was up past his knees. He was there in the rain and sleet. On most days, he stood alone.
But now that the case is entering the penalty phase, Kebartas said he expects he'll see some company — like the man in the mariachi hat who joined him the other day. Some of them will come from an interfaith group called Pax Christi. Kebartas, a devout Catholic, is a member of the group and shares its strong opposition to the death penalty.
Tsarnaev's attorneys exchanged nods and smiles with Kebartas as they strode into court on Wednesday. The defense lawyers, Clarke and David Bruck, greet him like a kindred spirit. It's a daily routine for the nationally prominent death penalty opponents.
Their opposition to the death penalty is why Clarke and Bruck take on clients like Jahar Tsarnaev. But a few hours after they waved at Kebartas, they learned for certain what they had suspected all along: They had their work cut out for them.
The jury found Tsarnaev guilty of all 30 counts against him, including 17 that offer just two options for punishment: life in prison or the death penalty.
Clarke has been able to save some of America's most notorious criminals from the death chamber: Unabomber Ted Kaczynski, who recently told Vanity Fair's Mark Bowden she was a "sicko;" Aryan Nation member Buford Furrow, who threatened her life; Zacarias Moussaoui, who shouted "death to America" and vowed to kill everyone at his trial; Olympic bomber Eric Rudolph; and Jared Loughner, who shot U.S. Rep. Gabrielle Giffords in the head as he killed six people at an Arizona shopping center.
As sportswriters are fond of saying, "All winning streaks must come to an end," and this may be the case that ends Clarke's. Tsarnaev may be her first death row client.
Massachusetts is not the sort of place where one would expect that to happen. The state banned capital punishment a generation ago, but Tsarnaev has been convicted under federal law. Massachusetts opinion polls have been pretty consistent: About two-thirds of the people surveyed oppose capital punishment and think Tsarnaev should instead spend the rest of his days behind bars.
He survived a shootout with police in Watertown in which he and his brother were outgunned 210 rounds to 56. He survived another fusillade of bullets into the boat where he was hiding.
As one unsuccessful jury prospect put it: "How many thousands of rounds did you fire into that boat, and you couldn't kill him? I'm not going to kill him for you now."
---
How many thousands of rounds did you fire into that boat, and you couldn't kill him? I'm not going to kill him for you now.
–A juror in Dzhokhar Tsarnaev's trial
---
Some of the people chosen for Tsarnaev's jury said they had reservations about the death penalty. It's not something that's talked about much here, because it usually isn't an issue in Massachusetts.
But each person on the jury is there because he or she agreed to override personal opinions and follow the law.
The next step will strip a lot of personal opinion out of the process. Jurors instead will be asked to weigh what they hear from others. They will probably hear victim impact statements from bombing survivors and families of the three people killed. They are also likely to hear a little about Tsarnaev's family background and school history.
The parties' witness lists have not been made public, and a behind-the-scenes battle appears to be brewing over a social worker the defense hopes to call. They want her to narrate the Tsarnaev family's story of political and religious strife in Russia, their immigration to America, their struggle to assimilate, and, ultimately, the parents' divorce and return to their homeland when their dream of a better life failed.
Tsarnaev has yet to express remorse, or much of anything. In court he is a blank. He doesn't carry or read from a Quran. Instead, he doodles. He doesn't appear to pray. Instead, he scratches at his head, runs his fingers through his tangled curls and pulls at his beard.
It leaves one wondering whether he's capable of speaking eloquently on his own behalf. Although many have speculated over whether he will testify, I wonder if he even can.
His boat hideout was pocked with bullets and streaked with his blood. His head and hands were bloody when he emerged from the boat. But so far, there has been no discussion of his injuries at the trial.
But earlier in the case, Dr. Stephen Odom, who treated him before his bedside arraignment at Israel Deaconess Medical Center, said Tsarnaev had multiple gunshot wounds, including one that injured his mouth and lower face. It was a "high-powered injury" that fractured the base of his skull, shattered a bone in his neck, and injured his mouth and pharynx.
It is possible he suffered a concussion or other brain injury, Odom said in a transcript that had been under seal.
Indeed, a large scar is visible in court, running behind Tsarnev's left ear and down his neck. His left eyebrow seems permanently raised, as if by paralysis or nerve damage.
He enters and leaves the courtroom stiffly, with a slight limp. But it's still possible to detect traces of the college boy strut he displayed while picking out a half gallon of milk at a Whole Foods Market about 20 minutes after the bombs went off.
"It's a horrible crime, there's no doubt about that," said Kebartas, standing outside the courthouse with his anti-death penalty sign.
---
According to what was written in the boat, he was committing this crime because of what the U.S. was doing to the Muslims in the Mideast, and retribution,
–Joe Kebartas
---
"According to what was written in the boat, he was committing this crime because of what the U.S. was doing to the Muslims in the Mideast, and retribution," he said.
Punishing Tsarnaev with the death penalty "doesn't solve anything," he added. "For a criminal to commit to a crime, a murder, and then for the state to lower itself to murder the murderer -- that's a crime itself. Every life is important and the state has no justification for taking anyone's life."
Later on Wednesday, Kebartas got some company outside the courthouse, but it wasn't someone who shared his point of view.
This man, covering his face with an American flag bandana, carried a lime green sign with several misspellings and an f-word. The message stridently denounced Tsarnaev as "just another Islamic terrorist" while at the same time insisting, "This is NOT Islamophobia."
Maybe not. But it does look an awful lot like a concept Babylonian King Hammurabi put forth in his code of law around 1750 B.C.: Lex Talionis, they called it in Latin. We know it as "an eye for an eye."
The-CNN-Wire ™ & © 2015 Cable News Network, Inc., a Time Warner Company. All rights reserved.
×
Related Stories