Estimated read time: 4-5 minutes
This archived news story is available only for your personal, non-commercial use. Information in the story may be outdated or superseded by additional information. Reading or replaying the story in its archived form does not constitute a republication of the story.
PROVO — When his top post player picked up her second foul less than four minutes into the game on Thursday night, BYU women's basketball coach Jeff Judkins might have had second thoughts about capturing a milestone moment.
BYU sharpshooter Lexi Eaton made those thoughts go away pretty quick, though.
Eaton scored 24 of her career-high 37 points in the first half, and the BYU women's basketball team overcame a slow start to cruise past Pepperdine 77-58 for BYU's 300th win in Judkins' tenure as a head coach.
"Lexi was more focused on getting to the basket tonight," Judkins said of the junior guard. "Lexi's been in foul trouble before, and Morgan has taken over. I thought Makenzi found her shot tonight, too. A great defensive effort tonight, and some good bench players."
Morgan Bailey, who averages 18.5 points and 10.8 rebounds per game, added 12 points and eight boards for the Cougars (18-5, 10-2 WCC), despite sitting for most of the first half with early foul trouble. The senior from Orem did all of her damage in the second half after shooting 0-for-3 from the field and picking up a third foul with 4:49 left until the break.
Makenzi Morrison added 10 points, five rebounds and five assists for BYU, which got a career-high seven points and four boards from Micaelee Orton.
Eaton worked well with the athletic post Orton, setting up the Kearns High alum on two plays down the stretch that helped the Cougars, who fell behind 7-2 in the game's opening five minutes, take a 36-26 lead at the break.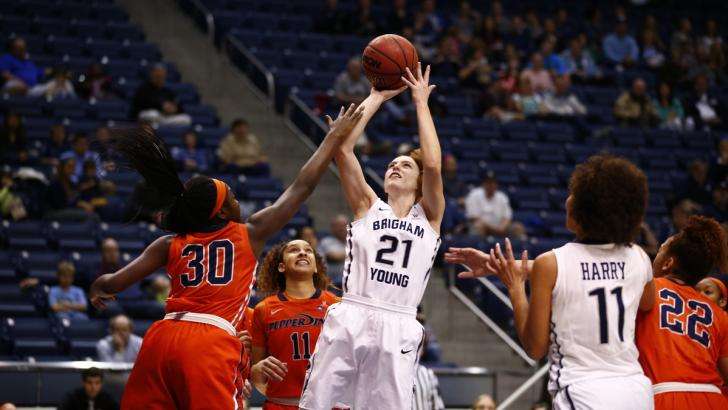 "I knew they can't run with her," Eaton said of Orton. "We were pushing it the whole game. I knew she would be open, and I looked up the court and she was there. She ran the floor well."
Eaton scored 13 of her team's 18 points during a 3 minute, 23 second run midway through the second half that saw the Cougars score on seven-straight trips down the court. The junior shooter from Springville opened the run with back-to-back shots with 7:33 remaining, and finished off an 18-5 run with a dish to Orton for an easy transition bucket to put the Cougars ahead 30-20 with 3:56 remaining.
Eaton was a freshman when Judkins celebrated his 200th win as BYU's top brass, and helping her only college coach celebrate this second milestone was special, she later said.
"It's been amazing to be a part of that road," she said. "It's so important to him, and that's why we love Juddy: he loves to win. We're competitors, too, and we want to play for a coach like him."
Bailey entered the game at halftime and helped lock down the Waves (6-17, 1-11 WCC) on the defensive end. The Timpanogos High alum only allowed two points in the paint for the first four minutes of the second half as the Cougars outscored Pepperdine 7-2 coming out of the locker room.
That, too, was a hallmark of Judkins' system, the senior post said.
"Every time I got the ball, they swarmed me (in the first half)," Bailey said. "I've had games before where I have a horrible first half, and then I can come back in the second half.
"Judd always says defense fuels our offense. And when I was out there with Lexi hitting 100 percent from everything, they stopped doubling and it opened up things for me, too."
BYU out-rebounded the Waves 43-33, including a 35-26 disparity on the defensive glass. The Cougars were led by Eaton, who had a career-high 14 boards with a career-best 12 defensive rebounds. BYU then passed the ball around its shot, leading to 23 assists on 31 buckets. Kylie Maeda paced the Cougars with eight assists, and Eaton and Morrison added five each.
"When I look at the assists, it means we're sharing the ball and moving it," Judkins said. "We're a better team when we move it."
Judkins played college basketball at the University of Utah from 1974-78, and he's spent 13 seasons as a head coach at BYU, his first Division I head job. He's led the Cougars to a pair of Sweet 16 appearances in the NCAA tournament, and produced multiple professional players like Erin Thorn and Jennifer Hamson, among others.
"Judd's such a good guy. He loves all of us, and we love him," Bailey said. "When we go out on the court, we know that we are representing him and his program. We go out and give it all we got. It's nice to see his hard work pay off today."
×
Photos
Related stories
Most recent Sports stories