Estimated read time: 4-5 minutes
This archived news story is available only for your personal, non-commercial use. Information in the story may be outdated or superseded by additional information. Reading or replaying the story in its archived form does not constitute a republication of the story.
RIVERTON — Caleb Barlow y Hannah Perkins de la escuela secundaria de Riverton habían comenzado a salir, y hace menos de una semana, ella le salvó la vida.
Pero las cosas podrían haber sido diferentes si no fuera por la sensación que ella tenía sábado.
A pesar de que tenía un montón de cosas que hacer ese día, Perkins dijo que realmente quería ver a Barlow.
"Todo el sábado tuve la sensación de que realmente necesitaba ver a Caleb", dijo ella. "Me desperté en la mañana, y le envié un mensaje".
Perkins tenía ensayo del coro y no se desocuparía hasta las 10 p.m..
"¿Podemos simplemente pasar un rato (juntos) después de eso?", Preguntó. "Es el único momento que me puedo hacerlo, pero realmente necesito verte".
Barlow estuvo de acuerdo. Más tarde esa noche, ellos estaban juntos en su porche cuando Barlow "sólo cayó hacia atrás, y hacía un gorgoteo extraño, ruidos de asfixia", dijo Perkins, "y por un segundo pensé que estaba bromeando".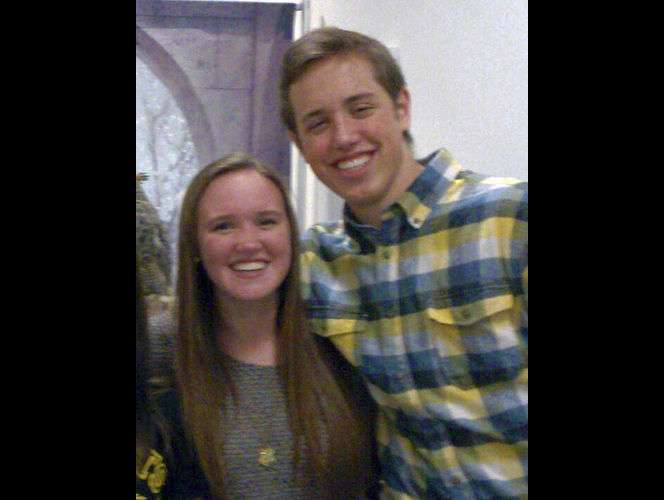 Pero no lo estaba.
"Él tomaba una respiración profunda, y simplemente paraba por como 30 segundos, y luego tomaba otro aliento muy profundo", dijo.
Perkins dijo que sabía que Barlow necesitaba ayuda, pero sus padres no estaban en casa. Ella corrió hacia el interior de la casa y gritó para que el hermano menor de Caleb, Zach escuchara.
El niño de 12-años de edad, estaba preparándose para ir a la cama cuando oyó el grito. Bajó corriendo las escaleras y vio a su hermano.
"Su rostro se había vuelto púrpura", dijo Zach.
Perkins le preguntó al niño si algo como esto había ocurrido antes. Él le dijo que no. Sabía que su hermano tenía un marcapasos y tenía uno desde hace años, pero nunca había tenido problemas como eso antes.
Perkins llamó al 911 y volvió a Barlow, mientras que Zach subió a ponerse los zapatos. Antes de que pudiera volver a su hermano, Barlow había dejado de respirar.
"Yo estaba realmente asustada entonces", dijo Perkins. "Yo estaba como, 'Él no está respirando!" Y el despachador dijo OK. Está bien'".
El despachador le dijo que pusiera a Barlow en el suelo y comenzara RCP.
"Empecé a hacer las compresiones en el pecho", dijo Perkins. "Podíamos oír las sirenas que venían y ver las luces intermitentes".
Los paramédicos se habían detenido en el otro extremo de la calle, y Zach corrió por la calle para orientarlos hacia su casa.
"Tenía mucho miedo, y estaba al borde de las lágrimas", dijo el niño.
En el momento en que llegaron, Barlow había comenzado a respirar. Fue llevado en una ambulancia al Hospital de Riverton y en un vuelo al Hospital Primary Children.
Barlow se está recuperando en el hospital.
"Lo está haciendo mucho mejor. Su corazón está funcionando perfectamente ahora", dijo Perkins, poniéndose un poco emocionada. "Pero en realidad sus pulmones. Uno de los efectos secundarios de un paro cardiaco, es que vomitan y un poco de ácido se fue hacia sus pulmones".
Barlow está conectado a un pulmón artificial y un respirador, dijo. Podría tomar algún tiempo antes de que sea quitado de las máquinas, pero los médicos confían en que se recuperará.
Perkins dijo que los médicos realizaron una serie de pruebas, pero aún no han descubierto por qué Barlow sufrió un paro cardíaco.
Ella dijo que aprendió RCP en un grupo de la iglesia. Aunque estaba bastante asustada el sábado, Perkins dijo que trabajar con un estudiante en su escuela con una discapacidad por las que tiene convulsiones le ayudó ese día.
"La primera vez que tuvo un ataque, me asusté", dijo ella, "pero los tenía con bastante regularidad así que me acostumbré a ello. Si no, probablemente hubiera estado demasiado asustada para incluso hacer las otras cosas".
Perkins y Zach se han acercado mucho más.
"Ella salvó la vida de mi hermano", dijo. "La razón por la que está vivo es gracias a ella".
Contribuidora: Viviane Vo-Duc
×
Most recent News stories