Estimated read time: 6-7 minutes
This archived news story is available only for your personal, non-commercial use. Information in the story may be outdated or superseded by additional information. Reading or replaying the story in its archived form does not constitute a republication of the story.
SOUTH SALT LAKE — In his 21 years in law enforcement, South Salt Lake Police Chief Jack Carruth said he's never seen anything like it.
He and members of the media were standing in a convenience store parking lot Wednesday where an SUV with a 3-year-old girl inside inside had earlier been stolen, when every cellphone in the parking lot started going off.
The tones from the phones echoed across the lot, he said. Similar stories were reported in department stores, on TRAX, in office buildings and all across Utah when seemingly everyone received an alert on their phones that most had never heard before — sounds many people didn't know their phones were capable of making.
An Amber Alert had just been sent out to nearly every cellphone in Utah.
"So not only did residents in Utah get that, (those) who have cellphones, but anyone traveling through the state that had a cellphone received that alert," said Utah Department of Public Safety Deputy Commissioner Jeff Carr.
He called it a "historic day" in Utah, noting that it was the first time the new technology was used in the state.
Within minutes of receiving the alert on her phone, Leslie Fiet, the owner of Mini's Gourmet Cupcakes, 14 E. 800 South, remembered seeing a vehicle parked outside her store that matched the description of the vehicle in the Amber Alert.
Fiet walked outside and immediately realized the license plate matched. She peered through the black SUV's window and spotted a frightened little girl crying in the back seat. She pulled 3-year-old Bella Martinez through the open window, took her into the store, locked the doors and called 911.
The Amber Alert also went to the cellphones of associates of Rosealee Maria Key, the woman accused of stealing the SUV with Bella in the back seat. When the friends realized that everyone was looking for Key, they convinced her to turn herself in.
"We quickly realized after that alert went out what exactly it was and how powerful it was," Carruth said. "That was really a huge, critical step in this case."
Related Story
Key, 24, believed to be homeless, was booked into the Salt Lake County Jail for investigation of child endangerment and unauthorized control of a motor vehicle.
On Wednesday, Key was at a South Salt Lake convenience store, 287 W. 3300 South, when Bella's father pulled up in his SUV. The father passed Key on his way into the store and she asked him for a cigarette. Before he was even inside the door, she jumped into his vehicle — which had been left running in the parking lot — and drove away, not realizing the toddler was asleep in back, Carruth said.
She later told police she "went up the street, turned and drove straight" before realizing there was a child in the car, said South Salt Lake police officer Gary Keller.
Store surveillance video shows Key attempting to hide a backpack and a BMX bicycle that she rode to the convenience store before approaching the father and stealing the SUV, according to a jail report.
For two hours, police frantically searched for Bella, the missing vehicle and Key.
Investigators believe Key abandoned the vehicle outside Mini's Gourmet Cupcakes shortly after taking it. The vehicle had been parked there for about an hour before it was discovered, according to police.
Officers later found Key's backpack at the convenience store and found a bank card with her name on it and a driver's license with her photo on it, the report states. Based on those pieces of evidence, detectives quickly knew who they were looking for.
After abandoning the SUV with the child, Key got on a TRAX train and went a short distance until she met up with friends, Keller said. By that time, Key's name was "all over the news," he said. The friends convinced her to turn herself in and drove her to the Salt Lake City Police Department's Pioneer Precinct, 1040 W. 700 South.
When she was questioned by detectives, Key told them "she should not have abandoned the car with the window down and the child inside," according to the report.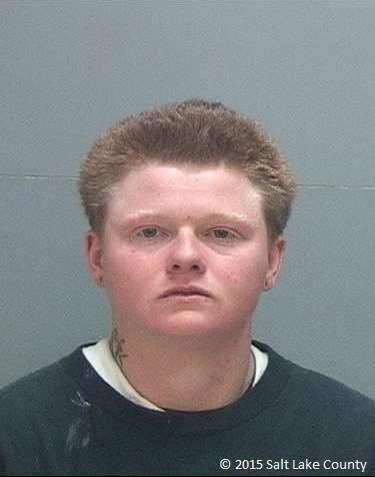 Key was charged Thursday in 3rd District Court with theft, a second-degree felony; child abuse, a class A misdemeanor; and possession of drug paraphernalia, a class B misdemeanor.
Despite the successful outcome of Wednesday's incident, state Amber Alert officials said Thursday they have been reviewing the case to figure out how to make the system work better.
One question raised Thursday was why it took 20 to 30 minutes for the Amber Alert to reach cellphones after it was originally requested.
Gina McNeil, the Utah Amber Alert coordinator, said once Utah sends out its Amber Alert message, it goes to the National Center for Missing and Exploited Children. There the message is reviewed and then pushed to cellphones.
"After this Amber Alert, I've been working today with the national center as well as other agencies to make this work this a little bit quicker," McNeil said.
The problem, she said, was a "notification" issue and not a technical problem. Carruth said if there's a way to have the notifications sent out faster, then he's in favor of it. But overall, he believes finding the missing child about 20 minutes after the alert was issued was a quick and successful resolution.
The alerts are activated by cellphone towers. In 2012, these types of alerts replaced the old system of people receiving Amber Alerts through a text message. For that to happen, cellphone users had to sign up to receive the alert. Under the new system, anyone who has a 4S phone or better should automatically receive an Amber Alert, she said.
The cellphone alerts can only be activated when a license plate number is known, McNeil said.
Some Utahns, however, said they never received the notification. Questions were also raised about why electronic signs over the freeways that alerted motorists to the Amber Alert didn't post the license plate number. Both Carr and McNeil said they would push for that, but that is ultimately a Utah Department of Transportation decision.
Wednesday's incident marked the 38th Amber Alert in Utah.
"We have the best Amber Alert system in the nation — the best," McNeil proclaimed.
Wednesday's kidnapping was the third time in less than two months along the Wasatch Front that a car was stolen when a 3-year-old child was temporarily left in the back seat. In each case, the vehicle was left running while a parent or grandparent stopped to run inside a building.
Contributing: Geoff Liesik
×
Photos
Related stories
Most recent Utah stories