Estimated read time: 1-2 minutes
This archived news story is available only for your personal, non-commercial use. Information in the story may be outdated or superseded by additional information. Reading or replaying the story in its archived form does not constitute a republication of the story.
McDonald ha reclamado el lema 'I'm lovin' it', o 'Me Encanta', en español, durante más de una década, y ahora está mostrando lo que lovin' (o amándolo) es.
El lunes, el establecimiento de comida rápida lanzó su campaña "Pague con Lovin'", que da a selectos clientes la oportunidad de pagar por su comida con elogios, una llamada telefónica a un ser querido, una palmada o con otras formas de "lovin'", de acuerdo con un comunicado de prensa.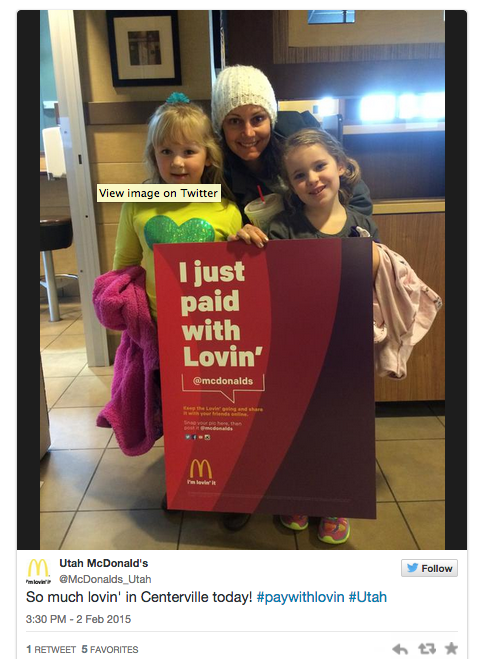 Después de que los clientes hayan ordenado la comida y el pago es presentado, el Administrador de servicios de visitantes o el Lovin líder les informará de su oportunidad de pagar con lovin', y pueden optar por pagar con dinero o la alternativa.
Los clientes tienen hasta el día de San Valentín para tomar ventaja de este acuerdo, que estará disponible en los restaurantes McDonald de participantes en predeterminados, tiempos aleatorios entre las 6 a.m. y las 6 p.m. El drive-thru no está incluido en la campaña.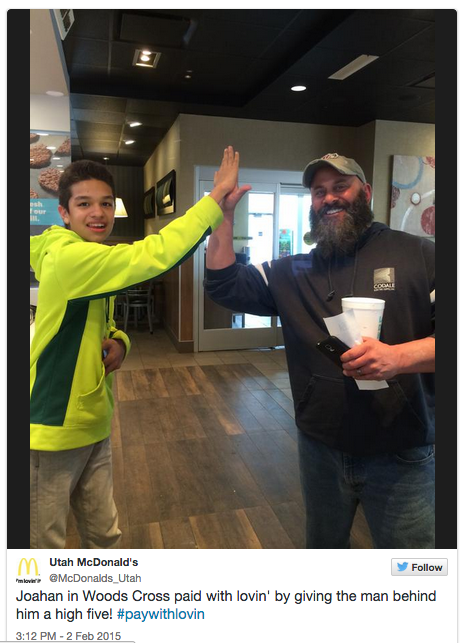 "McDonalds está en una posición única para traer un poco más de lovin 'a nuestros clientes", dijo Deborah Wahl, directora de marketing de McDonald de EE.UU., en un comunicado de prensa. "Estamos en un viaje para cambiar la relación y la conversación y la forma de pago con Lovin', es una forma directa en la que nos comprometemos con nuestros clientes. Creemos que un poco más de Lovin 'puede cambiar mucho".
Para obtener más información sobre la campaña, vea el video. Para compartir la experiencia de su Lovin', siga McDonalds en Twitter.
×
Most recent News stories